"You really have to spend all the time you can with your instrument and get all the rock star money shit out of your head. This isn't a job––it's a calling––it's a way of life."
On and off, for nearly 40 years, Earl Slick was David Bowies sideman playing guitar on numerous records and performing with him on tour. I caught up with Earl recently to discuss Bowie, working in the studio with John Lennon & Yoko Ono, and what the future holds for him.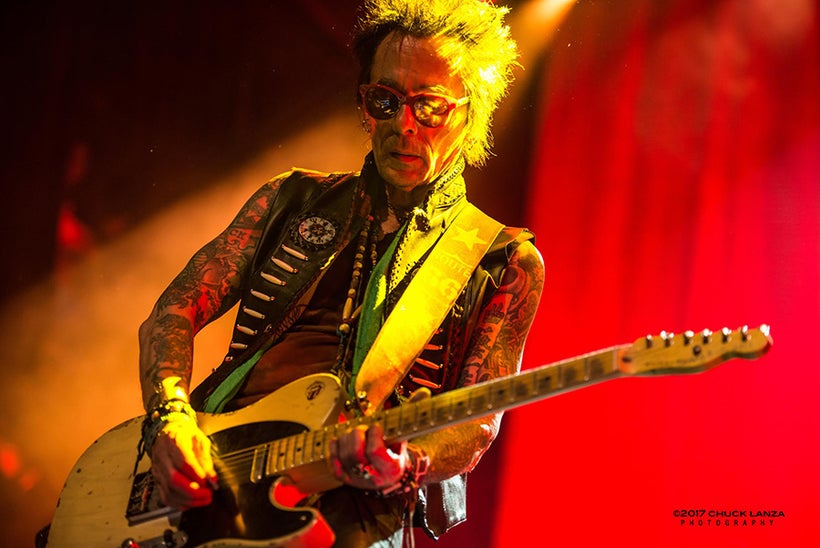 Jason Landry: Do you remember the moment that you wanted to be a guitarist?
Earl Slick: There's two moments: There was the moment that I saw The Beatles on television––I saw the girls, the clothes, the hair, the screaming, and the guitars, and I said Whoa––that is cool! Then, when I saw The Rolling Stones, that was the day I knew.
JL: When listening to you play, I hear a roots/rock/blues inspired guitar player. Where did your style come from?
ES: Funny enough, when I was a kid. I grew up in Brooklyn, New York and my mom played a lot of country music and I did hear a lot of guitar stuff, especially on the radio with Elvis and Chuck Berry. But then I heard The Stones and they were covering Chuck Berry, Muddy Waters, and Bo Diddley, so I started going out and buying all that blues shit. I got very heavy into it at a young age. The blues and roots rock fell naturally in my hands.
JL: Being a sideman, a session player, and fronting your own band, you've done all three. Tell me something specific that you learned from each of these that has made you a better musician today?
ES: If we go back to the very beginning, with The Stones, I was picking up the licks from Keith Richards, and the slide playing from Brian Jones. Then I discovered Buddy Guy when I was maybe 17. I saw him live and he blew me through the back fucking door. So I had the blues bug and I was a blues player. But then I met David Bowie and I couldn't figure out why the fuck he wants me in his band based on the way I played? But it worked. Over time with Bowie, he pushed me in other directions which is what I needed, and it expanded my scope on the guitar.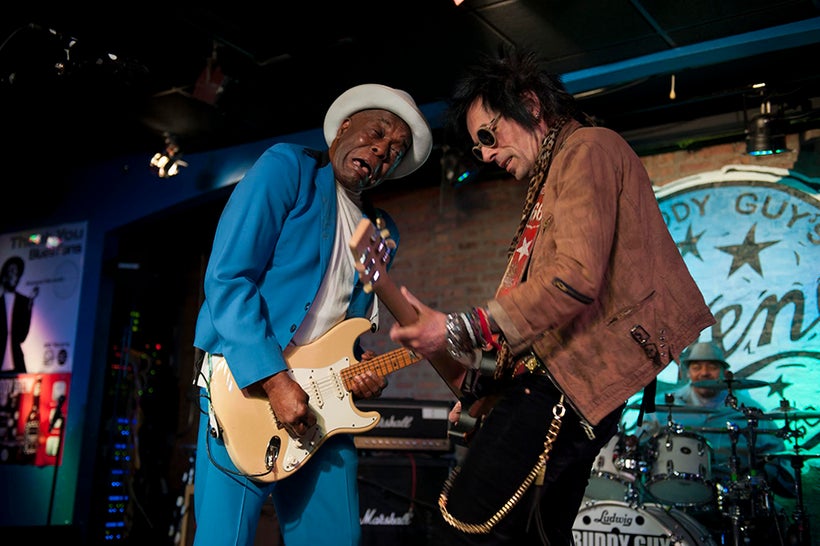 JL: Let's talk about David Bowie. You appeared on numerous records including David Live, Young Americans, Station to Station, Heathen, Reality, and the 2013 release The Next Day. What is the most memorable moment playing with him?
ES: There would be two moments: The Diamond Dogs tour, because that was my first tour with him, and then the Reality tour which was the most enjoyable tour that I had ever done with David. He was in a great frame of mind and we had a blast––we were out for a whole year. As far as albums and studios, the whole Station to Station experience was amazing. If you listen to what I was playing on that record, the blues is in there. The sound was a hair twisted, but it was blues.
JL: The beginning of the song Station to Station with that one note sustaining intro is pretty memorable and it's very bluesy.
ES: You mean that insane fucking feedback that we did after being awake for two days in the studio. David said, hey, let's set up a bunch of Marshall's and make noise.
JL: Most meaningful song you ever did together?
ES: I can give you three. There's a song called "Win" on the Young Americans album, "Stay" on Station to Station, and "Valentine's Day" from The Next Day. If you listen to that song, the solo is a complete blues solo at the end of the song.
JL: What do you miss most about David?
ES: I miss the experience of being on stage with him. Me and David had this unwritten agreement that outside of work, we didn't really hang out all of the time. We were great friends, but it wasn't like, let's go get a dinner. But when we were working together, it was different. It was very easy to work with David. He wasn't the micro-management type, and if I couldn't play what came naturally to me, then it would sound like shit, and he knew that. And John Lennon was the same exact way with me. He'd say, just do your thing.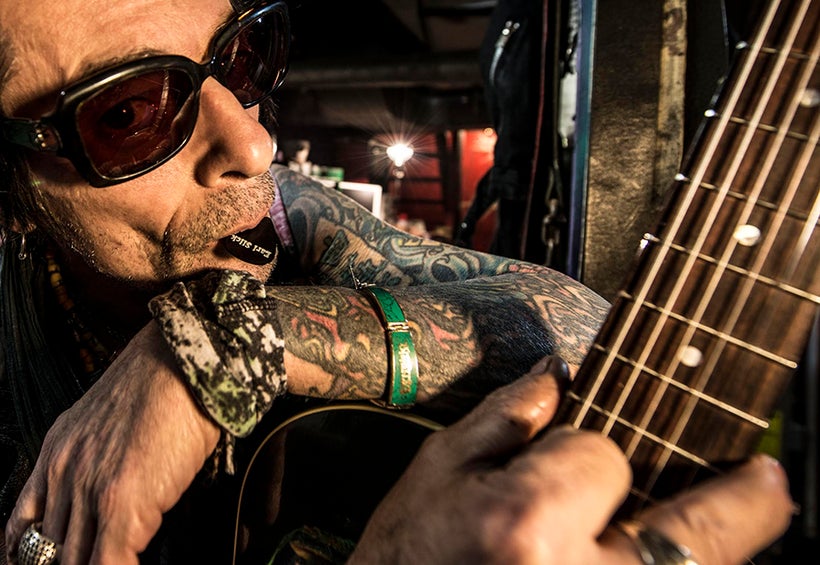 JL: How is it that you were asked to be part of the Double Fantasy recording sessions with John Lennon & Yoko Ono?
ES: You know, it's a bit of a mystery. My manager got a call from Jack Douglas a couple of months ahead of time about me doing a record with somebody. John had asked Jack to contact me because he remembered us working on Young Americans together and because he wanted someone in the studio who was more of a street-level rocker.
JL: Is it true that you were hiding out in the studio before they arrived and you surprised John?
ES: No, he surprised me. Funny enough, I did go early because I was a bit nervous. I walked in and the mutha-fucker was sitting right in the middle of the studio all by himself.
JL: On the John Lennon song, "I Don't Wanna Face It", the take that appears on his Anthology album, he calls out your name right before the solo. Did that give you goose bumps when you heard it?
ES: It did––I was like a five-year-old. When I got that box set, I was playing the tracks and I was like, what the fuck was that? And then I played it again and I was like, holy shit! I swear to God, I think I sat in front of my cd player and played it 40 times in a row. That's worth its weight in gold.
JL: What's Earl up to right now? Anything special coming down the pipeline?
ES: We just rapped up six gigs to honor one year since David Bowie's passing. Besides that, me and Bernard Fowler, backing vocalist for The Rolling Stones, have hit it off quite well. We actually did a short tour together last year. We're planning on doing something together maybe as soon as this summer. I have been asked to do more tribute concerts, but I just can't do them. I just don't feel good about it––my head is in a whole different place right now. Also, I just wrapped up filming a movie for the BBC called Diary of a Side Man. The film will be out later this year.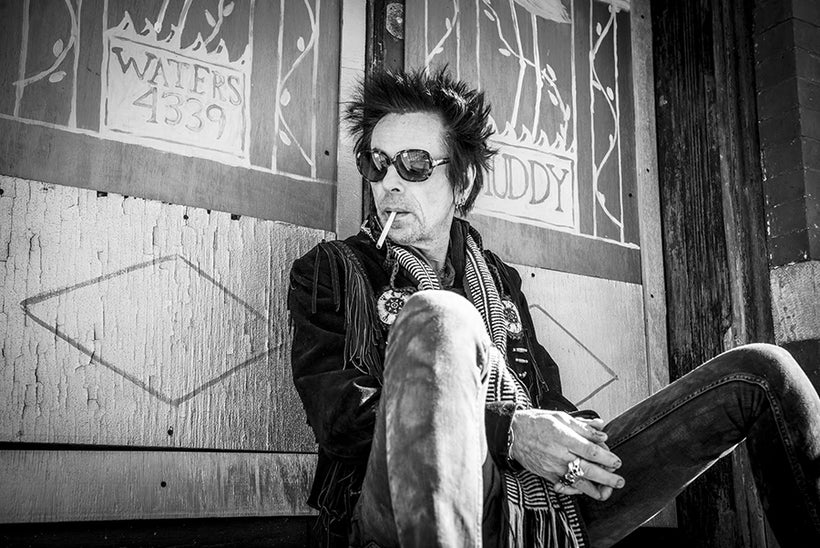 JL: What advice would you give to young guitar player who's trying to make it in the business right now?
ES: Things have changed so much that if you had asked me this question twenty-five years ago, I could give you a blow-by-blow description of what to do. I can right now give you what "the" new reality is, and that most new musicians think that social media is going to give them a career from scratch. The best advice I could give anybody is, live with your instrument. Sleep with the fucking thing, learn it, study it. Find out where it came from. The blues didn't start with The Rolling Stones––I had to go back. I learned about stuff. I learned about The Delta. Learn about your instrument and how to get sounds out of it. You really have to spend all the time you can with your instrument and get all the rock star money shit out of your head. This isn't a job––it's a calling––it's a way of life. You have to focus on the music first. You cannot mask average playing and feel. It's not my chops––it's about feel. You could know every lick on the planet, but rhythm is feel. If you can't play rhythm guitar, you're not a guitar player.
Calling all HuffPost superfans!
Sign up for membership to become a founding member and help shape HuffPost's next chapter
This post was published on the now-closed HuffPost Contributor platform. Contributors control their own work and posted freely to our site. If you need to flag this entry as abusive,
send us an email
.