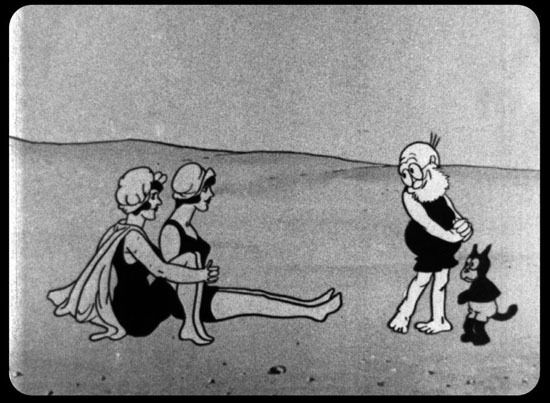 Farmer Alfalfa (his name has been configured differently at times) is not an actual farmer of the sort you might find selling grass-fed dairy at the local greenmarket. For one thing, he was an old man well before America's entry into World War I, yet he lives today. Because, see, Farmer Alfalfa is an animated cartoon character. One of the first.
And cartoon stars live forever. And shine forever too, in the darkness. The proof, if any were needed, is that BAMcinematek will be showing an entire program of Farmer Alfalfa shorts this weekend, put together by Tom Stathes, whose Cartoon Carnivals have kept our populace in paroxysms of delight at hipster havens throughout the city over the last year or two. Stathes only shows actual film prints of his rarities, and his massive archive of ancient reels is growing daily. His programs are a window into a pre-CGI world of hand-drawn animation, centered around gags that, to a significant extent, still work today. And when they don't, well... so what?
Having made his film debut in 1915(!), Farmer Al Falfa (a name variant) made theatrical appearances into the '50s and television appearances after that. He was in the stable (appropriately enough) of producer Paul Terry, more famous perhaps for Mighty Mouse, Heckle and Jekyll and Dimwit, but none of these later cartoon behemoths would have been possible without the pioneering triumph of Farmer Al.
In truth, there are scores of mice in Farmer Al's cartoons (as in other Terrytoons), but they are not mighty. The mightiness is reserved for the more or less human character at their center, not mighty as a character -- he is an oft-besieged man -- but mighty as a star.
So, if you want to see (and who doesn't?) what guys like Disney saw when they were young and seeking inspiration, you should hasten toward this collection of wonders, covering decades of pasture-based humor, from the days of the Kaiser to the nights of rock'n'roll.
Tom Stathes' Cartoons on Film tribute to Farmer Al Falfa is at BAM Rose Cinemas on Saturday July 27 at 4:30 p.m.
Related
Popular in the Community