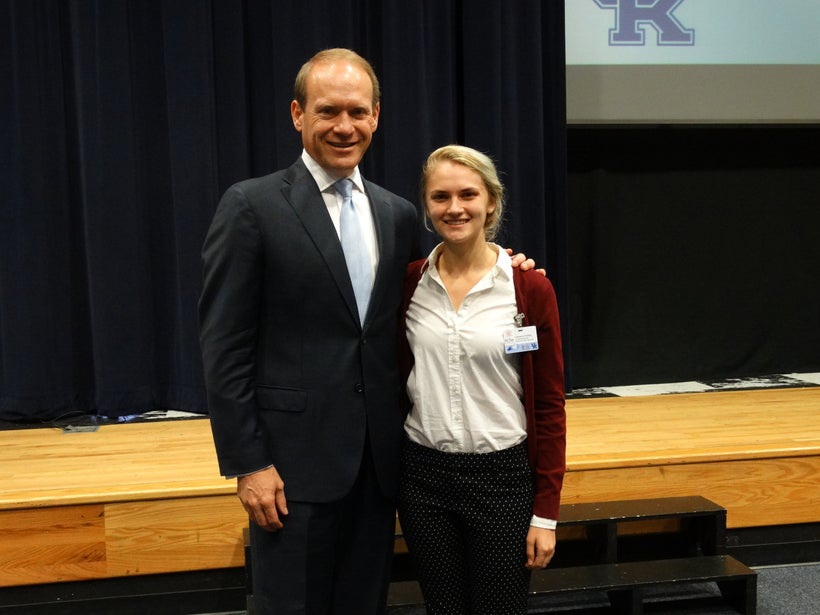 As college freshmen arrive on campuses for the beginning of the school year, they face some of the biggest questions of their lives: What future career will I pursue? How will college help me get there? What major will properly position me for a thriving career after graduation? The prepared ones will have already answered many of these questions in high school, if not earlier.
Early exposure to career learning provides students with the opportunity to explore industries and to understand what skills are necessary to access jobs in the industry they choose. We know the jobs of the future will require skills in science, technology, engineering and mathematics (STEM). Even in non-STEM fields, students must understand how STEM skills are connected to everything. We must make learning relevant to the real world, and make career learning a priority so students have more time to explore the possibilities and plan for their futures.
Carysanne Fielding is a great example. Now a sophomore majoring in chemical engineering at the University of Cincinnati College of Engineering and Applied Sciences, Carysanne's journey to her major and career path didn't begin when she started college. It began in her first year at Martha Layne Collins High School in Shelbyville, Kentucky.
Carysanne recounts that when she started high school, she didn't know what an engineer was. But her Project Lead The Way (PLTW) course at the beginning of high school introduced Carysanne to engineering and multiple career opportunities, and started her on a path of developing the skills she needed to succeed in the field.
Throughout high school, Carysanne took a variety of courses and considered several career interests. "Chemist, singer, diplomat, fashion merchandiser, you name it and I probably considered it at one time," she recalled. But as she reflected on which courses she excelled at and enjoyed, she identified her love and aptitude for engineering because she was exposed to it early on.
Providing K-12 students with hands-on learning experiences gives them the tools they need to make informed decisions about which majors and colleges will be right for them. Furthermore, once students arrive on campus, they will be far more prepared to excel in rigorous college classes if they have prior exposure to the subject.
Since Carysanne knew she wanted to be an engineer, she started her college search by considering schools with top engineering programs. After being accepted to several schools, Carysanne was drawn to the University of Cincinnati's focus on experiential learning and a well-established co-op program that would pair her with professional engineering experience. She knew what to look for in a college because she had already been learning this way.
Carysanne's story can be a blueprint for other high school students wondering how to make an informed decision in the college search. A primary factor should be which colleges have programs that will equip them with the education and experiences they need to be prepared for the career they choose. Additionally, students should consider the investment required for the programs they're interested in and the strength of the school's alumni network – a network that could be invaluable for internships and career opportunities.
Choosing a college and field of study are important decisions, but students should be prepared to make wise choices because they were able to explore careers during their K-12 experience. Understanding what education, credentials or degrees are necessary for the career they choose can ensure they arrive on campus with confidence that they are in the right place.
REAL LIFE. REAL NEWS. REAL VOICES.
Help us tell more of the stories that matter from voices that too often remain unheard.
This post was published on the now-closed HuffPost Contributor platform. Contributors control their own work and posted freely to our site. If you need to flag this entry as abusive,
send us an email
.