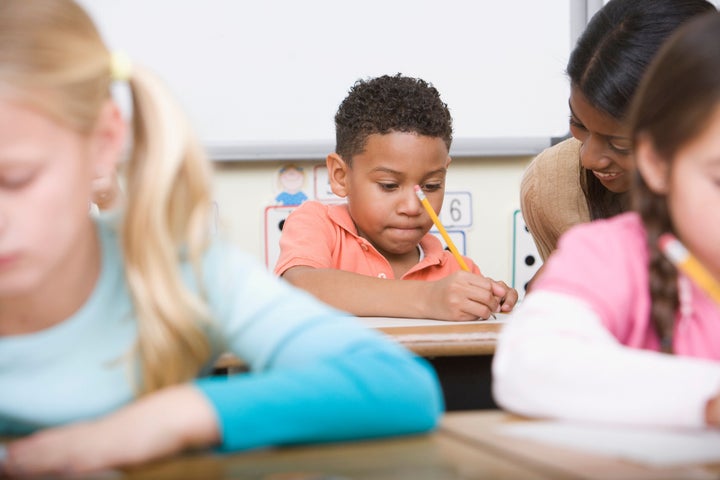 In the past, early childhood professionals didn't have to worry about legislation and policy. They quietly and diligently went about their work, preparing young children to read and write, to "use their words," and to take turns. They knew their work mattered; they saw it on the attentive faces, and heard it in the inquiring voices and increasing vocabularies, of the children with whom they shared their days. The policymakers, and even the rest of the education profession, ignored them, considering them little more than "babysitters."
Today, they're still too often considered babysitters -- but they're no longer being ignored. Whether it's because they want to jump on the ECE bandwagon, which began rolling when brain research highlighted the significance of the early years, or because they're looking for "easy" ways to cut the budget, policymakers are now all too aware of early childhood education. (Apologies to those policymakers who honestly see the value of this profession and work to support it.)
I recently had the opportunity to discuss the impact of the policymakers' spotlight with the leaders of four state affiliates of the National Association for the Education of Young Children (NAEYC). Representing New York State, Florida, Ohio, and Texas, Kristen Kerr, Suzanne Gellens, Kimberly Tice, and Aaron Carrara told me what's happening in their states and how it's representative of what's going on at the national level.
Sadly, but not unexpectedly, the common thread turned out to be money -- or lack thereof. Although Ohio was one of nine states to win a share of the Race to the Top Early Learning Challenge funds, the grant doesn't address all needs and has in fact raised false hopes among early childhood providers regarding reimbursement rates.
In New York, kindergarten programs in some districts may move from full-day to half-day, and could possibly be eliminated altogether. As Kristen Kerr pointed out, it's hard to make an argument for increasing the investment in state-funded Pre-K programs when kindergarten programs are being slashed and cut.
In Florida, passed and proposed legislation pits the for-profit early childhood providers against public, private, and faith-based, nonprofit providers, with everyone vying for a share of the dwindling dollars. Worse, after-school care for children over the age of 5 is in jeopardy. Children ages 6 to 12 will not be served, even when at risk, in poverty, while their parents work. Moreover, bills cutting the number of coalitions in the state affect funding for administration and quality, including professional development opportunities.
Finally, despite the fact that Texas has the largest and fastest growing early childhood population in the U.S., ECE has seen cuts there as well, as last year's legislative session saw a budget shortfall of 15 to 27 billion dollars.
So, yes, more and more people, even policymakers, are becoming aware of the significance of early childhood education. But as Kimberly Tice contended, although awareness has increased dramatically, it's a superficial awareness for legislators. That means that dollars for early childhood education are still the first to be cut, as ECE isn't yet considered significant enough to fund.
What's to be done? As Aaron Carrara succinctly pointed out, ECE can either be "at the table or on the menu." In other words, early childhood professionals can no longer diligently and quietly go about their work, secure in the knowledge that they matter. Regardless of how unfair it may seem, and regardless of how unprepared they may feel to take on the task, early childhood professionals have no choice but to become advocates for their profession.
And, really, who is better suited? Panelist Suzanne Gellens stated that the legislators don't want to hear from her, as executive director of the state AEYC chapter. They want to hear from teachers in the classroom. From childcare providers. From center owners. It is the tale from the trenches that packs the most punch.
The inclination, I know, is to believe that you alone can't make a difference. And you're probably right. But if you join your voice with others, it is far more likely to be heard!
Not sure where to start? My panelists can tell you! Click here to listen to their simple, but effective, suggestions.
Timidity is no longer an option! It's time for early childhood professionals to get mad and to take action! If it doesn't bother you that politicians with no experience in or understanding of early childhood education are telling you how to do your job, it should indeed bother you that soon you may not have one.

Calling all HuffPost superfans!
Sign up for membership to become a founding member and help shape HuffPost's next chapter