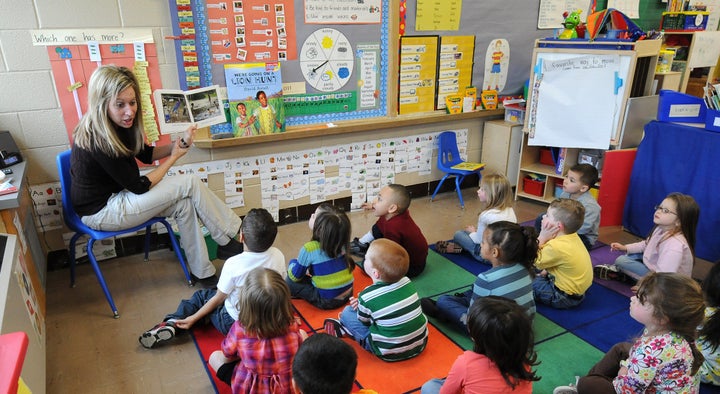 A group of Illinois law enforcement leaders joined forces last week to speak out against cuts to state preschool funding, claiming cutting early education funding now will cost more in crime down the line.
... cutting preschool for 17,600 children will cost Illinois taxpayers $200 million over the children's lifetimes, due to increased criminal, educational, and social services costs for at-risk children denied preschool. This lifetime future cost of $200 million from denying preschool for the 17,600 children who have been cut is more than three times greaterthan the $55 million we save now.
"The research speaks for itself. We can either invest in preschool classrooms now and prevent crime, or wind up spending more on prison cells and cleaning up after tragedies," Cook County Sheriff Tom Dart said. "Early childhood education is one of the best deals around, and it would be a real mistake to lose sight of that."
Dart, who spent time in Springfield as a state representative and state senator before becoming sheriff, said he understands the difficult position lawmakers are in with the state's fiscal situation, but called cuts to early education -- and mental health funding -- "reckless."
According to the group, the Illinois "Preschool for All" program is already suffering after funding was cut by $55 million over the past three years:
* In just the last two years, 38 counties faced cuts to preschool of 20 percent or greater.
* In that same time period, 54 counties have lost at least two classrooms of preschoolers (40 kids) and 26 counties have cut more than 100 children from preschool.
* Two counties have seen state-funded preschool virtually disappear with a 97 percent cut in Effingham County and an 89 percent cut in Massac County.
* Calhoun County saw a complete elimination of state-funded preschool with a loss of 80 funded slots.
* The Chicago Metropolitan Area (Cook, DuPage, Will, Kane, Lake and McHenry Counties) alone has seen a loss of 7,000 children from state-funded preschool.
"[I have] tremendous concern for some young people," Granite City Police Chief Rich Miller said. "I personally benefitted from Head Start. ... It's just bad, bad, bad for public safety for our state to lose these programs."
Though the police chiefs and sheriffs may have different political views, all agreed that state lawmakers have a responsibility to know the facts before slashing certain budgets -- specifically early education and mental health.
"There is something wrong with that people can just vote and then wash their hands of what they create," Dart said, adding that the Cook County Jail is "filled" with people with mental health issues who should have been getting treatment. "There has to be a certain level of accountability ... that's what you [as a lawmaker] get paid to do and there will be direct results from the decisions you make."
Related
Popular in the Community