 I'll never forget the moment when I realized my mother no longer knew who I was. For every child of a parent with Alzheimer's, that reality is a devastating one. How could she not recognize me? Her smile was friendly, but her eyes seemed vacant. She appeared confused. She seemed to be asking: Who is this stranger sitting beside me?
I thought of my mother as I watched 59-year-old Tennessee Volunteers coach Pat Summitt announce that she was resigning. For nearly four decades, she had coached the women's basketball team she loved. The AP reported she was suffering from early-onset dementia. It had reportedly been causing her memory problems. As I watched Coach Summitt courageously announce that "the time has come to step into a new role," I couldn't stop thinking of the lost look in my mother's eyes.
It was Christmas Eve three years ago. We were watching Meet Me in St. Louis on TV while my father -- an usher at the local Catholic church -- worked the midnight mass. Suddenly my mom turned to me and asked: "Excuse me, where is your mother?" I looked at her, not quite believing what I had heard. "You are my mother," I said. "You're right here."
She looked at me and smiled. "De verdad?" she asked. Truthfully? "Yes mom, I'm Charlie. I'm your son." She paused a moment. "Oh, I forgot."
The next day I told my mother's caretaker, Nancy, about the exchange. "She didn't even know who I was," I lamented. Nancy looked at me and pointed to her head. "She may not know here," she said. "But she definitely knows here." She then pointed to her heart.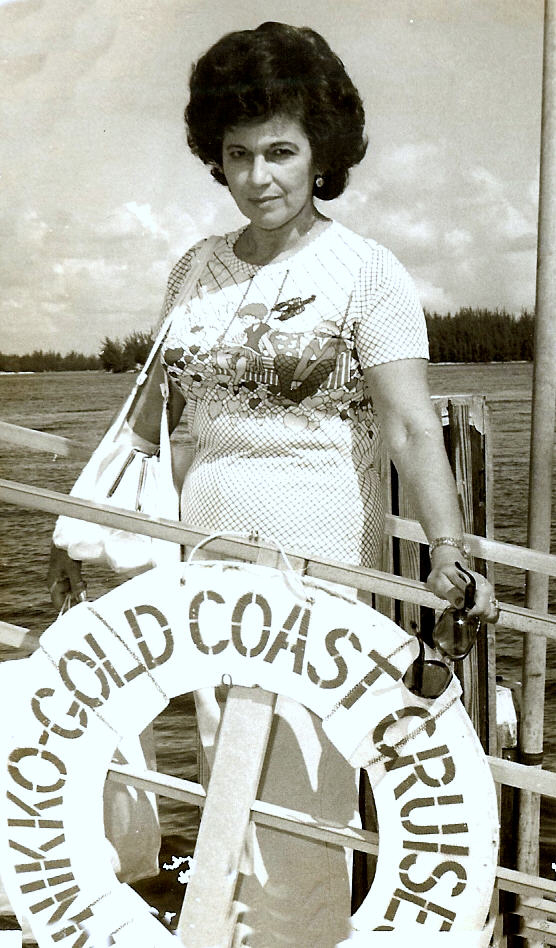 For the last nine years my mother has battled Alzheimer's. Her name is Angelina. She is 89. My father, 84, cares for her in the same home in Hialeah, Fla., where we were raised. My mom was always there for my brother and me. It was my mother who insisted when we were kids that we join a summer reading club. The sons of Cuban immigrants, we were named the best readers in our neighborhood (after finishing off 24 books in one summer). She cheered us on as we were called up to the podium during an awards ceremony to receive our Top Reader certificates. She was always there. She was the mom taking too many pictures at my graduation from elementary school. She was the mom who kept a bedside vigil during my asthma attacks. She was the mom who was always there with a hug when I got home from school. Sometimes I would tell her about an argument with a classmate or disagreement with a teacher. She would take my face in her hands and say "Charlito, remember always be nice. No matter what -- be nice." And now my mother -- the woman with the great advice -- had Alzheimer's.
I first noticed my mother's condition worsening about nine years ago. She appeared forgetful. My father says he realized something was wrong when she suddenly stopped paying their bills. "She never missed a payment," he said. "And she was never even a day late. Then I started getting letters from the bill collectors."
At about that time, my mother stopped making her long-distance calls to me. Before then not a week would go by when I didn't hear that unmistakable voice. "This is the mother who carried you for nine months," she'd say sarcastically. "Have you forgotten all about me?" Cuban guilt. It worked like a charm.
You don't realize how much you miss your mother's calls until they stop without warning. My mother dedicated her life to making sure my brother and I had the best of everything. She called herself "the lioness." I remember her once saying: "If anyone would try to harm you, you would hear me roar, because I am a lioness with my children."
And a lioness she was. When I was 5 years old and my brother was 6 years old my mother suffered what we believed to be a a nervous breakdown. A doctor had mistakenly told her she had a rare condition that would result in her death. He told her that she had less than five years to live. For months she kept the terrible secret to herself. Soon she could no longer function. Later she would tell me: "I would try to bathe you and your brother but I felt no strength in my hands. I would pray to God to make me strong, but he didn't answer my prayers."
Finally she confided in my father. In the early '60s in Miami, a nervous breakdown was the kind of thing no respectable Cuban family chose to talk about. My father and grandmother argued the best course of action. Should my mom be commited to a mental institution until she got well enough to take care of us again? Finally my father decided to call a doctor recommended to him by a friend. The doctor treated my mother and prescribed antidepressant medication. Soon my mother got better and resumed walking us to school, as she had always done. "I got better because you two children are my life," she told us. "I got better because you need me, and I will always be there for you."
As Mother's Day approaches next month it is difficult not to notice how the disease has ravaged the woman I always put on a pedestal. Ehow.com reports that more women than men are diagnosed with dementia. Researchers say that has less to do with biology. The reason: Women live longer than men and have more time to develop Alzheimer's and other forms of dementia.
My father takes care of my mom. I find it nothing short of heroic. She is tiny and frail. He feeds and bathes her and watches over her. For five hours each day a woman from a local church relieves him. My dad goes to the Catholic church, where he ushers during masses. He returns at about noon and takes care of mom until 7 a.m. the next morning, when the cycle is repeated. He refuses to put her in a nursing home. "I'll keep taking care of her care as long as God gives me strength," he says.
Theirs is a true love story. Last Sept. 12 they celebrated their 60th wedding anniversary. As the disease has progressed my mother has lost her ability to speak coherently. Sometimes she sings in a mixture of Spanish and another language known only to her. My father listens and sings along with her. It may be gibberish, but it's music to his ears. My mother has turned into a little girl -- childlike and playful. My niece, Summer, brought her a doll three years ago. My mother played with it until the doll lost its hair, so my father began to buy her tiny stuffed animals. A dog one day. Sometimes a cat. My mother played with them until they lost their limbs.
Last Christmas Eve my brother, Willie, eyed a Santa stuffed animal at a local Walgreens. He thought it would be the perfect toy for mom. It was a big Santa, and he pulled it off the top shelf into his arms. Santa looked at Willie, and he seemed to be smiling. My brother noticed Santa was holding a book in his arms. He touched the book and magically Santa began to speak: "Twas the night before Christmas and all through the house, not a creature was stirring, not even a mouse."
Except this Santa spoke in Spanish. The Walgreens is located in a neighborhood populated by Cubans and Central Americans. This Santa knew its market. My brother bought the Santa and hurried home. My mom was laid back in her favorite recliner. My dad fed her some mashed food by spoon. Although she seems to have forgotten who my brother and I are, her eyes always light up when a guest walks into the room. My brother put the Santa in my mother's frail arms. Once, she was a striking woman we always thought looked like a '50s movie star. But the disease has ravaged her beauty. But when you look into her eyes it's the same mother we always knew. Her eyes sparkled as she gets a close look at Santa. First, she looked bewildered and confused. She stroked the stuffed Santa lightly. But then my brother pressed the book. Santa began to speak in Spanish: "Twas the night before Christmas."
My mothers eyes grew wider and soon she was smiling from ear to ear. Then my brother said she began squealing with laughter, like a 6-year-old girl who had been given her first Barbie. My father and brother watched as she laughed and laughed. My brother spent some time with mom and soon it was time for him to go. He noticed she was dozing off -- and as she did, she hugged the Santa close to her. My mom fell asleep with Santa.
Ehow.com reports that about 10 million Americans, just like my father, provide free care to dementia patients, including relatives. The care is estimated at 8.5 billion hours -- an estimated $94 billion. Most dementia patients like my mother are cared for at home. As my thoughts once again returned to the courageous Coach Summitt, whose face filled up my TV screen, I marveled at her composure and confidence. Could this possibly be the face of a woman who in several years might start behaving like my mother?
Coach Summitt has established the Pat Summitt Foundation to raise money for Alzheimer's awareness, services and research. Early-onset dementia is so named because it happens in people younger than age 65. The Alzheimer's Foundation reports that about 5 percent of people with Alzheimer's experience symptoms before they reach 65 -- about 200,000 people. The foundation reports that people with early-onset Alzheimer's begin experiencing symptoms in their 40s and 50s.
That is why it is so important for the children of parents with Alzheimer's and early-onset dementia to think about private counseling and testing for the disease. The Mayo Clinic points out that if you know you have a form of the early onset genes, you might be able to follow steps that could help in the future. It could make it easier for you and those who love you to cope with the effects of the disease.
I miss my mother's weekly calls, so as often as I can, I call my father and ask him to put mom on the phone. I tell her a favorite joke or sing her favorite song. Sometimes I hear silence. But sometimes I hear her laugh. She may not know who I am in her head, but in her heart I believe that she still recognizes me as Charlie.
For more by Chuck Gomez, click here.
For more on Alzheimer's disease, click here.
Related