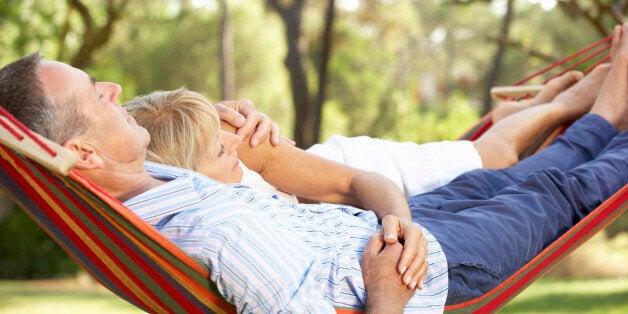 The average American retires at age 62 according to an April Gallup poll, but even in a low-interest economic environment, it may be possible to quit working sooner. Check out these tips for getting your financial house in order and kissing the 9-to-5 goodbye faster than expected.
#1: Get a Grip
You can't map the road to retirement until you have a clear idea of how close (or far) you already are, says Darrow Kirkpatrick, a software engineer who retired at age 50 and currently blogs about his experiences at Caniretireyet.com.
That means tracking your expenses, assessing the value of your current investments (including home equity and vehicles) and periodically calculating your net worth—this calculator can help.
"I used a retirement calculator that modeled our cash flows into the future, so I could see the money coming in and going out and the likelihood of running out or not," Kirkpatrick says. "[It helped us] understand the kinds of things we would have to do to make sure our money lasted."
#2: Make a Plan
"Most people do not have a comprehensive financial plan in place pre-retirement, which means it's unlikely that they're going to be able to meet their goals of retiring at a certain age because they don't know what's involved," says Dan Solin, author of six books on investing and director of investor advocacy for The BAM Alliance, a community of more than 140 independent wealth management firms.
The following factors can all significantly impact your nest egg, he adds:
-- whether you'll work part-time in retirement
-- when your spouse will retire
-- if you have healthcare costs that aren't covered by Medicare
-- whether your funds are invested in a tax-efficient way
-- if assisted living costs are involved and the value of your investments on the date of retirement
A survey by the Employee Benefits Research Institute shows that only 44 percent of workers have calculated how much they'll need to retire.
A wealth advisor can help put those pieces together, but choose carefully and be prepared to pay an advisor fee ranging from one-tenth of 1 percent of the value of your invested assets to a full 1 percent.
"[A wealth advisor] is a very bad investment if that advisor is telling you that they know how to beat the markets consistently using [their] expertise," Solin says. "Nobody has the skill to do that." On the other hand, an advisor who helps clients create a holistic financial plan and focuses on asset allocation, low fees and tax efficiency is "well worth the money that you're paying them."
#3: Eliminate Expenses
Darrow Kirkpatrick chalks up his early retirement to careful finance tracking, a simple investment strategy—he has invested in the same 10 mutual funds for several decades—and ruthlessly eliminating unnecessary expenses.
"Anything you commit to that's a regular monthly expense, you need to save about 300 times that in order to fund that amount in retirement," he says. "If you have a $1 a day gym membership, you're looking at about $9,000 you've got to set aside in retirement to pay for that… Anything in that area, from utilities to mortgage payments to trivial things like magazine subscriptions, we cut way back."
"If it's a $250,000 mortgage, if you pay an extra $300 a month, it shaves off almost a full decade in payments," he says.
#4: Diversify Your Income
Diversifying your retirement investments is important, but so is having multiple revenue streams. Wes Moss advocates "income investing," which provides retirees with an ongoing cash flow generated from stock dividends, interest on bonds, and distributions from investments such as master limited partnerships (MLPs) and real estate investment trusts (REITs). Instead of evaluating investments based on their market growth, Moss advises those over age 55 to seek out investments that offer a consistent and predictable cash flow.
#5: Mind the Fees
Fees can eat up your savings over time. For example, a $100,000 portfolio with a 1 percent ongoing fee will be worth $30,000 less over 20 years than the same portfolio with a .25 percent fee according to calculations from the Securities and Exchange Commission.
What's scarier is that these fees are frequently hidden. A study by the finance site, NerdWallet.com, found that more than 90 percent of Americans underestimated the fees on their 401(k)s.
Dan Solin says that investors should be especially mindful of hefty advisor fees and of management fees on actively managed mutual funds are usually around 1 percent.
Just don't get lost in it, says Darrow Kirkpatrick. It's easy to focus on fees and strategies and forget that a happy life, both now and later, is everyone's goal.
"Make sure you're enjoying every day because you just don't know how the numbers will shake out," he says.
Related