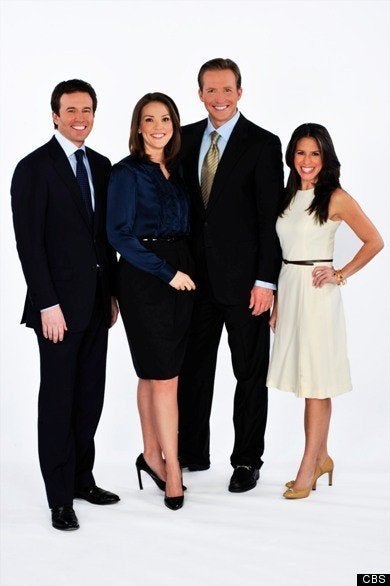 "The Early Show," CBS News' morning show, announced Tuesday that it is undergoing a major overhaul, replacing lead anchors Harry Smith -- who has been anchoring CBS morning shows for most of the past 20 years -- and Maggie Rodriguez with their weekend counterparts, Chris Wragge and Erica Hill. (Weatherman Dave Price is also being replaced, and CBS weekend news anchor Jeff Glor is taking Hill's place as newsreader on the show.)
On Tuesday afternoon, David Friedman, the executive producer who runs the show, spoke to The Huffington Post about the latest shakeup of a show that, try as it might, has always seemed like an also-ran compared to its two big rivals, "Today" and "Good Morning America."
Friedman started by saying that, in his opinion, the change was not as big as it seemed, even though it involves the replacement of nearly the entire front-line anchor team.
"Keep in mind that three of these four people are already part of the CBS family and already part of 'The Early Show,'" he said. (The fourth, former "Good Morning America" weekend co-anchor Marysol Castro, is replacing Price.)
He said that he and CBS President Sean McManus have been discussing an overhaul of the show for some time, though the outgoing team was not aware of this. McManus was the first to inform Smith and Rodriguez on Tuesday that they were being let go, and Friedman spoke to them shortly after they had heard the news.
"Obviously they were surprised and upset," he said. "But they understood, and were very professional, and there are opportunities for them here at CBS News."
It has already been announced that Smith will do more reporting and become the chief fill-in anchor for the "CBS Evening News" and "Face The Nation." Rodriguez's role has not been worked out yet. Friedman stressed that both had "done tremendous work for 'The Early Show,'" but that it was "time to make a change."
That change will place Hill and Wragge in much more prominent positions than they ever have been. Friedman said he first took note of their talent when he was still at NBC last year and tuned in to see them anchor the Saturday edition of "Early."
"It was then that I saw how great they were together, how comfortable they were together," he said. Friedman's first move after he took the helm of the show was to take Hill completely away from CNN, where she had remained while hosting the Saturday show. "I did that because I thought Erica Hill is just a tremendous talent," he said.
Of course, the biggest problem for "Early" is not the relative familiarity or devotion of regular viewers: it's the big ratings gap between CBS and its rivals. During the week of November 15, for instance, "The Early Show" drew an average of 2.93 million viewers, compared to 4.64 million for "Good Morning America" and 5.56 million for "Today."
Friedman was quick to quarrel with the "perennial third place" charge, noting that the show has "millions and millions of unique viewers who only watch 'The Early Show' day in and day out."
Yet Friedman also acknowledged that "I'd be lying if we said that our goal isn't to be second place. But that's a longterm goal." In the short term, he said, his focus would be on strengthening the broadcast and making the show necessary and compelling to watch for people. "It's really about being in touch with what our viewers want," he said.

Related
Popular in the Community