Another week of early voting has passed and at least 429,337 people have voted in the 2016 election. I say "at least" because I do not have information from all the states, and information from some states is a little out-of-date. This week should see an acceleration of early voting as mail ballots are sent to domestic civilian voters in a number of states.
The week ended with revelations of lewd comments made by Donald Trump that prompted a number of Republican elected officials to renounce their endorsements of him. Some of these officials have called upon Trump to withdraw from the election. Trump's combative second presidential debate performance signals no intent to accede to their demands.
In any case, the die has been cast with the ballots. There is no way to remove Trump's name from the ballot at this late date. In every state, military and overseas civilian voters have been voting since late September, as required by federal law to afford these people an opportunity to receive and return their ballots. Many domestic civilian voters have already returned ballots, too. Millions more ballots have been printed and have already been sent or will be sent soon. We are beyond the point where ballots can be changed.
Candidates do occasionally pass away or decide to quit the race. There are ways for parties to select replacement candidates. When this occurs when ballots are already printed, it is understood a vote for the candidate named on the ballot is a vote for the replacement candidate. This would undoubtedly create much voter confusion.
Some Republicans have said they will write in Mike Pence rather than vote for Trump. Some states require write-in candidates to file paperwork in advance of the election in order to become official write-in candidates; those that do not do not have votes counted for them. In the extremely unlikely event Mike Pence became a replacement for Trump, additional voter confusion would arise when voters decided to write in Pence's name instead of casting a vote for Trump. I would consider such write-in votes to be a clear sign of voter intent, but the legal status of such votes is murky and would undoubtedly be litigated if Pence won.
Ominously, a four-four Supreme Court may deadlock on any legal questions, leaving the patchwork of lower courts to decide the election. The legitimacy of the election would be severely damaged. Let's hope that the election is decisive enough that the courts do not have to get involved.
A frequent criticism of early voting is that early voters may regret their vote if late breaking news changes their mind. I do not believe that Trump's revelations are new news to the earliest of early voters. The earliest of early voters are extreme political junkies. These people have already formed a strong opinion of both major party candidates and few will be swayed by virtually any news that is revealed between now and Election Day. Indeed, the initial polling suggests that a considerable segment of Republicans continue to support Trump.
So, what does early voting tell us about the state of the election? Keep in mind that these are a drop in the bucket of the 130 million or more votes that will be cast in the election. There is nearly a month left and much can happen in what has already been an eventful election. I continue to focus on only three states where there are good comparisons to be made to 2012: Iowa, Maine, and North Carolina. I expect to soon expand analysis to other states. For now, I'm primarily looking at the more numerous ballot requests, I also expect soon to start focusing analysis on returned ballots.
Iowa
A recent Des Moines Register poll gives Trump a +4 lead, and the early vote strongly suggests Trump is poised to do better than Romney did in 2012. In the absentee ballot requests, registered Democrats are running 50,024 requests behind their 2012 level. If there is improvement for Hillary Clinton, it is by way of a drop-off of Republican early voting interest that started following the prior week's presidential debate. The Wednesday the week before last, registered Republicans were running slightly ahead of their 2012 level, but are now running a deficit of 14,099 requests.
The Iowa Secretary of State's office reports absentee ballot activity by congressional district (although the state does not split its Electoral College votes among its congressional districts), and has comparable 2012 reports. Looking across congressional districts, both parties are seeing the least drop-off from 2012 in the Third Congressional District, which is where the state's largest city, Des Moines, is located. Dallas County, where Des Moines suburbs are located, is the fastest growing county in the state, with 9.4 percent growth since 2010. Other parts of Iowa are growing, too, so this is only a partial explanation for the relatively higher volume of absentee ballot requests.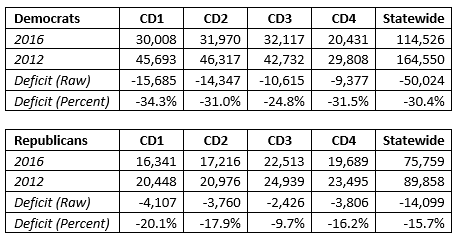 I suspect that greater voting interest is coming from larger cities, but interest is languishing in rural areas. The drop-off is particularly acute for the Democrats in the First and Second congressional districts, which may hold the key to the election in Iowa. The eastern part of Iowa, along with Southwestern Wisconsin, Western Illinois, and Southeastern Minnesota, is one of the few regions of Democratic strength in rural America. Declined voting interest in this region spells trouble for Clinton in Iowa, and potentially has implications for Wisconsin.
North Carolina
The New York Times' Upshot projects that Trump has a +1 lead among people who have returned ballots. I believe this could be an accurate estimate, but the problem for Trump is that the lead should be larger in the mail ballots. It is imperative for him to build a lead to offset the 90%+ of in-person early voters who tend to lean Democrat. Registered Democrats continue to vote and request ballots at levels above 2012 and Republicans below, suggesting the polling is correct that Clinton will do better than Barack Obama in North Carolina.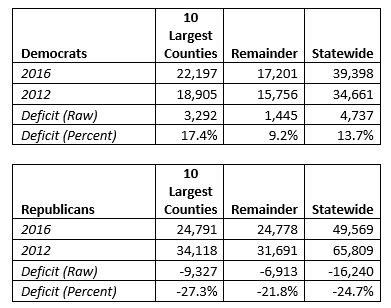 North Carolina provides a wealth of election information. It is possible to make a 2012 and 2016 comparison for different types of voters, and by where they live. Among the ten largest counties, Ballot requests from registered Democrats are up 17.4% over their 2012 levels, but are only up 9.2% in the remainder of the state. Population growth is also a factor, as large population centers tend to continue to exhibit the fastest growth. Republicans are actually facing a larger decline the ten largest counties, off 27.3% from the 2012 levels, compared with a decline of 21.8% in the remainder. Here, in a reverse of Iowa, the problem for Republicans is widespread, but more acute in the urban areas of North Carolina. If there are hidden Trump voters in rural North Carolina, they are so stealthy they haven't requested a ballot from election officials, yet.
Maine
Maine continues to look similar to 2012 for the Democrats, as does the First Congressional District. There has been marked improvement for the Democrats in the Second Congressional District, the district that could go for Trump, as Democratic interest in voting has increased above 2012 levels.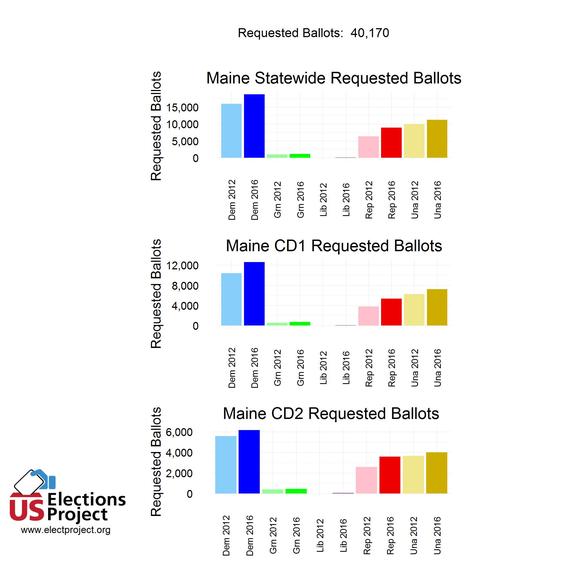 Florida
Since there is much speculation about Florida, some of it coming from the Clinton campaign, I have to reiterate that Florida's mail ballot law changed since 2012. Anyone who requested a ballot during 2014 or since has a standing request for the 2016 election. Some counties allow voters to check a box on their ballot return envelopes to serve as a new request. These options were not available prior to 2012. As a consequence, in 2014, Democrats narrowed a traditional large advantage Republicans have in mail ballots. Registered Republicans have only a 3.1 percentage point lead in ballot requests at the end of the week (the lead narrowed much when Palm Beach reported its domestic absentee ballot requests on Friday). If Democrats take a lead in mail ballots, that would be noteworthy. I don't think they will. I believe most likely that we will have to wait for the first week of November once the in-person early voting in in full swing to get a good read on Florida's early vote.
Summary
Since the first presidential debate, Clinton continues to fare above Obama in North Carolina. Republican weakness is particularly acute in the North Carolina's largest counties. Trump continues to fare better than Romney in Iowa, but has potentially lost some momentum. Clinton's weakness in Iowa may extend to southeastern Wisconsin, where there is no comparable early vote data available. Maine continues to look similar to 2012 statewide and in the First Congressional District, and the Second Congressional District is looking better for Clinton.
For more information, I post a spreadsheet of statistics for these and other states at www.electproject.org and I post continuous updates through Twitter @ElectProject.
Popular in the Community