The second week of early voting has ended and 88,371 people have voted in all reporting states, with 31 days to go until Election Day on Nov. 4. I track these early voting statistics for states and localities that publicly report them here.
The majority of these voters reside in Iowa, where an intense ground game is underway. As of Thursday, 61,741 Iowans had returned mail ballots, representing 5.4 percent of the total votes cast in 2010. The pace of ballot returns increased from a daily average of two thousand last week to ten thousand this week. If typical patterns hold, the volume of early voting will continue to increase as Election Day nears. Early vote should easily eclipse 2010 in absolute terms, and likely signals higher overall turnout. Higher turnout should favor Democrats, since polls show Republicans do better among likely voters compared to registered voters.
Democrats started strong out of the gate, with 57,896 ballot requests on Monday, Sept. 22, the first day the Secretary of State's office began releasing statistics. At the similar point in 2010 Democrats started with 34,318 ballot requests, thus Democrats experienced a 69 percent increase in ballot requests. Republicans started even stronger in percentage terms than 2010, although they had more room for improvement. In 2010, Republicans started with 12,710 requests compared with 31,099 this year, a 145 percent increase. The raw difference tells a slightly different story, Democrats started with 23,551 more ballot requests over 2010, compared with 18,389 for the Republicans.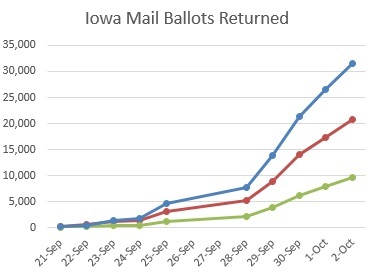 Since Democrats started with more ballot requests, they've had more ballots returned. As of Thursday, Democrats enjoy a 31,437 (51 percent) to 20,732 (33 percent) lead in returned ballots, a lead in percentage terms that has remained fairly steady during the course of the week.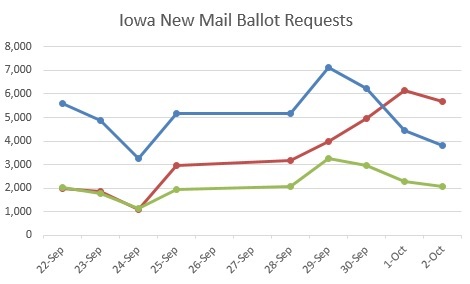 New ballot requests may signal the future, and here Republicans have something to look forward to. Democrats reached a peak for new ballot requests on Monday, Sept. 29, with 7,106 coming in the previous Friday and the over weekend. During the week their new requests steadily declined day to day, reaching 3,806 on Thursday. While Democrats have been in the doldrums, Republicans have sailed a strong wind past the Democrats on new ballot requests. Republicans started the week with 3,966 new requests and steadily increased during the week, with just a slight dip down to 5,660 on Thursday.
Interestingly, ballot requests from Iowans with no party affiliation also steady declined during the week, from 3,246 on Monday to 2,045 on Thursday. The DSCC claims that their mobilization target includes these voters, and that these are a high priority since they are more likely to be infrequent midterm voters. Since the mobilization occurring among registered Republicans did not spill over to Iowans without a party registration it may be that fewer of these folks are in the Republicans' target.
Thanks in part to the Republicans' surge and in part to the Democrats' stumble, as of Thursday, Republicans are on firmer ground than where they started the week. Republicans now have 62,881 total ballot requests, 38,145 more requests than they had at a similar point in 2010, representing a 154 percent increase. Democrats still lead with 103,537 total requests, but this is 32,545 more than the similar point in 2010, representing a 68 percent increase. The DSCC claims that Iowa Republicans are just banking votes from people who voted in 2010 and would have voted in 2014 anyway. The apparent absence of those without a party registration in the Republican target lends some credence to this claim. Democrats usually do very well among early voters in Iowa and usually lose Election Day voters, if the late week trend holds next week and starts showing up in returned ballots, Democrats will have much to be nervous about.
Another closely watched state with a wealth of early voting data is North Carolina. Here, Democrats have much more reason to be optimistic.
This week a federal appeals court voided two aspects of the Republican legislature's sweeping changes to North Carolina's election laws. The court reinstated what is known as "one-stop" voting, which is a policy that allows eligible persons to register and vote in-person during the early voting period. over 20,000 people took advantage of one-stop voting in 2010. The court also will require election officials to count ballots that may be cast in a wrong precinct.
The court did not reinstate the week of early voting two weeks prior to the election. However, election officials expanded early voting hours the evening and weekend during the week prior to the election, such that about 97 percent of the hours are retained even though the days have been cut. Furthermore, more polling places will be open. Recall that the volume of early voting increases as the election nears, so this expanded access when voters are more interested may actually increase in-person early voting, which is typically the early voting method of choice for 90% of early voters.
Those that have voted in North Carolina to date have done so by mail. Registered Democrats currently hold a 44 percent to 35 percent lead on returned ballots and a 41 percent to 35 percent lead on ballot requests. This is highly unusual. As I described last week, in 2010, Republicans led mail ballots 45% to 35%. There's no indication at this point this pattern will reverse, as it did in Iowa. However, the mail ballots are just the hors' d'oeuvre, the in-person early voting is the main course. The Democratic advantage in mail ballots could easily be mitigated by a poor showing during the in-person early voting period.
Another state reporting early voting by party registration is Maine. Only 90 ballots have been returned as of Friday, but a much larger 12,340 ballots have been requested. Among these, registered Democrats have a commanding 55 percent to 19 percent advantage. At a similar point in 2010, there were more requests, 14,103, and Republicans led these 39 percent to 32 percent. The polls show a narrow lead to Michaud (D); at the least the early vote signal points in the same direction.
Popular in the Community