Turnout on the first day of early voting bodes well for Jon Ossoff, the leading Democratic candidate in the special election for Georgia's 6th Congressional District, according to an analysis by Nate Cohn, The New York Times' election expert.
Early voting began Monday in the race to fill a House seat vacated by Secretary of Health and Human Services Tom Price. Democrats are hoping to ride anger against President Donald Trump to an upset victory in the historically Republican district.
Democrats made up a solid majority of voters on the first day of voting in Georgia's 6th District, in contrast to Republicans' lopsided showing in the November election, according to Cohn's look at the official data. He counted Democrats and Republicans based on the last primary each early voter participated in, information he retrieved from the public voter files of those who voted on Monday.
However, there are good reasons not to read too much into data points like these.
Turnout in early voting, let alone the first day of early voting, is not necessarily indicative of the final outcome. And just because someone voted for a party in the most recent primary, it doesn't mean they will vote for that party in a general election.
Early voting in Georgia's 6th will conclude on April 14, and Election Day itself is April 18.
The election is what's known as a "jungle primary," in which members of both parties all compete to capture 50 percent of the vote. Unless one of them takes a majority of voters in the April race, there will be a runoff election between the top two contenders on June 20. Clearing the first round would not guarantee Ossoff victory in the final face-off.
"These are just the very first tea leaves at the bottom of the teacup," said Michael McDonald, an election specialist at the University of Florida.
Still, Democrats are eager for any evidence that the backlash to Trump's policies is lifting their fortunes.
When Trump tapped Price for his Cabinet, grassroots liberals seized on the suddenly open House seat as an opportunity to test Democrats' post-election enthusiasm ― and all voters' growing distaste for the commander-in-chief's performance. The liberal news site Daily Kos alone has raised $1 million toward the 30-year-old Ossoff's bid against nearly a dozen Republican contenders.
Although the district has voted Republican consistently in the past, it is home to a more educated, wealthier type of Republican voter that has typically been more averse to Trump's populist style. While Price cruised to re-election by a 23-point margin in November, Trump defeated Clinton in the district by a mere percentage point.
Progressives from across the country are pulling out all the stops for Ossoff as voting begins. Liberal television star Alyssa Milano is offering free rides to the polls in an effort to drive up Ossoff's turnout.
Before You Go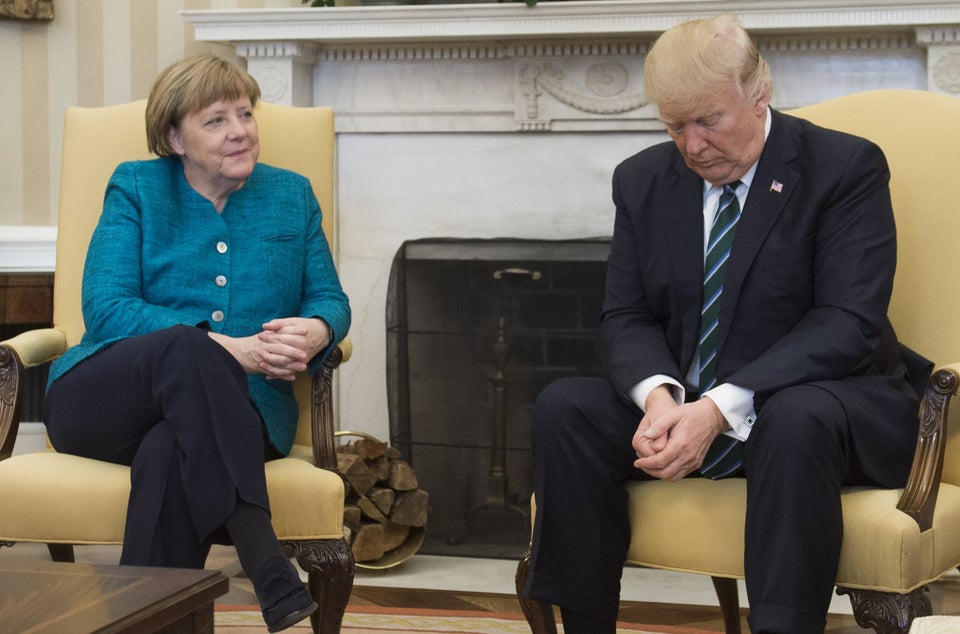 Awkward Meeting for Merkel and Trump
Popular in the Community