Virginia early voting turnout data point in a similar direction as the polls that Democratic gubernatorial candidate Terry McAuliffe is doing substantially better than the Democratic ticket did four years ago.
The method of early voting provides the first piece of evidence. As of Election Day morning, the number of persons who voted in-person early, the preferred method for Democrats, rose from 53,042 in 2009 to 79,011, a 49% increase. Mail ballots, the preferred method for Republicans, rose from 50,259 ballots cast in 2009 to 61,395 ballots requested in 2013, a 22% increase. Of these mail ballots, 41,879 have been returned, or 68%. I expect this number to rise since mail ballots can be returned as late as 7pm on Election Day and local election officials likely have not completed data entry for the ballots in hand.
The total turnout by locality provides a second piece of evidence. In localities where Obama defeated Romney, the total early vote counting in-person votes and mail ballot requests has increased 48%, while in localities where Romney defeated Obama, the increase is only 22%.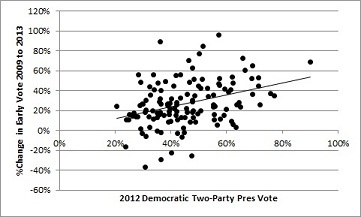 A plot of the percent change in early voting from 2009 to 2013 within localities by the 2012 presidential vote tells a similar story.
What this means to overall turnout is the last piece of evidence. Projecting the overall 36% increase in early voting to the 2 million overall turnout in 2009 suggests that overall turnout will be about 2.3 million (adjusting downward for an upward trend in early voting and factoring in that not all mail ballots will indeed be returned), or a voter registration turnout rate of 48%, while the voting-eligible turnout rate is 39%. Comparing to 2005, the last time Virginia had a competitive governor's election, the registration was 47% and the voting eligible turnout rate was 38%. (My voting-eligible turnout rate includes non-registered persons otherwise eligible to vote, and thus is not confounded by the way in which voter registration is administered.)
Supporters of Republican Ken Cuccinelli have not been shy to say that they need Democrats to stay home if they are to win the Virginia governor's election. Nothing in the early vote data supports the notion that Democrats are going to stay home. And while I tend to discount anecdotal evidence from polling locations, reports are dribbling in that turnout is running high for a gubernatorial election. Taken together with the polling, things are looking up for Terry McAuliffe.
Calling all HuffPost superfans!
Sign up for membership to become a founding member and help shape HuffPost's next chapter