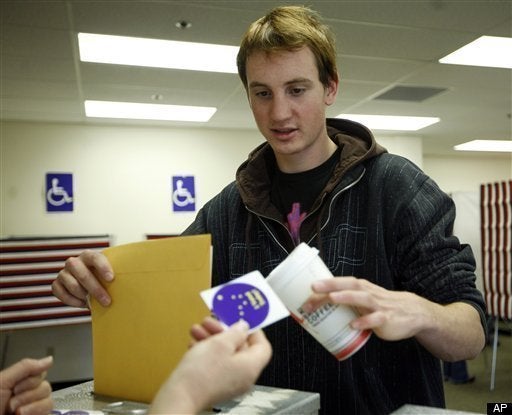 With the help of reports from California and updates from other states, the number of persons who have voted in the 2010 midterm election is now known to exceed 1.5 million voters. The number is likely much higher, given that some states are not reporting and other state reports are a little stale. I track these early voting statistics here.
What do the numbers tell us so far?
First, early voting continues along at a strong clip. If early voting continue at this pace, some states and localities appear poised to easily meet or exceed their 2008 levels.
Second, despite stories about an enthusiasm gap, registered Democrats have gotten off to a jack rabbit start in Ohio and Iowa, and are keeping up with registered Republicans elsewhere. The early voting period has become a marathon, so we will have to wait to see if the Democrats can sustain their sprint or if the Republican tortoise will win. This race ain't over yet.
Third, the early numbers are not smelling so rosy for Democrats in Nevada. True, Democrats have an 9 percentage point registration advantage among early voters in Clarke County -- home of Las Vegas -- but this is not as the 21 point margin Democrats enjoyed in 2008. And they are currently behind in Washoe by 5 points, a county where they had a 12 point margin in 2008. Anecdotal evidence is that Tea Party supporters were out in force over the weekend for the opening of early voting, but that their efforts were not as organized as the Democrats. We will have to see if Nevada is a state where conservative enthusiasm can beat Democratic GOTV efforts.
UPDATE: I am participating in a Politico/Brookings live web chat about early voting and other voting-related topics Wednesday, Oct. 20 @ 12:30pm (Eastern time). Questions are being accepted in advance.
Popular in the Community