Early voting pace is starting to pick up steam. With a little more than three weeks to go, voters have cast 642,831 ballots in all reporting jurisdictions. I track the early vote and provide statistics here.
With so much early voting activity over 2010 in the key Senate battlegrounds, perhaps the most prudent assessment is that turnout will be high in these states with competitive races. My comments to The Hill contradict their story's title, "Turnout Fears Mount for Dems" -- in states with competitive top of the ticket races, turnout appears to be robust. Lower interest among Democrats nationally is likely due to the fact that the largest Democratic states of California and New York don't have Senate elections, nor particularly competitive governors elections, to pique voters' interest.
Early voting may be changing pollsters' perceptions about the shape of the electorate. The Des Moines Register implies that Democrats' early voter mobilization has been a key to Braley's (D) narrowing of Ernst's (R) lead in their most recent poll. Pollsters are largely opaque as to how they define likely voters. If there are Democrats who don't make the cut as likely voters, but are mobilized to vote early, then we might observe changes in the composition of pollsters' likely voters as previously unlikely Democratic voters are converted into already voted. It will be worthwhile to monitor other polls to see if the Des Moines Register poll is the canary in the coalmine.
Iowa

Iowa remains ground zero for the fight for the Senate, and for early voting mobilization activities. As of Friday, 119,141 Iowans had voted in the 2014 general election, representing 10.5 percent of the total vote in 2010. If past patterns hold, the pace of early voting will continue to rise as the election nears. So, either an unprecedented number of Iowans will vote early in a midterm election, overall turnout will be exceptionally high, or (what is most likely) both will happen.
Registered Democrats lead the total ballots returned to date 47 percent to 37 percent. In 2010, they led 42 percent to 32 percent among all early voters. The lead so far appears typical. Iowa Democrats traditionally have had a strong early voting mobilization campaign, although their efforts are not always enough to win the election.
The future in requested ballots may hold promise for Republicans to eat into Democrats' margin. Democrats traditionally start with a strong lead on mail ballot requests, as the Iowa Secretary of State's office has been reporting. In 2010, Democrats started with 21,608 more requests than Republicans: 34,318 to 12,710, or 61 percent to 22 percent. At the outset in 2014 requests from both parties increased to such that Democrats led by 26,770: 57,869 to 31,099, or 52 percent to 27 percent. A 39 point margin in 2010 shrank to 25 points.
At the beginning of the Iowa early voting period, Republicans started 2014 in a much better situation than in 2010 in percentage terms. Republicans appear to have benefited from a $125 million dollar investment in voter mobilization by Americans for Prosperity. Where in the past Republicans largely left their voters to their own devices to vote early if they wanted, this election Republicans are not going to concede the early vote to Democrats.
Late the previous week, registered Republican took the lead in new mail ballot requests, a lead that persisted through last week.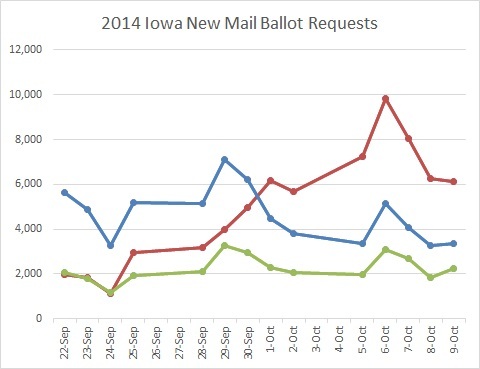 A similar surge in Republican ballot requests occurred in 2010 at about the same time prior to the election (the election was held two days earlier on Nov. 2). Logically, such a surge must have happened since Democrats started with a commanding lead in ballot requests, but did not lead nearly as much when all ballots were returned.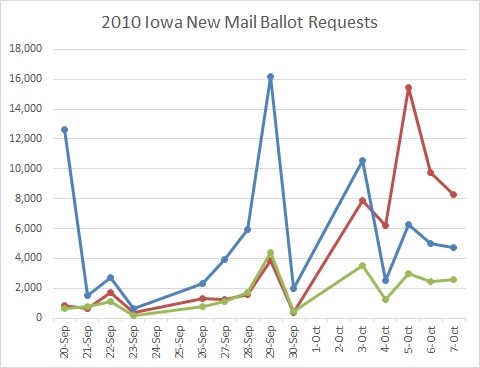 As of Friday, Democrats lead Republicans by 22,352 total ballot requests 122,745 to 100,393, or 44 percent to 36 percent. At the same number of days from the election in 2010, Democrats led by 27,759 requests or 49 percent to 35 percent. A 14 point margin in 2010 shrank to 8 points.
Americans for Prosperity's investment appears to be paying off, but Democrats have stepped up their efforts, too. As of Friday, Republicans have improved their 2010 performance by 28,080 ballot requests or 39 percent over 2010 while Democrats have improved 22,673 or 23 percent over 2010. Democrats start from a bigger early voting base, so it is harder for them to improve.
Perhaps most importantly, those with no party affiliation have increased 20,962 or 62 percent. The DSCC claims these voters are in their mobilization target, and they are an important part of the equation to expand the electorate. There is some evidence to support their claim, as the recent surge in registered Republicans voting early was not mirrored with a surge in those with no party affiliation; instead, these voters track more closely with Democrats' activity. If those with no party were in the Republicans target, we might expect some mobilization of registered Republicans to spill over. It may be that Republicans are starting their mobilization efforts from a disadvantage compared to Democrats, who have been using analytics for several cycles to fine-tune their mobilization target to include those with no party registration.
The Des Moines Register poll provides further evidence that those without a party registration are in the Democrats' target. In their most recent poll they find "Among the 15 percent of poll respondents who say they have already voted, Braley leads convincingly, 56 percent to 38 percent." This is larger than the 47 percent to 37 percent margin in party registration of those who have already voted.
Both parties appear that they've improved their performance over 2010. Republicans appear to be doing slightly better in percentage and raw terms, but they started from behind and had more room for improvement. The signals are thus difficult to interpret. One strong signal, however, is that turnout will be high, and pollsters repeatedly find Democrats do better the higher the turnout.
Florida

In Florida, roughly a third of the electorate will vote by mail, a third in-person early, and a third on election day. So far, an impressive 406,275 people have had their ballots accepted by election officials. Registered Republicans typically do well among mail ballots, leading Democrats roughly 53 percent to 32 percent in 2010. This year, Republicans currently lead a slightly narrower 48 percent to 34 percent.
Florida Democrats point to a narrower Republican lead among the 2.4 million requested ballots, 42 percent to 39 percent. These statistics may be more a consequence of changing laws, voter behavior, and campaign strategies than evidence that Democrats are much more enthusiastic to vote. In 2012, Florida allowed for the first time mail voters to request that a mail ballot be sent to them in the next election. The Obama campaign was concerned that a reduction in early voting days would reduce in-person early voting -- which is traditionally Democrats' preferred method of voting -- and encouraged their supporters to vote by mail. The result was that Democrats narrowed a 14 point Republican lead among mail ballots in 2008 to a 4 point lead in 2012. Many of these mail voters may have requested a mail ballot for 2014, and thus the narrowed lead for Republicans in both ballots returned and requested. With shifting patterns in voters' behavior, it is prudent to wait until the in-person early voting period is underway to determine if early voting provides a signal about the state of the 2014 governors' election.
Trends that I've previously discussed persist. Democrats still lead mail ballots returned and requested; Republicans usually lead both. Republicans finally started showing signs of life late last week on Friday, surpassing Democrats in the 726 new ballot returned 40 percent to 38 percent and 2,736 new ballots requested 48 percent to 29 percent. We'll have to see if this surge persists to next week, as witnessed in Iowa, or is a momentary blip.
Earlier this week, the U.S. Supreme Court overturned a ruling from a lower court reinstating North Carolina's one-stop voting, where voters can register and vote during the early vote period. (It's important to understand the Supreme Court has yet to rule on the merits of the case, which is also true in the court's move to ban Wisconsin's photo id law for this election -- the Court rejected changes to election laws so close to the election.) Voter registration has caught election officials off guard, running at a pace typically seen in a higher turnout presidential election. We'll have to see if Democrats have been successful at registering their voters before the state's deadline last Friday, instead of during the now-defunct one-stop voting period.
Georgia starts in-person early voting the coming week, and the patterns of Whites tending to perform well among mail ballots should shift dramatically as a consequence.
A looming issue to monitor in the coming week is roughly 50,000 voter registration forms from a Democratic-backed group the "New Georgia Project" that election officials have refused to process due to concerns of 25 fraudulent forms. In a registration drive of this magnitude, its inevitable that some folks will fill out joke forms -- but groups are required by law to turn in forms to election officials, even those that they flag as fraudulent. To my knowledge, no election official has ever refused to process registration forms from any Republican group, even those found turning in fraudulent forms. What will happen when these 50,000 people begin showing up to vote believing they are duly registered?
There is not a lot of demographic information about early voters released by South Dakota, but there is one thing of interest to note. So far, 8,445 South Dakotans have returned ballots, or 2.7 percent of 2010 turnout. In 2010, 24 percent of South Dakotan voters cast a ballot before election day. The current early voting activity is generally lower than other states with early voting underway and with hot Senate elections. I suspect given the high uncertainty of the that we'll see South Dakotans hold their ballots longer so that they can make a more informed choice. I also suspect those that have already cast ballots are the most diehard partisans who would not switch their vote.
Popular in the Community