MIAMI -- The battle over ballot access continued across the country Monday, as Republican Party operatives and elected officials pressed forward with apparent attempts to suppress the vote ahead of Election Day.
In Miami-Dade county, where a swollen line forced Saturday's final early voter to wait until 1:00 a.m. Sunday morning to cast a ballot, the Elections Department's workaround to Scott's decision -- four hours of in-person absentee balloting on Sunday afternoon -- dissolved into a protest when Republican Mayor Carlos Gimenez ordered operations to shut down with 180 people in line and two hours to go. Though voting eventually resumed, it was only after residents who refused to leave chanted "Let us vote!" while banging on the department's locked front door.
Early voting is crucially important to working people, many of whom cannot take time off from work on a Tuesday to wait in line and cast a ballot at the polling place. Many black churches also use the Sunday before Election Day to take their congregations to the polls to vote early, a practice that is especially important to parishioners lacking transportation.
In Ohio, perhaps the most hotly contested swing state this year, long lines were common at early voting sites on Sunday and Monday. Many of those lines were in Democratic strongholds in Cleveland and Columbus, and a good deal of the voters in line were African-American, who were 26 times more likely to vote early in Cuyahoga County -- which includes Cleveland -- in 2008.
Despite the long lines, The Huffington Post's Jennifer Bendery reported, few voters, if any, left a two-hour long line in Cleveland out of discouragement. "If I die tomorrow, at least my vote counts today," one voter said.
Long lines are an inevitable result of a Republican-led legislature's move to reduce the number of early voting weekends in Ohio from five in 2008 to one in 2012. Secretary of State Jon Husted (R) sought to limit voting for the final weekend just to military voters, but President Barack Obama's campaign sued and won in federal court to reverse the move. Husted appealed all the way to the Supreme Court, which declined to hear the case.
In Pennsylvania, a coalition of civil rights groups have cited evidence that Tea Party groups were targeting minority voting areas under the guise of anti-voter fraud work. The coalition laid out the case for racial bias behind the Tea Party's work.
"We have received information that strongly suggests the Republican Party, under the guise of combating alleged voter fraud, has assigned Election Day poll watchers disproportionately to majority African-American precincts in Allegheny County," the civil rights groups wrote. "We are unaware of any history of voter fraud at any of these 59 locations. We are concerned that these locations are being targeted for impermissible, racially-motivated reasons."
Ryan Grim, Dan Froomkin and Jennifer Bendery contributed reporting
What was the experience at your polling place like? The Huffington Post is eager to hear your experiences and see your photos. Email us at openreporting@huffingtonpost.com.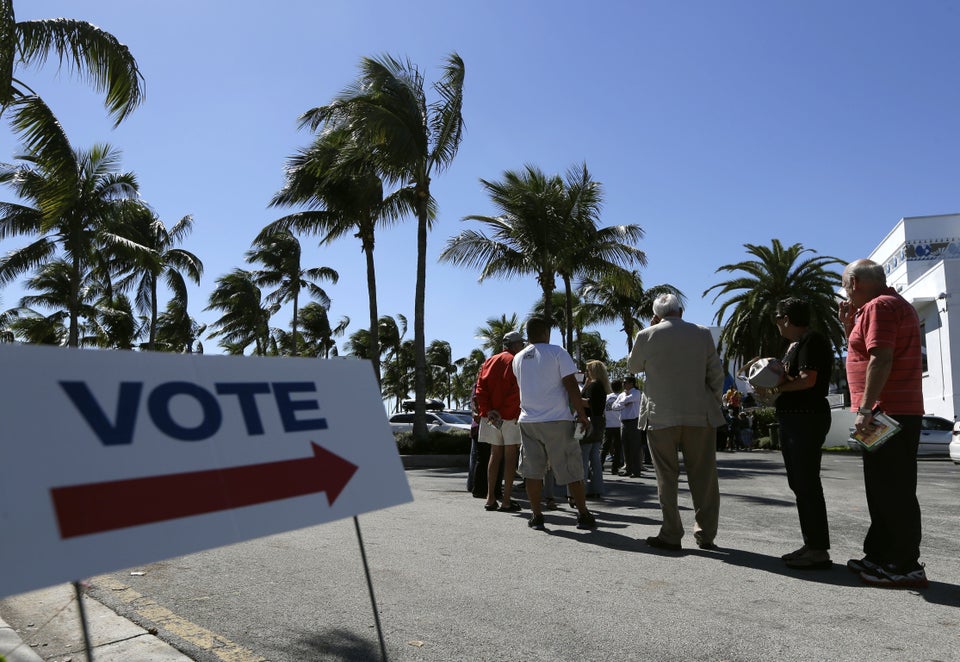 Long Lines For Miami Early Voting