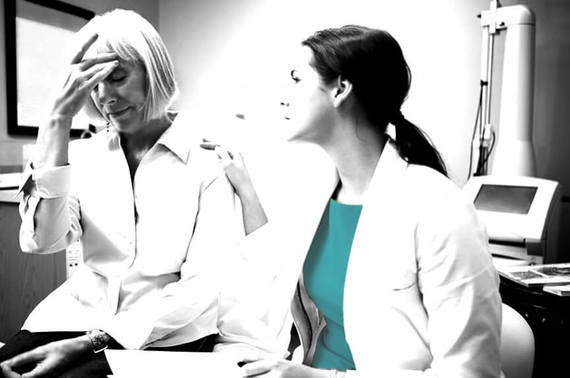 As I contemplated the approach of what is now the anniversary of my father's birthday this week, I am again saddened by the fact that he died way to early from lung cancer. I know about his journey from the time that he went to see his doctor because of an unusual pain that he was experiencing in his back that had become rather persistent. The initial diagnosis was that he had the flu and was placed on an antibiotic and when that didn't work, he was given antibiotics for a second time.
Finally, after the second round of medication didn't make a difference, he was given an x-ray and the lung cancer was found. And my father had never smoked a single cigarette in his life and was not living in any atmosphere either at work or at home where he would have been exposed to a life of second-hand smoke. So, I have always wondered since he was always so good about getting his yearly physical if there was something that he or his doctor may have missed that may have made a difference.
Therefore, I decided to do a bit of research and found a link that provided some interesting information about lung cancer and its warning signs. I was not only shocked but also rather horrified to learn that in approximately 40 percent of those who receive a lung cancer diagnosis, the diagnosis comes after the cancer has already advanced. This means to me that this particular cancer is far more aggressive than I may have considered and under such circumstances, how do we ever cut the numbers of those who ultimately lose their lives to this disease?
Obviously, until such time as the researchers can identify how and why certain cells develop and grow into the several different types of lung cancers that exist, we must rely on treatment. And since so many of those lung cancer cases are already in an advanced state, as such was with my father, surgery most likely is not even an option. It then becomes incumbent for our oncologists to design the best treatment plan available based upon the type of lung cancer and the current approved drugs that are available. And if you are like me, you might just find that this is the very best time for you or your caregivers to become your own best personal patient advocate.
There is no way for an oncologist to keep up on all of the very latest research, findings, clinical trials, etc. for every single type of every different cancer. However, the information is available but it takes some extra time and effort to find it. If you or your advocate is willing to do the work and focus on the exact cancer that has been diagnosed, you will be able to zero in on that work that is being done within this specific frame of reference to gather everything that you might need. Then armed with this knowledge, the various options can be reviewed with your oncologist at your next appointment to determine a focused course of action.
Should you find that your oncologist is not willing to have this discussion or to consider the information that you supplied and get back to you after review, it is time to find a new oncologist. However, you most likely have the perfect professional already in place and you will find that he/she is grateful for what you have done as it will not only help you but may very well help other patients who are also dealing with a diagnosis of the same cancer. My only wish is that this information and the access that we now have would have been available at the time that my father was diagnosed with his lung cancer. Perhaps it may have made the difference in our abilities to help to save his life as there were no early warning signs that would have allowed for an earlier diagnosis in his case.