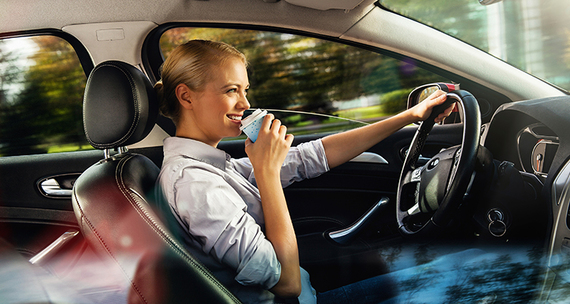 While people are usually well aware of the massive amount of time they spend at work, we rarely pay attention to the amount of time and resources it takes to get to and from work. When you think about it, our daily commute is a huge part of our lives that rarely receives any consideration. In fact, a recent study, the Citi ThankYou Premier Commuter Index, revealed that the average American spends 45 minutes and $10 per day on their commute; that amounts to a significant $2,600 and 200 hours per year!
With all the time and money we spend on getting to and from work, it's important to have a credit card that will help us maximize the dollars we spend. Let's take a look at why the Citi ThankYou® Premier Card could be the best credit card to help save you money on your daily commute.
Bonus Rewards for Gas Purchases
According to the survey, 79% of Americans reported that the majority of their commuting expenses went to gas. Back in April, Citi made some excellent improvements to the Citi ThankYou® Premier card, and one of the biggest changes was adding more rewards for gas purchases. Cardholders can earn 3x ThankYou points on all travel expenses, including gas purchases. If you find yourself in the 79% that spends a lot on gas, you should know that 3 points per dollar is the highest rate for any credit card with unlimited gas rewards.
But if you're in a big city where it's more economical to use public transportation, you'll still earn 3x ThankYou points on all your subway tickets, bus fares, taxis, toll roads, and more. Cardholders of the Citi ThankYou® Premier card could earn an extra $100 per year (depending on how you redeem your ThankYou points) from gas purchases alone.
The Citi survey also shed some light on how commuters spend their time as they travel to and from the workplace. In a world of never ending to-do lists, 76% of those surveyed said they viewed their commute as a time to relax, and many of them said it was the only "me time" they get during the day.
Of those who like to relax during their commute, 85% do so by listening to music. The Citi ThankYou® Premier also offers 2x ThankYou points on dining and entertainment. This means that for every song or album you purchase to enjoy on your ride to work, you can earn 2x ThankYou points along the way. Furthermore, many people enjoy grabbing breakfast on the go as they head to work, so they can also earn 2x ThankYou points for all dining purchases!
Expert Tip: Whether it's iTunes, Google Play, or another vendor, be sure to set the default payment on your mobile media platform to a rewards earning credit card like the Citi ThankYou® Premier. If your iTunes account is linked to your checking account instead, then the transaction may bypass valuable points you could be earning with every music purchase.
Best Option for Your Commute?
The Bank Americard Cash Rewards™ Credit Card rivals the Citi ThankYou Premier when it comes to gas purchases by earning 3% cash back at U.S. gas stations for the first $1,500 in combined gas and grocery purchases each quarter, and earn just 1% cash back on your dining and entertainment. Another great thing about this card is that it has no annual fee, whereas the Citi ThankYou® Premier has a $95 annual fee after the first year. The Citi ThankYou® Premier has no cap for rewards earning, and you can easily get more than 1 cent apiece for your ThankYou points, giving it the leg up on the BankAmericard Cash Rewards™ Credit Card.
The Capital One® Venture® Rewards Card is a very popular travel rewards card that offers 2 miles on every purchase with no reward limits, and no specified spending categories. Your miles are worth one cent when you redeem for travel and the annual fee is slightly lower at $59. The Capital One® Venture® Card might be a better choice if you don't spend a lot on gas, dining out, and entertainment; however, earning 3x ThankYou points on travel is a game changer that gives the ThankYou Premier a slight advantage. When it comes to your everyday commute, the Citi ThankYou® Premier is the clear winner.
If you're paying your bills off in full each month, it's definitely a smart move to have a credit card that rewards you for your everyday spending. The recent Citi ThankYou® Premier Commuter Index survey has revealed some interesting insights into how Americans spend their time and money during their daily commute. If you're looking for a credit card to maximize the money you spend getting to and from work, the Citi ThankYou® Premier Card is the way to go.