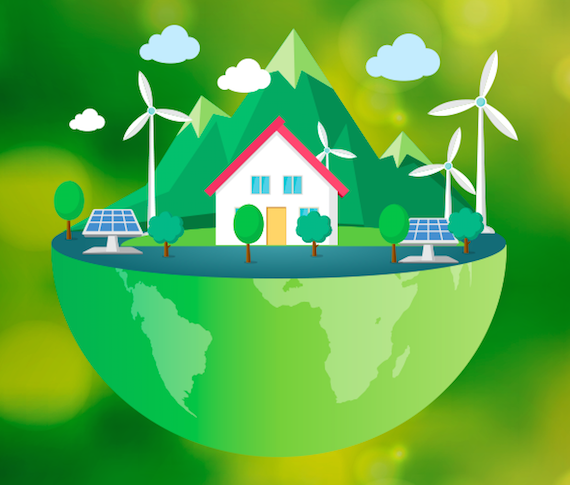 Image via Next Day Blinds
This winter, NASA reported that our globe hit a terrifying new record: February 2016 ranked as the most unusually warm month ever measured (at 1.35 degrees Celsius above the long-term average). As if that wasn't scary enough, this was more than 0.2 degrees C warmer than the previous most unusually warm month ever measured: January 2016.
The damage we have done to our planet feels irreparable some days. Weather has become more violent, less predictable, coral reefs have been destroyed, and entire species are dying out from lack of land and food. Watch one documentary about a starving polar bear and you'll never roll your eyes at the phrase "climate change" again.
This year, Earth Day falls on Friday, April 22nd, which means much of the weekend will be devoted to eco-friendly activities and events. The holiday was first founded in 1970 by Gaylord Nelson in Washington, DC. While it may seem like one of those "hippy dippy" granola "awareness" days, Earth Day, and the publicity it brings to climate change, has never been more important.
It would serve us all well to reduce our carbon footprints and make as minimal of a mark as possible on our world. That may not be the easiest change to make overnight, and unfortunately, we are fairly reliant on some sweeping policy changes to help us as individuals do better, but that doesn't mean we can't make small, significant changes today.
If you're ready for a big change, you could be a solar panel trendsetter and start using energy from the sun to power your home rather than non-renewable resources from the earth. In 2016, it's estimated that one million Americans will power their homes via solar panels. Of course, if you're not quite ready for such a major undertaking, there are other ways to deck out your home in an eco-friendly manner.
Darrell Smith, the Executive Director of the International Window Film Association, recommends families try installing window film. To cut down on utility bills but keep your home a consistent, comfortable temperature, window film is a great, inexpensive alternative to doing a full window replacement.
Finally, if you're only able to make one small tweak to your current habits, consider filling your home with plants. Live greenery works as an all-natural air filter and helps pump more oxygen into the world. Plants make for pretty decoration, cost just a couple bucks, and can help offset damage from any volatile organic compounds that may be in your home.
Calling all HuffPost superfans!
Sign up for membership to become a founding member and help shape HuffPost's next chapter