As we commemorate the 40th anniversary of Earth Day, it may seem that a global commitment to reduce greenhouse gas (GHG) emissions, the major cause of climate change, is still out of our reach. But thousands of cities around the world are already putting in place innovative ideas to reduce their carbon footprint.
Two decades ago, Mexico City was the world's most polluted city. Today, this megacity of 20 million citizens does not even rank in the top 10 of the world's worst air quality. How did we do this?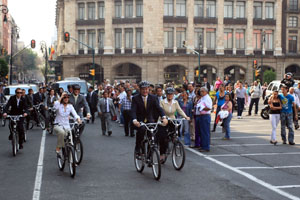 In 2006, we developed a 15-year Green Plan designed to reduce carbon emissions by 7 million metric tonnes between 2008 and 2012. Our plan includes major investments in public transportation, recycling programs, and building new green spaces. Our efforts to control atmospheric pollutants include replacing aging taxis, microbus and government fleets with lower emission vehicles, introducing a bike-sharing program, and building a world-class bus rapid transit system. We reduced our GHG emissions by 2 percent in the first year, or 750,000 metric tonnes. We're educating businesses and citizens on how they can contribute to a greener Mexico City.
We've taken action in other areas:
Improving water conservation through investments in treatment and recovery systems
Reducing waste through recycling program (recycling is up by 79 percent)
Installing green roofs and new parks and gardens
Our citizens see and feel the progress we are making nearly every morning. Mexico City's air is cleaner and healthier. In 1990, there were a total of 333 days in which the ozone level rose above the Mexican national standard, which is 0.110 parts per million. In 2009, the number of days above the standard fell to 180.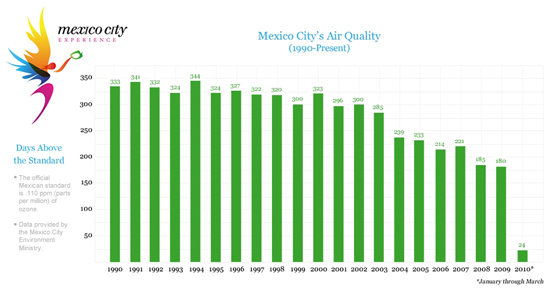 In addition, the average hours per day that the ozone standard is above the norm has also fallen -- from an average of 4.9 hours per day in 1990, to just 1.5 hours per day in 2009.
On this Earth Day, we should think how we can make a true impact in our daily lives. As Mexico City has shown, we don't have to sit and wait for world leaders to agree on how to care for our environment. We can take real action now in our own communities.
This year, as chairman of the World's Mayors Council on Climate Change, I am urging urban leaders around the globe to step up our efforts. We hope national leaders will make the difficult decisions necessary for governments to come together and agree on a global, binding agreement when they meet in Mexico in December.
But the world's cities -- home to half the world's population for the first time in history -- are on the front line of global climate change and many of us are taking action now to improve the quality of life for our citizens and the health of our planet.
For more information on Mexico City's sustainable initiatives, go here.
Support HuffPost
The Stakes Have Never Been Higher
Related
Popular in the Community