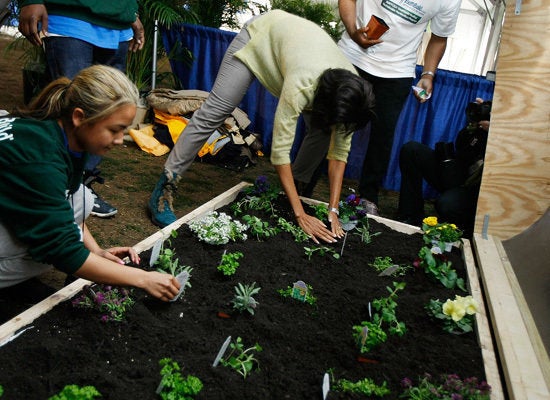 New Orleans met the new generation of grass roots volunteers the hard way - they helped clean up after the largest American environmental disaster since the Dust Bowl and have been pitching in ever since. Pre- Earth Day President Obama, President Clinton and Senator Kennedy celebrated America's volunteers, after which Obama signed the Serve America Act - a chance for groups like Americorps to grow.
At an Americorps coordinator's request three years ago, the New Orleans Musicians Relief Fund booked a young Gulfport band to entertain volunteers who had been removing debris and gutting homes in Waveland, Mississippi for months. Waveland was ground zero for Hurricane Katrina and young musicians in Tree Logic (appropriately named) kicked out some badass Funky Meters covers, hundreds of volunteers danced on the beach and music floated out of the tent across the water. It was the first time post-Katrina I felt hopeful for the future. There's something special in this generation of kids (in my '40s I get to call them kids). They're earnest, bright, and kind to a populace when it could not take one more broken promise, one more hustle, or one more need unmet.
So here they are year after year, often digging through debris with the St. Bernard Project, crafting cabinets from recycled wood with The Green Project, and gutting homes with Americorps. In their free time they've managed to fall in love with second lines, crawfish boils and life as rich and complex as only New Orleans offers. Here in the cornbelt, we met Professor Frank Shaw's volunteers when he had us over for boiled shrimp and Abita beer a few years ago as the town's only evacuee couple as far as I know. Over the course of the evening, volunteers told their only-in-New Orleans stories like gutting a performer's home and finding an entire closet filled with mold-encrusted glittering outfits. New Orleans was big on repurposing before it became cool since there's no need to shop for Mardi Gras with a city full of friends' costume closets.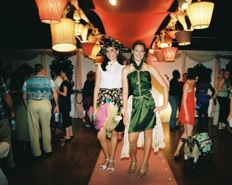 In addition to the waves of volunteers from out of state, New Orleans has its own volunteer-based community service organizations. Homegrown green efforts to pay it forward have included The Kindness Project, the Green Project, Recycle4theArts (Recyled Fashion Show at Left), Louisiana Bucket Brigade, ARC Mardi Gras Bead Recycling, Green Light New Orleans, Studio at Colton, Historic Green, Alliance for Affordable Energy, Global Green, Louisiana Cypress Purchase Legacy, Rebuilding Together New Orleans and the Preservation Resource Center. It's wonderful to know that these stories of service are just beginning.
Related
Popular in the Community