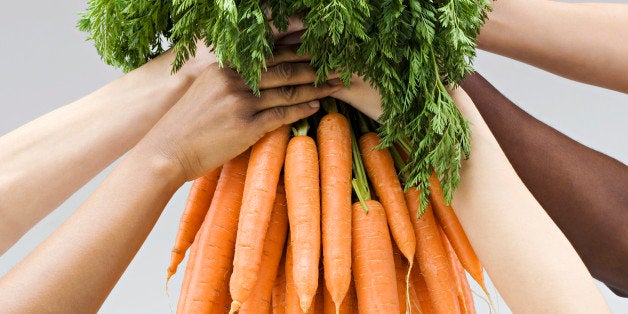 By Sari Kamin
HRN Staffer

With Earth Day fast approaching on April 22nd, this is a good time to check in with our community and ourselves and think about what we can do as citizens to help honor and respect our planet. It always occurred to me that there was a connection between pollution and climate change, but it wasn't until I read food activist and environmental advocate, Anna Lappé's book, Diet For a Hot Planet, that I realized the choices we make in our diets have a direct impact on our planet.
Lappé appeared on Cathy Erway's show, Eat Your Words on Heritage Radio Network to speak about her book and explicate the connection between food and climate change as she sees it. Lappé has said that, one third of all global emissions can be traced back to our food system. With agribusinesses now dominating our food system, food is now processed in factories that are responsible for massive amounts of greenhouse gas emissions. According to Lappé, "the food system itself (the entire process by which food reaches the end of our fork) is the largest single emitter of atmospheric greenhouse gases that drive climate change effects."
This is an issue that needs to be addressed on every level from government to individual. Starting with policy, Lappé stated that we need new infrastructure in order to support our farmers and get local food into local markets. As individuals, she encourages us all to reduce our "carbon food print" by making informed choices at our farmers markets and grocery stores. She believes that having an understanding of our food begins with curiosity and she encourages us all to discover the story behind our food.
One of the most effective and efficient ways to start is to plant something. In urban environments, it may be challenging to start a garden, but there are many ways to grow potted vegetables and herbs on your fire escape or windowsill. This is an easy and meaningful way to create your own food story and connect with the growing process at home. For some great tips on gardening and growing your own food, check in with hosts Carmen Devito and Alice Marcus Krieg of weekly gardening show, We Dig Plants on HeritageRadioNetwork.org.
As we think about Earth day and what that means to each of us, take advantage of these simple and accessible ways to do your part. Your body and your planet will thank you.
To listen to the original interview with Cathy Erway and Anna Lappé click here.
To learn more about Anna Lappé and her book, Diet for a Hot Planet click here.
Come join Heritage Radio Network on April 20th as we celebrate Earth Day with Carmen DeVito and Alice Marcus King, hosts of We Dig Plants, at West Elm Market in Dumbo, NYC. There will be activities for the whole family from 1-4 p.m.