In an effort to encourage low-impact touring and community engagement, the internationally acclaimed folk roots group Rising Appalachia has taken to the rails this spring to promote their border-crossing sixth album, Wider Circles. Set to be released on April 21, the album's blend of ethereal sister harmonies, banjo and fiddle duets, driving percussion, and brass and backup bass presents a lush Earth Day soundtrack for global times.
The band's coast-to-coast tour, in partnership with the National Association of Railway Passengers and Amtrak, also showcases Rising Appalachia's long-time commitment to the environmentally conscious "slow music movement," an effort to bring performance back to its roots and serve as a "cultural influence and catalyst of justice."
"We're supporting local businesses with farm-to-table hospitality; providing local non-profits at each show a platform to display information; exploring alternative methods of travel, including train, bike, low-impact vehicles, boat, horse, or simply focusing on regional touring; and encouraging concert goers to take in more than just the catharsis of the music," said Leah Smith, the soulful singer, poet, banjo player and fiddler who fronts the Georgia-raised group with her sister Chloe.
"These women and Rising Appalachia have lifted our spirits and stood, rode and canoed on the front lines of the resistance to fossil fuels pipelines," said Winona LaDuke, the founding director of the White Earth Recovery Land Project and the Native-led organization Honor the Earth. "Their music is good for the soul, spirit and courage."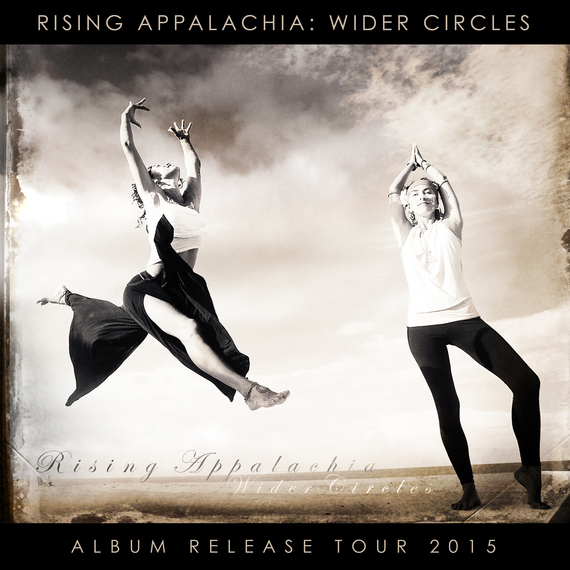 Since their entry onto the roots music scene eight years ago and the release of their now-classic "Scale Down," Rising Appalachia has always made their own road in the music industry, eschewing glitz and the ease of a pigeon-holed persona for years of musical and cultural travel across the U.S. and the far reaches of Europe, India, and Latin America. They've produced five other albums as modern-day griots, defying categories with their collaboration with various musicians on old-time mountain tunes; New Orleans jazz; hip hop; soul; multilingual Congolese, Bulgarian and Cuban songs; and spoken word.
"Wider Circles is in tribute to our journey on this troubadour path and is in homage to the incredible people we have collaborated with, met along the way, and been championed by," said Chloe, whose crystalline voice carries the freshness and vitality of Rhiannon Giddens.
On the new album, which includes Biko Casini on percussion and David Brown on stand-up bass and baritone guitar, the group roams from the Smith family's Appalachian musical traditions to the island of Stromboli in Italy to the mountain forests of the indigenous BriBri in Costa Rica. In the gorgeous "Lean In," Leah's earthy voice easily weaves around Chloe's lilting tone, "I"m a roadmap, baby, I'll take you back home." With syncopating "Medicine," Rising Appalachia celebrates traditional herbal medicine, as Leah's spoken-word poem invites listeners to find medicine in the seeds, which "we hold tight to our right to protect."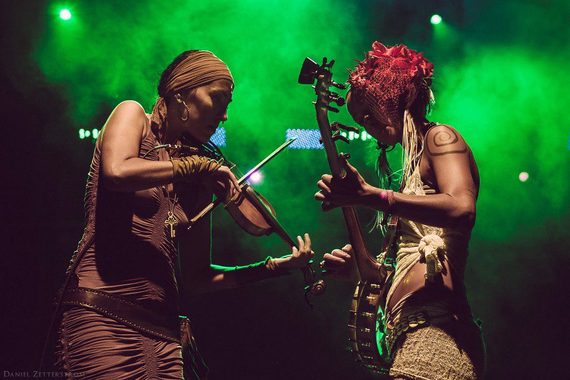 In a joyous global beat, the title track references Rainer Maria Rilke's poem -- "I live my life in widening circles / that reach out across the world" -- as the sisters' effortless harmonies weave between the banjo and brass, celebrating their journey in an anthem for those on the front lines of environmental justice.
"Speak your words with triumph
And I will watch your mouth.
I'll march with you, my sister,
to your place of fearing,
we'll dive into those waters, swim in to the clearing.
We always keep our heads up,
we'll always sing along.
We'll walk the path of kindness,
know where we belong.
I'll march with you, my brother, to the mountaintop,
we haul back the dynamite, make the rumble stop.
Be a pillar, I'll be your mocking bird.
We'll sing the rock of ages,
yes, we will be heard.
Let's form a great salvation
through harmony and sound.
We'll know the shape of progress,
like nature is always around."