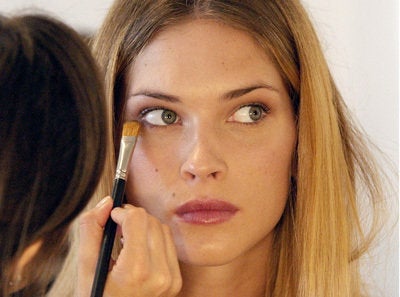 Halloween is not the only time of year that we paint our faces in disguise. Many of us do it every day! Although makeup can seem fairly benign -- a poof of powder here, a swipe of lipstick there -- up to 60% of whatever you put on your skin is absorbed directly into your bloodstream. So, especially if you think carefully about what you eat and attempt to avoid ingredients like high fructose corn syrup, it's worth reading the back of that tube of mascara to figure out exactly what's in it. Think of it like this: you are not only what you eat, but also what you put on your face.
Parabens and Phalates, oh my
Certain widely used additives have begun to raise questions, and can be deemed dubious at best. Parabens, for example, which are preservatives used in makeup to prevent microbial growth, ostensibly to protect consumers, might very well be estrogen-imitating endocrine distruptors implicated in carcinogenesis. The data is thus far inconclusive but scientists have detected the substance in breast cancer tissue. According to the Guardian's Ravi Somaiya, "some scientists are even worried that soaps and detergents are changing the gender of fish that live near outflow pipes." Phalates, which are found in nail polishes and fragrances, have also been found to have an effect on the reproductive systems of lab animals, and to be absorbed by the human body.
The Laissez-Faire USDA
According to New York Times reporter Natasha Singer,
Since 1938, when Congress gave the Food and Drug Administration limited authority over beauty products, cosmetics has been a largely self-regulating industry. Beauty manufacturers are required to ensure the safety of their cosmetics before they go on sale, but the federal agency has never defined safety, according to an agency spokeswoman.

Some health groups have raised questions about the possible long-term or cumulative effects of exposure to all the chemicals in everyday products. "They test in the short term for immediate reactions to make sure the product doesn't cause your skin to itch, get red or fall off," said Jeanne Rizzo, executive director of the Breast Cancer Fund, a nonprofit group in San Francisco. "But we don't know the long-term effect of multiple exposures to chemicals in cosmetics that can get absorbed in your skin and end up in your urine or your bloodstream."
Legislature and Leadership
Maureen Ryan of The Green Guide writes that California has recently taken the lead in the safe cosmetics campaign. Last year, the state implemented the California Safe Cosmetics Act "that requires cosmetic companies to tell state health authorities if a product contains any ingredient listed on California's comprehensive Proposition 65 list of chemicals deemed carcinogenic by the International Agency for Research on Cancer, the Environmental Protection Agency (EPA) or the National Toxicology Program and those considered as reproductive toxins by the National Toxicology Program's Center for the Evaluation of Risks to Human Reproduction." Ryan reports that Washington state has recently passed a similar bill. The European Union is equally concerned. A policy called the Registration, Evaluation and Authorization of Chemicals (REACH), which will require cosmetics firms collect comprehensive data on the possible risks of the substances to human health and to the environment, was recently instituted by the EU.
1. Mercury: A tiny amount of this potent nervous-system toxin, which accumulates in the body, is allowed as a preservative in eye-area cosmetics, such as mascara.
2. Coal-tar Colors: These chemicals are found in many "FD&C" or "D&C" colors used in makeup and hair dye. FD&C Blue 1 and FD &C Green 3 are carcinogenic, and impurities in other colors -- D&C Red 33, FD&C Yellow 5 and FD&C Yellow 6 -- have been shown to cause cancer when applied to the skin.
3. Formaldehyde: Found in eye shadows, mascaras and nail polishes, formaldehyde is "reasonably anticipated to be a human carcinogen," according to the National Toxicology Program's "Ninth Report on Carcinogens" (January 2001). The EPA classifies it as a probable human carcinogen. In its liquid state, formaldehyde, present in the ingredients DMDM hydantoin, diazolidinyl urea, and quaternium-15, can be absorbed through the skin and nails.
The Ugly
Green cosmetics are good for the environment too. Just as organic food production reduces the amount of toxic pesticides leased upon the Earth, so too does organic makeup production. Plus, most eco-friendly makeup lines use recycled packaging, and soy-based inks, and generally promote and stick to an ethos of sustainability. One specific way to decrease your carbon footprint is to eschew petroleum-based lipsticks and gloss, which deplete an non-renewable resource. Beware of over-wrought terminology, however, which is simply a byproduct of marketing wizardry. Treehugger's John Laumer speaks to the current fashion for organic mineral makeup: "A concentrated uranium ore right out of the bowels of the earth would be organic right? Bottom line: in mineral comparisons the term organic has little meaning."
The Good
It's worth noting that even very expensive "luxury" beauty produce are often fortified with toxic additives. Khiel's, for example, ranks high on every parabens watchdog's hit list. But what to wear? Even the most virtuous eco-warriors among us might occasionally seek a bit of shimmer or gloss. Thankfully, there are plenty of organic and eco-friendly makeup lines to choose from. Consider these options should you hope to feel truly fresh-faced and fancy-free.
Dr. Hauschka Novum Lipgloss ($16.95; www.drhauschka.com, 800-247-9907); Perfect Organics Super Moisturizing Shea Butter Balm ($3.99); and Suncoat Natural Lip Shimmer ($8.99; www.suncoatproducts.com, 519-780-0149).

Eye cosmetics, full of potentially irritating substances like talc, can be especially problematic. Some mascaras, especially lash-building ones, have been found to contain the mercury-based preservative thimerasol, which may cause allergic reactions and is a known neurotoxin. Instead consider Dr. Hauschka Mascara Intermezzo ($23.50; www.drhauschka.com, 800-247-9907); Miessence Pure Black Mascara ($20.50; bodysoul.mionegroup.com); or Gabriel Color Eyeshadow ($10.30; www.gabrielcosmeticsinc.com, 800-497-6419).

As for foundations and powders, Real Purity Creme Foundation ($23.99) and Powder Blush ($12.99; www.realpurity.com, 800-253-1694); Dr. Hauschka Translucent Make-up ($32.50) and Rouge Powder ($26; www.drhauschka.com, 800-247-9907); and Aveda Uruku Cheek-Lip cream ($14; www.aveda.com) are good bets. For concealer, consider: Gabriel Cosmetics Concealer ($11.50; www.gabrielcosmeticsinc.com, 800-497-6419); Earth's Beauty Undereye Light Concealer ($12.95; www.earthsbeauty.com, 888-586-9719)
Calling all HuffPost superfans!
Sign up for membership to become a founding member and help shape HuffPost's next chapter