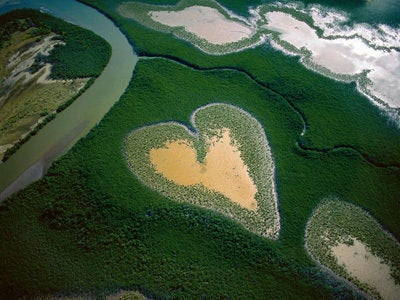 The view from a hovering helicopter affords perhaps the best vantage point from which to observe and capture the Earth's beauty -- and fragility. I recently met with artist-activist Yann Arthus-Bertrand to discuss climate change, carbon offsets, and his upcoming outdoor exhibition of 150 four-foot by six-foot aerial photographs of the Earth.
The collection, entitled The Earth From Above, will touch down in New York from May 1, 2009 to June 28, 2009, before continuing on to San Fransisco and Los Angeles in 2010. The exhibition has been displayed in 120 cities throughout the world, and has been recognized as one of the most influential environmental art events of the 21st century.
View a slideshow of select images from the exhibition and read the Q&A with Arthus-Bertrand below:
Have you noticed significant changes in how the Earth looks from above since you began this project several decades ago? I've seen the impact of man. I've been flying and photographing for 15 years now -- it's just long enough to see the impact, to see the deterioration. I saw the deforestation; I saw the cities grow bigger and bigger. But you know, this work changed my life completely. This changed my life because I saw how the Earth is beautiful. Nature is beautiful, and the more I fly the more enthusiastic I am about the beauty of nature.
You take the photos from above? From a plane? A helicopter? Do you purchase any carbon offsets or anything like that for the use? My foundation is the first one to do carbon offsets in France. Carbon offsets are very important to me. I'm flying, and I know why I'm doing it, but I'm not happy to do this. You know, I came here today, but I think its better to do this with a video conference. It's less expensive and better for the planet.
Do you consider yourself a photographer foremost, or an activist? I'm an activist surely, I'm a photographer, a little bit an artist, I'm a father, I'm a man. My main job is photography. I'm good at this, I love to do it, but I like my photography used for something. I prefer to be a witness than to be an artist.
What sense do you hope people will come away from this exhibition with? I think it's too late to be pessimistic. Deforestation, global warming, education, you know, there are so many things wrong, but anyway the world is still a nice place to live. My hope for this exhibit is to bring ecology into the heart of people's consciences.
What made you decide to start taking these photographs from above? When I was studying lions in Kenya, doing a thesis with my wife, I took up color photography. At the time, I worked as a guide taking tourists up in a hot air balloon. I used to tell them, "this is an elephant, this is a lion, this is a giraffe." Photography really gave me a new way to look at the world, to see the thing from behind. I think photography can give you a new perspective.
How does the success of your projects across the world reveal a growing awareness of ecological issues? You know, I have to be very, very modest on this because I began exhibiting my work in 2000 and [climate change] is worse now, so I don't think my exhibition changed a lot. But I try. I continue to try.
What's the process, from beginning to end, for just one photograph? It's very simple. When I come back [from shooting], I look at my computer with my assistant and I try to select the best one and then we print it. It's nothing special -- the process is very easy. We work now in digital because you can print more easily in a bigger size.
How did you decide on the huge format (4x6 feet) of your photographs? When you are in the helicopter, you see the thing big, so I'm trying to print it big.
Related
Popular in the Community