Hero. Many of us fail to recognize that we can all be heroes. We hear stories of extraordinary people doing extraordinary things and we often fail to make the connection that each and every one of us has that same potential. Look inside of yourself. Look around you. What you find is what will drive you to do positive things that can transform apathy to action and laziness to leadership. This is what the Earth Saver Award, powered by Greening Forward, recognizes in the youth of today -- youth who have discovered their passion in environmental protection. Youth such as Sean and Xiuhtezcatl took what they had and made a positive difference with it, thereby epitomizing a hero.
Sean Russell, 19, founded a youth-driven fishing line recycling and marine debris prevention initiative called the "Stow It-Don't Throw It" Project. Sean grew up in Sarasota, admiring the beauty of the sea but also witnessing how litter and debris can harm and kill wildlife. "Our ocean faces significant challenges, but it is important to not get overwhelmed with these challenges. Instead, each one of us must work together to protect these sensitive ecosystems for future generations to enjoy," Sean said. Since this project began in September 2008, Sean has expanded his efforts to involve hundreds of youth in 17 Florida counties in the assembly and distribution of more than 3,500 personal-sized fishing line recycling bins. Sean has also managed strong partnerships with more than 25 environmental and youth organizations throughout the state of Florida and across the country to ensure the project's sustainability. In November 2012, Sean brought together hundreds of these youth for a powerful Youth Ocean Conservation Summit at the Mote Marine Laboratory.
Xiuhtezcatl Martinez, 12, a leader of Earth Guardians in Boulder, Colorado, traces his environmental activism to his heritage. "My dad is of the Aztec tradition and I have always grown up knowing that all life is sacred and should be protected," Xiuhtezcatl said. "In order to change the world, we have to change the way we think about earth and others," Xiuhtezcatl continued. Xiuhtezcatl has organized over 35 rallies and actions and was the co-organizer of the biggest iMatter youth-led march in the United States with over 2,000 participants. He was instrumental in working with City Council to get pesticides out of parks, coal ash contained, a fee on plastic bags, and end a 20-year contract with Xcel energy so the city could start moving towards becoming a municipal powered by renewable energy. He also started a performance group called "Voice of Youth" and he writes original music and lyrics to educate people about the Earth. He filed a suit against the State of Colorado and the Federal government for not protecting the atmosphere and endangering future generations. Xiuhtezcatl's journey is shown in a WITNESS documentary.
You can connect with heroes like Sean and Xiuhtezcatl through Greening Forward at the Young Environmentalists Network. Greening Forward is providing a platform for young people around the globe to share ideas and network with other young environmental heroes.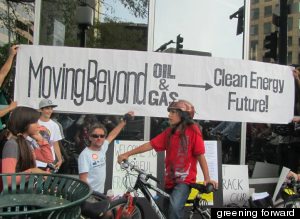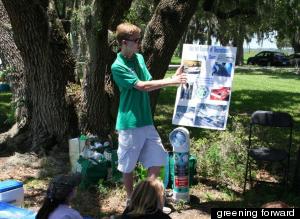 Related
Popular in the Community