The World At Night (TWAN), an international photography program that collaborated with Astronomers Without Borders for the annual contest, received submissions from photographers in 45 countries around the world. Divided into two categories, "Beauty Of The Night Sky" and "Against The Lights," users were asked to submit photos, taken within the last year, that depict the earth and sky without any extravagant editing.
Stephane Vetter, of France, took home the top prize overall and first place in the Beauty Of The Night Sky category for his "Sky Above Godafoss," a panoramic photo of the aurora and the Milky Way over Iceland. Austria's Andreas Max Böckle claimed first prize in the Against The Lights category with his photo, "Under the Hood," which captures a moonlit mountaintop overlooking Salzburg, Austria.
TWAN winners were decided by a panel of judges, primarily TWAN members, who examined twice as many photos as last year. The goal of the contest, now in its fourth year, is to find high-quality images that illustrate "how important and delicate the starry sky is as an affecting part of our nature, and also how bad the problem of light pollution has become," the international photography program said in a statement.
According to National Geographic, light pollution results when man-made light "spills into the natural world." This artificial light shines into various directions in the sky or at the ground.
"It isn't just an astronomer's problem," TWAN Director Babak Tafreshi explained to NBC News. "It's a major waste of energy, it disrupts ecosystems and has adverse health effects."
Check out this year's winners in the gallery below or see an overview of the most notable picks in video above.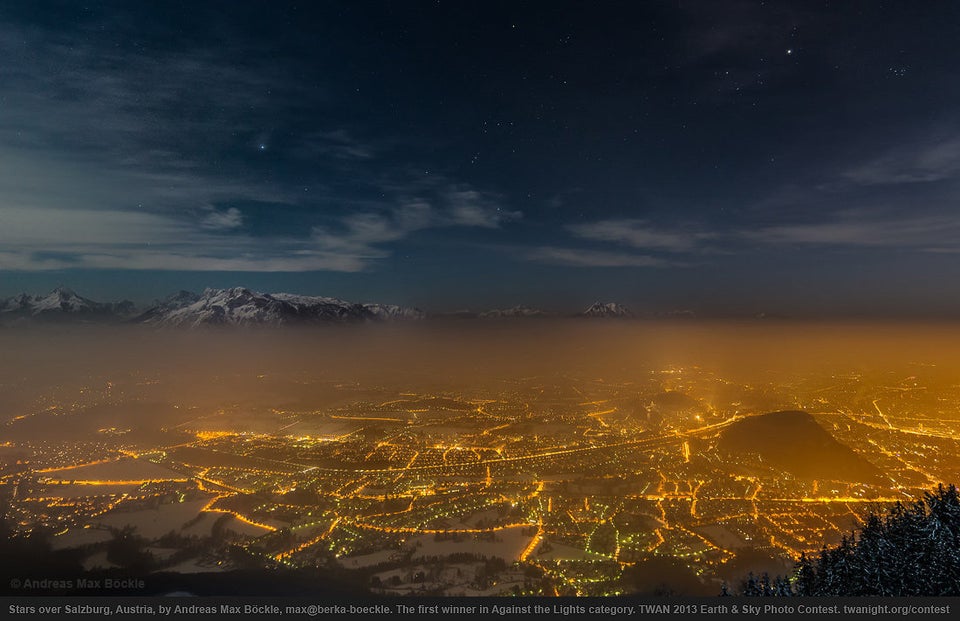 2013 Earth And Sky Photo Contest Winners
Related
Popular in the Community