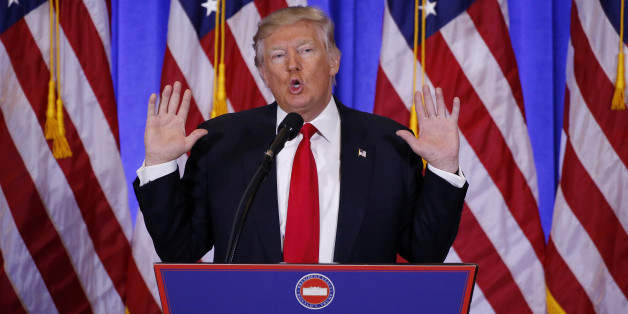 We're all in denial. Seriously. Somehow daily reporting on Donald Trump and his misdeeds hasn't managed to change anything. The man is tied to a foreign government and is still set to become the 45th President of the United States on Friday. It really makes you wonder, if Anthony Weiner's whole career can be ruined by a dick pic, then why the hell is the POTUS getting away with sexually assaulting women?
Trump's first press conference as President-Elect proved that the media is beyond holding him accountable. He's routinely proven that he's smarter than the media. He's a magician. Nobody wants to run the risk of being deemed "fake news" (a word that's lost all meaning, anyway) so many outlets won't even dare try anything that could put them in the spotlight. But that empowers the monster.
So, let's get one thing clear: this becomes real on Friday. We need to continue holding Donald Trump accountable for his actions and words.
There's one way to achieve this.
Make good art. Gaia is I, took that approach to make a powerful and impactful video on the current state of America. It's a thoughtful look back at the political climate and a wake up call to the American people. Take a look at the recap, this isn't the leader we deserve.
So, don't watch the inauguration on Friday. Don't give him the satisfaction. Write. Draw. Plan. March. Do anything to commit to making a better and more inclusive world.
REAL LIFE. REAL NEWS. REAL VOICES.
Help us tell more of the stories that matter from voices that too often remain unheard.