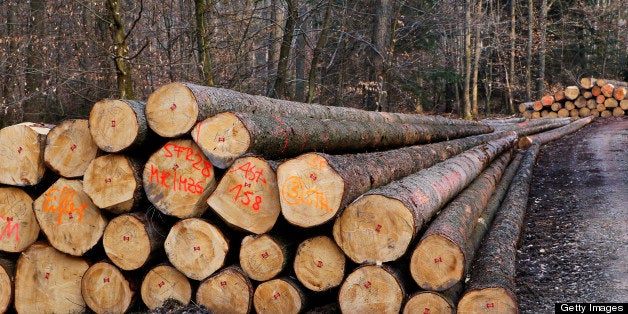 Last year, Tea Party Members of Congress temporarily persuaded GOP leadership to abandon their usual political acuity and launch a series of attacks on the Lacey Act, one of America's most successful environmental and economic laws. You'd think this might be too much even for the Tea Party.
After all, Lacey merely bans the import of illegally logged wood and paper as well as illegally hunted wildlife. But Tea Party acolytes like Tennessee's Marsha Blackburn somehow managed to briefly convince enough of their House colleagues that keeping illegal wood and poached trophy elephants out of the country was an example of government overreach.
Fortunately, the House GOP leadership came to its senses and backed off after they started hearing from businesses and citizens that Lacey was actually critical to giving the American forest products industry a level playing field against illegal overseas competition -- and that it was doing a good job of efficiently saving wildlife and protecting tropical forests.
But now some of the Lacey haters are back with a hearing in the House Natural Resources subcommittee aimed at intimidating the Obama administration into stopping implementation of the law. But the law is still working: If anything, it's having even bigger benefits than it did a year ago when the Tea Party had a conniption fit about it. For those Tea Partiers who don't remember the lessons they learned last year, we've prepared a refresher:
"1. The Lacey Act has helped create jobs in the U.S. forest products industry by eliminating illegal and unfair competition, contributing to a 70 percent increase in U.S. hardwood exports in the last four years while most other countries had flat or declining exports.

2. In particular, the Act has helped the United States reverse the trade deficit with its largest forest products competitor and primary trafficking point for illegally logged wood, China, from a $20.3 billion deficit in 2006 to a $600 million surplus in 2010, signaling both the strengthening of the U.S. forestry products sector and the cleaning up of China's industry.

3. The Lacey Act has contributed to the 22 percent decline in illegal logging worldwide in the past decade. This reduction in illegal logging has helped cut greenhouse gas pollution by more than one billion tons, equal to nearly the entire annual emissions of Japan. Cutting pollution just doesn't get more affordable. And it's done it at the incredibly low cost of between 7 cents and $2.50 per metric ton of carbon dioxide.

4. The forests preserved from illegal logging have benefited endangered wildlife such as tigers, orangutans, and lemurs.

5. The Fish and Wildlife Service recently created a passport for musical instruments, allowing musicians to bring their instruments in and out of the country without issue. This negates one of the primary arguments put forward by the Tea Party against the Lacey Act that it would somehow make it hard for musicians to travel -- and is one reason why celebrity musicians including Mick Jagger, Jack Johnson, Dave Matthews Band, Jason Mraz, and Guster all support it.

6. The U.S. forest products industry, unions, and environmental groups all support the Lacey Act.
Lacey Act is helping the sustainable and responsible U.S. forestry sector grow.
The hearings on Thursday will likely feature many of the same discredited arguments from last year. Hopefully the Republican leadership will remember the economic and political reality and stop this irresponsible charade before it wastes any more time.
Co-authored by my colleague Sam Grausz at Climate Advisers.
REAL LIFE. REAL NEWS. REAL VOICES.
Help us tell more of the stories that matter from voices that too often remain unheard.