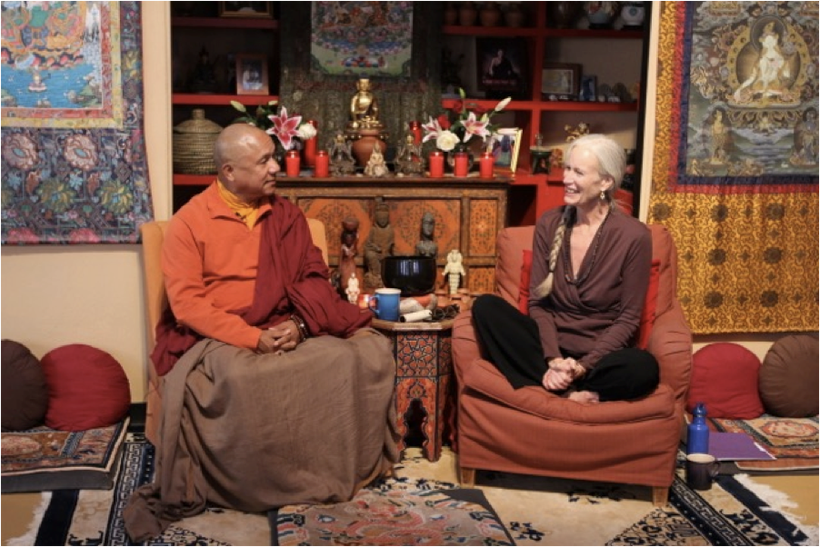 In 1990 Cynthia Jurs was part of a small group that trekked into the Solu-Khumbu region of Nepal on a pilgrimage to meet a 106-year-old Tibetan Lama H.E. Kushok Mangden, known as Charok Rinpoche, a hermit who lived in a cave high in the Himalayas. This honorable Lama was the guiding teacher and root guru of Lama Tsultrim, whose presence we were blessed with for the weekend at the Open Way Sangha.
Cynthia shared how at the time, she contemplated what to ask the holy man in the cave that would be of benefit to the Earth. When they spoke, he told her, "Even just one person practicing deeply will bring benefit to their whole area." He continued, "But you need to get Earth Treasure Vases and bury them all around the world in places of need. They will bring healing and protection to the Earth." He instructed her where to have the vases made and concluded, "Just put them in the ground, they'll do the work."
Since then, thirty Earth Treasure Vases have been buried all over the world, creating a mandala of love and light for our suffering planet. It is said that each vase holds the power to pacify anger and warfare and increase wisdom for all beings within its sphere of influence.
The Earth Treasure Vases are magnificent! Created with clay mixed with precious relics, they are then filled with offerings in full moon ceremonies at Open Way Sangha. In the Tibetan tradition it is believed that the full moon amplifies the power of our prayers and intentions. Each person in the circle has the honor to hold this holy vessel and infuse it with prayers, poems, songs, laughter, and tears. We fill it also with offerings such as crystals, herbs, medicines, and anything symbolic of healing and protection for the Earth that is sacred or precious to us.
I like to hold the vase in my hands and sing Ho'oponopono into it, a Hawaiian healing chant of love, compassion, gratitude, and forgiveness to make things right.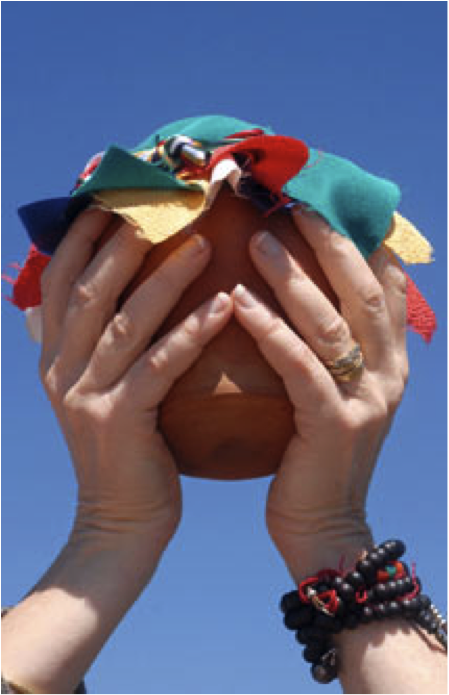 The Earth Treasure Vase is completely filled and covered with squares of silk fabric in the colors of the five elements. Before it is sealed, it is taken to its destination and given to the local community to receive their offerings. Then the vase is sealed and ceremonially planted in the Earth to bring blessings to the entire region.
It is fascinating to see the map of the locations where they have gone – like a mandala of Earth Treasure Vases around the whole Earth – and feel the energetic grid of healing and protection that is radiated throughout the planet. The practice puts us in touch with our world as a global community and each other as one family. What we do to the Earth we do to ourselves.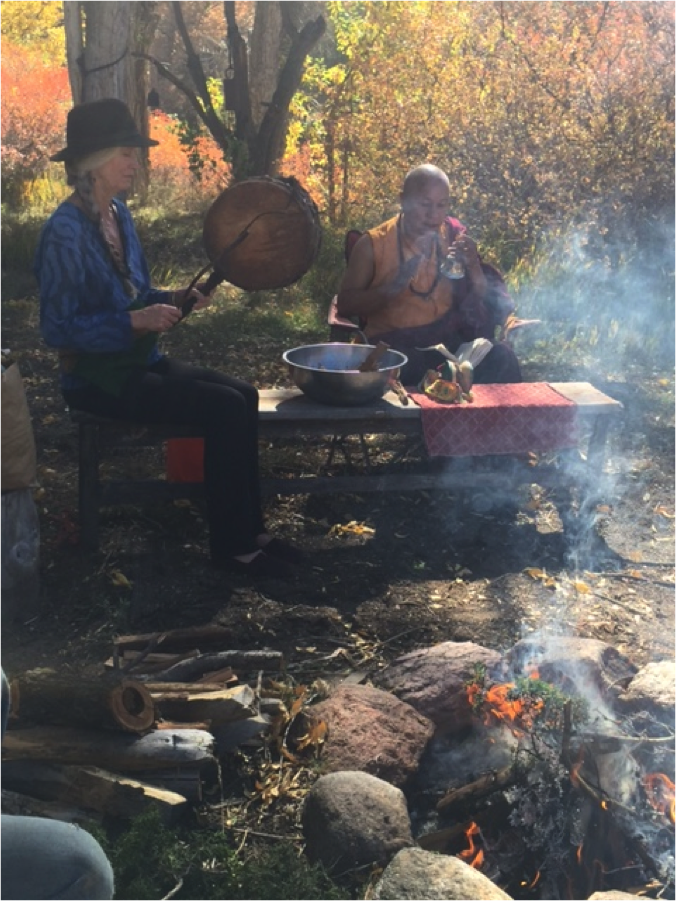 Sitting with Lama Tsultrim Zangpo that weekend at the Open Way Sangha was transformative. I felt that a veil was lifted and our prayers were already manifested. He shared the practice of the female Buddha, Tara, and we did a Riwo Sang Chod fire ceremony for purification – and so much more. Lama Tsultrim embodies the teachings so humbly and modeled an acceptance of impermanence that touched my heart.
Sadly, Lama Tsultrim's generations-old monastery in Nepal was destroyed by the earthquake last year. He and the people there wish to rebuild the ToluTharling Monastery and the Tharling Gompa Primary School and need our help. Lama Tsultrim has been through a lot. In addition to losing his home temple in Nepal, his dharma center in New Orleans was destroyed by Hurricane Katrina.
Donations to help rebuild are greatly appreciated. All contributions go directly to him and can be made at earthtreasurevase.org/donate (designate "for Nepal" in the drop down menu).
When I close my eyes, I see each Treasure Vase buried deep in our Mother Earth shining as bright lights, connecting with each other. As we join together, this light grows brighter and the frequency of love, peace, and healing takes root and is embodied by each one of us. May it be so!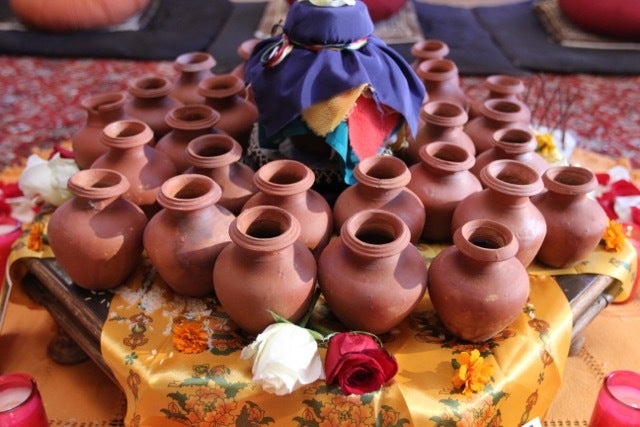 Recalling the places where the Earth is unstable, in danger, out of balance in any way, and where the need for healing is very great, we send our love and caring to relieve the suffering of the Earth. Resting in the awareness of the vast, interconnected web of life, we form the intention that this Earth Treasure Vase, filled with sacred offerings from our heart of hearts, once buried in the Earth, will radiate healing and protective energies out in every direction for all time, and that the healing be accomplished, the vitality of the Earth restored.
Calling all HuffPost superfans!
Sign up for membership to become a founding member and help shape HuffPost's next chapter
This post was published on the now-closed HuffPost Contributor platform. Contributors control their own work and posted freely to our site. If you need to flag this entry as abusive,
send us an email
.