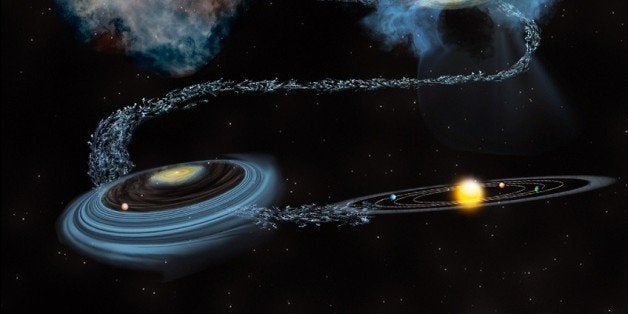 Just how old is HO? A fascinating new study suggests that some of the water molecules we drink and bathe in are way old -- as in more than 4.6 billion years old.
That's older than the solar system itself.
Got that? The study suggests that since some of Earth's water came from interstellar space, it's a good bet that water from interstellar space may also exist in other planetary systems -- and that says something about our search for extraterrestrial life.

"This is an important step forward in our quest to find out if life exists on other planets," study co-author Dr. Tim Harries, an associate professor of astronomy at the University of Exeter in England, said in a separate statement. "Consequently, it raises the possibility that some exoplanets could house the right conditions, and water resources, for life to evolve."
In other words, the models indicated that levels of deuterium now seen in Earth's water are too high to have arisen after the formation of the sun. So, some of the Earth's water predates the formation of the sun and the Earth and must have come from interstellar space.
Dr. Karen Willacy, a Jet Propulsion Laboratory astrophysicist who was not involved in this research, told Science magazine the finding was an "interesting result. We've been debating this for years, whether or not the ices have an interstellar heritage."