Day 1: Earth Week Challenge -- Meatless Monday
From April 16-22, HuffPost Green invites you to take on one simple endeavor per day to reduce your impact on the planet. We can't extend a challenge without attempting it ourselves, so our team will tackle each goal as well and share with you the highs and lows of our experience.

CHALLENGE: Go meatless for one day.
The Meatless Monday website reports that up to 2,500 gallons of water may be needed to produce one pound of beef, and "40 calories of fossil fuel energy go into every calorie of feed lot beef in the U.S. Compare this to the 2.2 calories of fossil fuel energy needed to produce one calorie of plant-based protein." More statistics can be found on the Meatless Monday website, part of a non-profit initiative of The Monday Campaigns in association with the Johns Hopkins' Bloomberg School of Public Health.
Beyond the meat industry's problematic carbon footprint, issues of animal welfare are persistent in factory farming practices, and undercover video footage continues to reveal mistreatment and abuse in some factories.
Today, our Green team took on the challenge of going meatless for the entire day:
Sasha: Late-night pizza and Chinese takeout got me through the non-stop GOP primary season in January and February. It also left me several pounds heavier. Several health-conscious friends told me that they've given up eating meat not just on Mondays but during the rest of the week as well (meat is a reward on the weekends). So I'm giving it a try. Today I started out with a bowl of oatmeal -- breakfast is the most important meal of the day -- and followed it up at lunch with a falafel sandwich.
Joanna: Things didn't start off well for me today. I'm already a vegetarian, so I decided to try skipping dairy today. I kicked off my dairy-free morning by adding milk to my coffee. Despite my early setback (I blame the lack of coffee), I did discover that my favorite Chipotle meal is in fact vegan -- the salad bowl with rice, beans, guacamole and salsa. And coffee #2 with soy milk tasted surprisingly nutty and sweet.

James: For lunch today, I had a vegetarian falafel pita from Maoz. Both quick and tasty, the falafels were a filling substitute to meat. Meals like this one are a healthy alternative to heavier pork or beef dishes and show that you can still get flavor and spice without the meat.
Jessica: I am forever on and off the vegetarian wagon, and really love healthy, lean proteins like beans and tofu, so this challenge wasn't too hard. My salad with pan seared tofu and brown rice was really tasty and all natural. However, I couldn't stay away from a splash of hot sauce on my rice, which is always my high-sodium weakness.

Becca: I'm usually quite a carnivore -- it's bad, I know -- so I knew it would be difficult to avoid meat all day. But the HuffPost Green team is always inspiring me to make better choices, so I wanted to make a real effort today to go meatless. I worried that going vegetarian would mean sacrificing protein, and that I wouldn't be able to concentrate all day. But I had a really delicious salad from a nearby deli with tofu and lots of colorful vegetables, and it was surprisingly tasty and filling. And as far as my focus goes -- so far, so good. Later tonight I plan to make an eggplant parmesan dish (one of the tastier vegetarian options, I would bet). I would typically never opt for eggplant over chicken, but I'm really excited to branch out and learn how to make a new dish.
How did you do with this #EcoChallenge? Tweet us your experience and check out tweets from participants below. Scroll down for a photo of our team taking on today's goal and a list of challenges for the rest of the week:
Joanna, James and Jess try out Meatless Monday (yes, we know, plastic fork problem):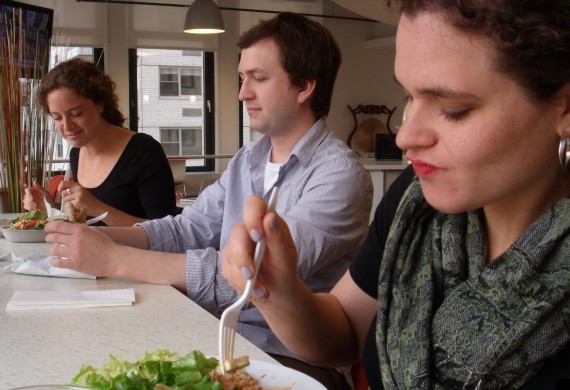 Challenges for the rest of the week:
Tuesday: Power Down. Fix your computer settings, unplug energy sapping devices, install smart strips to eliminate vampire power.
Wednesday: Reusable Bottles & Mugs. Eliminate the use of all paper coffee cups and plastic water bottles.
Thursday: Cut Paper Waste. Reduce your use of paper, adjust your printer settings, cancel junk mail subscriptions.
Friday: (Reusable) Bag Lunch. Bring your own lunch in reusable containers or bring the containers to your favorite take-out restaurant and pass on the plastic utensils, excess paper napkins and bags.
Saturday: Second-Hand Clothes And Products. Instead of purchasing new items, reuse and upcycle old items.
Sunday: Waste Less Water. Take shorter showers, turn the faucet off while brushing teeth, do only full loads of dishes and laundry.
Popular in the Community