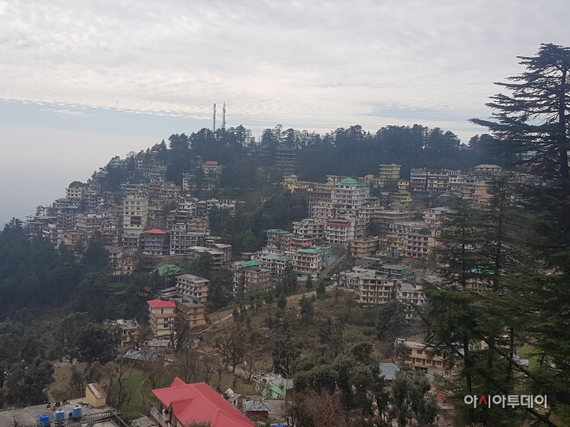 [The view of McLeod Ganj, the headquarters of the Tibetan government-in-exile. High-rise buildings are built on the steep hills of Himachal Pradesh without earthquake-resistant technology./ Photographed by Jeong In-seo]
By Jeong In-seo, New Delhi correspondent, AsiaToday - A series of recent earthquakes has put the Tibetan government-in-exile in danger.
An earthquake of magnitude 5.6 hit Uttarakhand in northern India late on Monday. Big tremors were felt in New Delhi, shaking buildings and terrifying people in the capital city.
The day after the earthquake, I headed to McLeod Ganj in Himachal Pradesh, where the Tibetan government-in-exile is headquartered. There seemed no damage from the earthquake. However, Indian local media outlets pointed out that this town will be hit the hardest from the earthquake.
McLeod Ganj had already witnessed a big earthquake before. In 1905, a devastating earthquake killed 20,000 people and destroyed most of the buildings. The town was restored after Tenzin Gyatso, the 14th Dalai Lama, fled to India with Tibetans in 1959. The then Indian Prime Minister Jawaharlal Nehru offered hum refuge in Dharamshala, where he set up the Tibetan government in exile in 1960.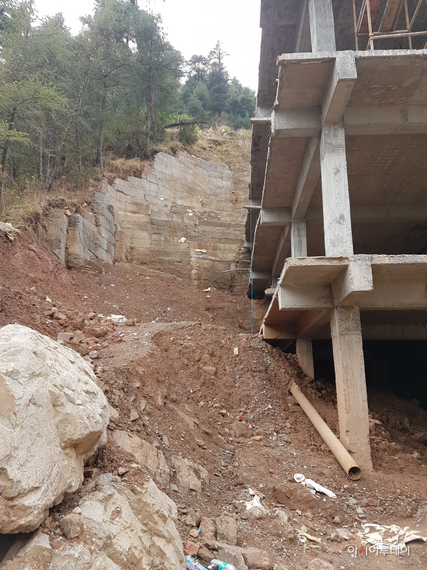 [McLeod Ganj has a lot of new buildings due to the tourism boom. With the lack of land available for building construction, new structures are built on the fragile slopes. The region is expected to suffer great damage if an earthquake occurs./ Photographed by Jeong In-seo]
However, flourishing tourism business put the region in trouble. It became famous as Tibetan refugees, Buddhist scholars, backpackers and famous celebrities flocked to the region. Since then, many buildings that are not earthquake-proof have been built along the steep slopes, raising concerns about the risk of landslide and building collapse.
I visited the construction site. Building was under construction on the steep slope. The pillars in the building were in serious condition. They were breaking down as if improper concrete mix was applied. And the basement was poorly drained. It looked like it could collapse any minute. Currently, McLeod Ganj has five construction sites. All these five sites were in serious condition.
Local residents and tourists were concerned about earthquakes as well.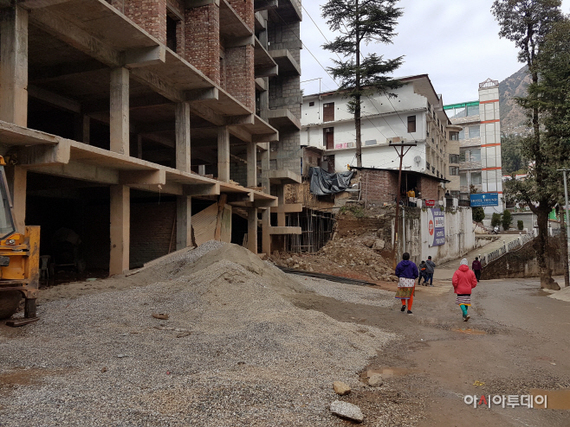 [Construction is under way in many areas of McLeod Ganj. But most buildings are vulnerable to earthquakes because they are not designed to withstand quakes./ Photographed by Jeong In-seo]
Nimajjamtu, 51, who has been living in the region for 20 years, was full of worries about earthquakes. "When I first came here, it was a small village where I could find peace. If another earthquake occurs like the last time, it will take everything away from us,." he said. "There are already a lot of buildings in a small piece of land, where many Tibetans live. If an earthquake occurs again, we may disappear. The center of Tibet's independence movement could collapse, too."
A South Korean tourist, who asked for anonymity, said, "I heard about the earthquake yesterday near Delhi. If the earthquake happened here, buildings would have collapsed." He worriedly said, "Along the way, you can see lots of construction sites. I was impressed by the fact that all the works were made by hands unlike Korea, but it seemed so rough. I'm not sure if the buildings here could withstand earthquakes."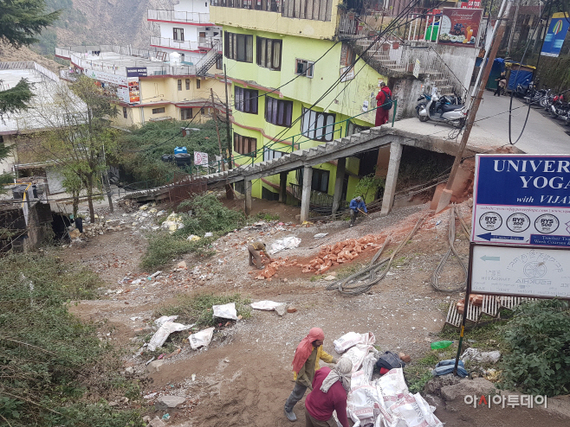 [Houses built on steep slopes and poorly-constructed stairways look as if they may be in danger of collapsing./ Photographed by Jeong In-seo]
The Wadia Institute of Himalayan Geology warned last month that a new earthquake could hit McLeod Ganj again. "McLeodganj and its nearby villages fall in the highly-sliding zone. The construction of multistoried buildings is not advisable in this area," an official of the Wadia Institute said.
Calling all HuffPost superfans!
Sign up for membership to become a founding member and help shape HuffPost's next chapter