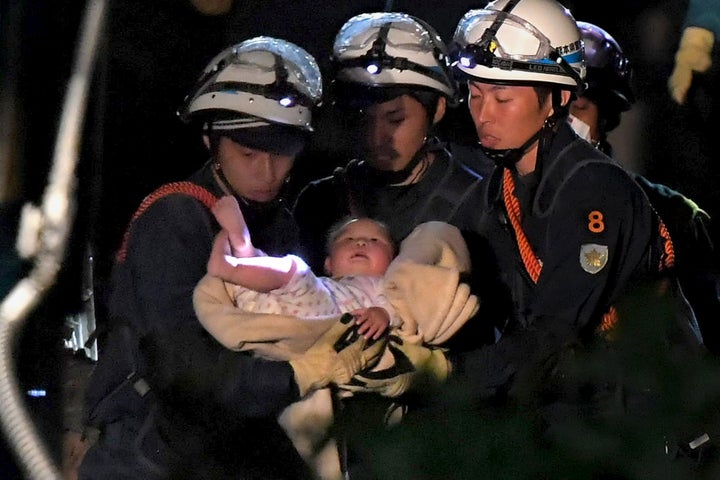 By Elaine Lies and Linda Sieg
TOKYO (Reuters) - A powerful 7.3 magnitude earthquake struck southern Japan early on Saturday, killing at least 16 people, injuring hundreds more and trapping people in collapsed buildings, barely a day after a quake killed nine people in the same region.
Authorities warned of damage over a wide area, as reports came in of scores of people trapped in collapsed buildings, fires and power outages.
Residents living near a dam were told to leave because of fears it might crumble, broadcaster NHK said.
Saturday's trembler triggered a tsunami advisory, although it was later lifted and no irregularities were reported at three nuclear power plants in the area, a senior government official said.
People still reeling from Thursday's shock poured onto the streets after the Saturday quake struck at 1:25 a.m. (1625 GMT).
A fire erupted in a what appeared to be an apartment building in Yatsushiro city, while some people were trapped in a nursing home in the town of Mashiki, according to NHK.
NHK reported six deaths and 760 people treated in hospitals, but that figure included "people who don't feel well", so it was not clear how many serious injuries there were.
Chief Cabinet Secretary Yoshihide Suga said nearly 80 people were believed trapped or buried in rubble. Extra troops would be sent to help, with up to 15,000 due on Saturday, as well as more police, firefighters and medics, he said.
"We are making every effort to respond," Suga said.
Troops fanned out to search ruined houses as dawn broke.
The epicenter of the quake was near the city of Kumamoto and measured at a shallow depth of 10 km, the U.S. Geological Survey said. Almost 200,000 households were without power.
Prime Minister Shinzo Abe, arriving at his office, told reporters the government was making every effort to determine the extent of the damage, carry out rescue and recovery, and to get accurate information to citizens.
"It's possible that there may be damage over a wide area," Abe said.
The Japan Meteorological Agency initially said the Saturday quake was 7.1 magnitude but later revised it up to 7.3.
The region's transport network suffered considerable damage with one tunnel caved in, a highway bridge damaged, roads blocked by landslips and train services halted, media reported. Kumamoto airport was also closed.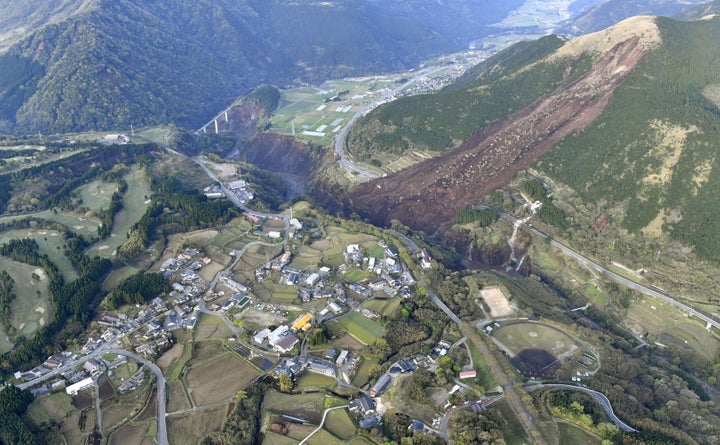 Bank of Japan Governor Haruhiko Kuroda said it was too early to assess the economic impact and bank operations in Kumamoto were normal.
"We'll closely monitor the effect of the earthquake and take appropriate action, working closely with relevant authorities," Kuroda said in Washington after a G20 finance leaders' meeting.
Much of the area around Kumamoto and a few sizeable towns is rural. Television footage showed many frightened people wrapped in blankets sitting outside their homes while others camped out in rice fields.
The earthquake on Thursday evening in the same region was of 6.4 magnitude and experts said the tectonic events could be linked.
"Thursday's quake might have been a foreshock of this one," Shinji Toda, a professor at Tohoku University, told NHK.
Several aftershocks rattled the region later on Saturday, including two of nearly 6 magnitude, and experts warned of more.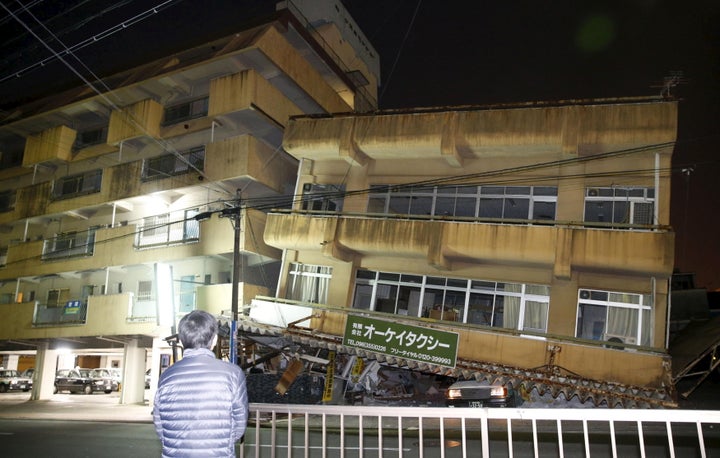 "We would not be surprised to see more earthquakes of this size," said John Bellini, a geophysicist with the U.S. Geological Survey.
A magnitude 9 quake in March 2011 north of Tokyo touched off a massive tsunami and nuclear meltdowns at Fukushima. Nearly 20,000 people were killed in the tsunami.
Japan is on the seismically active "ring of fire" around the Pacific Ocean and has building codes aimed at helping structures withstand earthquakes.
Factories in the area operated by manufacturers including Honda Motor <7267.T> and Sony Corp <6758.T> halted production after Thursday's tremor but no major damage was reported.
The 2011 quake temporarily crippled part of Japan's auto supply chain, but some companies have since adjusted the industry's "Just in Time" production philosophy in a bid to limit any repeat of the disruption.
(Additional reporting Kiyoshi Takenaka, William Mallard, Chris Gallagher and Jon Herskovitz; Writing by Robert Birsel; Editing by Mike Collett-White and Lincoln Feast)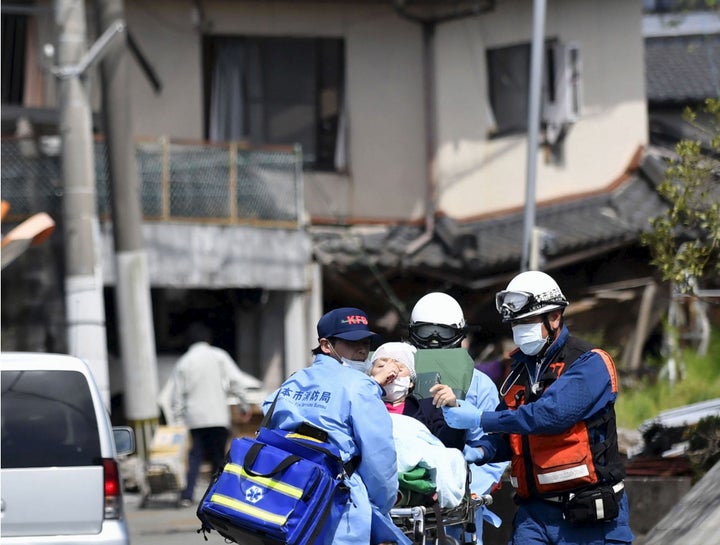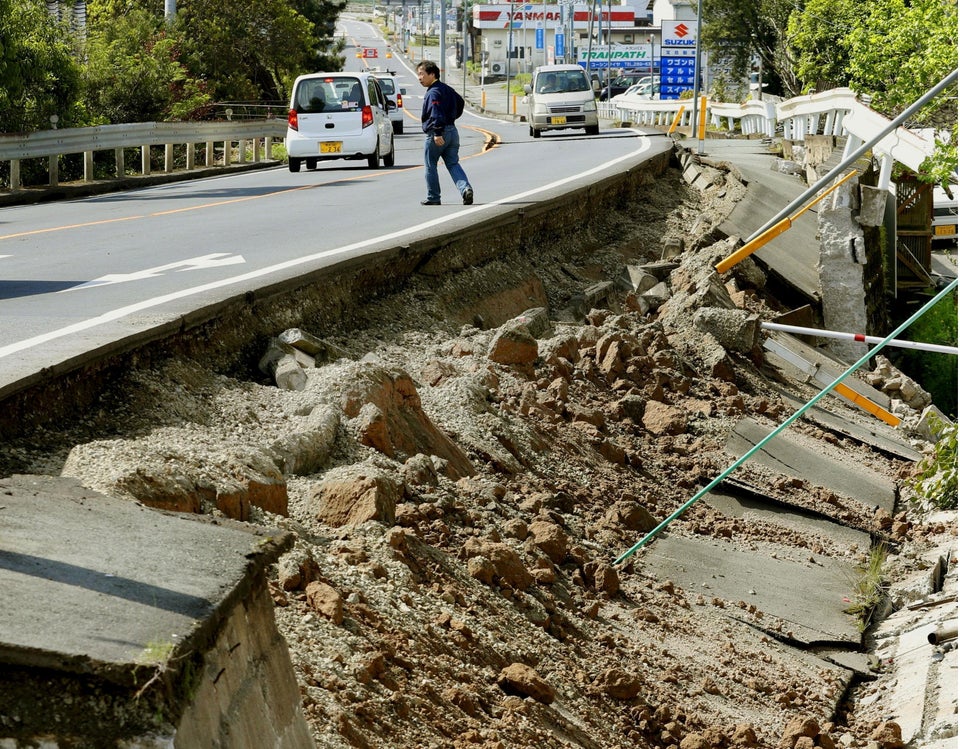 Earthquake Rocks Japan, April 2016