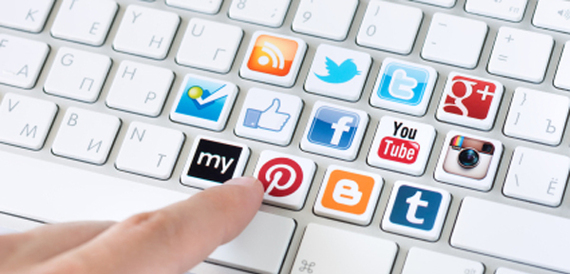 Image credit
People go online for everything nowadays. If your business is having a solid online presence and a good online reputation then half of your marketing work is done. To do so you will need a good game plan to survive the competition. There are many parts of online marketing and every part is equally important. One needs to emphasize on online marketing along with another business strategies so that their business can reach maximum numbers of people.
There are many ways to promote your business online and most of them are very cost effective. You can even try various free options to cut down your marketing cost. Here are few tips for you:
Building your website: Website is the face of your business. There should be a contact point trough which people can interact with your business and can get a view of your services directly. Your business website can provide you such a platform to showcase your products and business. But only building a website anyhow isn't going to work. You need to do a little bit research on the subject. As your website is the face of your business you it should be built in a perfect way. Here are few steps to build a perfect website for your business:
Selecting a great name and logo for your business is very important. Whether it is online promotion or printed advertisement, your business name and logo will create your brand value. Keep all the Medias while doing this so that your logo looks attractive in all Medias.
At first you need to find expert web designer and developer for your project. As there are plenty of service providers few business owners feel perplexed while taking the final decision. So, do not get carried away and check every detail before you finally hire someone. From checking out previous experience to looking at the portfolio, do every checking very carefully.
Web hosting doesn't get much concentration from business owners. But it is one of the major factors for the online presence of your business. You should check quality of the webhosting services to choose the best one. If you choose the best web hosting services for your website then people will be able to visit it uninterruptedly.
Images and videos work more than anything to promote your products and service. So use vivid and related images and videos in your website. Make sure that people are able to browse through your site without any difficulty. Make simple but eye catching and you are ready with your business website.
Other online promotion:
Your business website is only a part of online promotion. There are many other sources as well.
Social Media: Social media is seeking all the limelight in recent times. You can catch billions of people there and that's too for free. You can also try advertisement opportunities offered by different social media platform as well. Before starting your campaign do a little research first so that you can hit the right place without wasting any time. If you know which social media is more apt for your business then you can plan your promotion accordingly.
There are many social media platforms like Facebook, Twitter, Pinterest, Youtube, Google Plus, and many more. You need to decide which platform can provide you your desired customer base. You should also target platforms like Instagram which are comparatively new to get best results. Before you leap further you should check the dos and don'ts to do your online promotion correctly. Create your business pages and promote them with proven strategies. You can also refer your personal; social media friends and followers and you will get a strong business profile. You can also communicate with your prospective customers through your social media profiles and thus can build a strong bond with your customers.
Classified ads: High quality classified sites like Craiglist or Quikr are having loads of traffic which can help you to get your targeted customers from there. You just need to target right classified sites where you can post ads for your business.
Business listing: Local business listing will boost your local popularity. This will help local customers to locate your business. If your business appears in Google places or Yahoo local then people will be able to easily find your business. This is a strong promotion for any kind of small or medium business. The good news is most of the listings are free of cost.
Blogging: Blogging is a great idea to promote your business online. If you can write interesting content and can present them with interesting images in your blog then you can attract customers very easily. Also keep updating your blog time to time to hold attention of your customers for a long time.
Don't leave any stone untouched when it comes to promote your business. Try all these methods and taste the fruit of success.
Calling all HuffPost superfans!
Sign up for membership to become a founding member and help shape HuffPost's next chapter