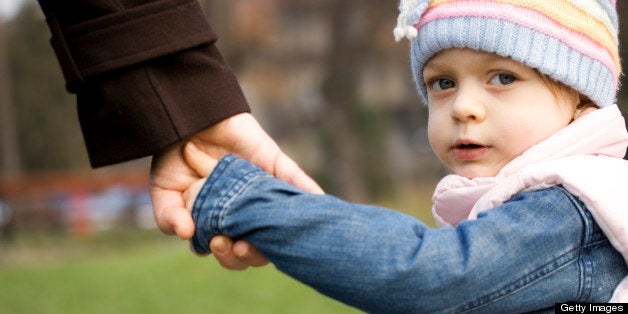 Parenting is generally evolving as gender-neutral, but the "tender years" assumption -- the consensus that infants should be treated differently than older children in custody disputes -- lingers, even when all other factors are equal in a separation or divorce.
Co-parenting is rough. Putting your own wants and needs side-by-side with the child's and yes, the other parent's too, helps create a mutual willingness to do the right thing. As despair and rage subsides, adult relationships reconstitute from lovers to more business-like, problem-solving platonic parents. It's possible this way to be devoted and reliable parents, who raise secure well-loved and cared for children.
Here are 5 tips that might help avoid dreaded custody battles, known as the "diaper wars."
Calm Down: Your distress will be communicated to the child and result in his or her distress. Same holds true with your good attitude and reassuring presence. Ask yourself: What are you unfolding to? By definition we all have blind spots and want to get out of our own way. Where do you see the baby in your arms 10 years from now? What are the obstacles in your path to getting along with your co-parent? You didn't get to this combustible nightmare alone. Develop a neutral perspective that adequately shares the blame and shame, drama and trauma. People don't just collide. We get together out of choice.
If substance abuse or mental health is an issue, then by all means start there and work with what you've got. Put promises into writing.
Weaning: For those who breast feed: Fathers, be patient. If a toothsome child ever bit your nipple you'd know mothers rarely prolong weaning. Moms, don't use weaning as a stall tactic when it comes to physical custody. Increasing your time with the child to pad or shrink support orders is also wrong and counterproductive.
Overnights: The joy of being the first and last face a young child sees upon waking or falling asleep is inspiring and bonding. Start with feedings, cleaning, and then proceed with naps. A baby should have a dedicated sleeping area. What's the policy for having the child in your bed? If needed, this is ideal subject matter for co-parenting sessions.
If a skills brush-up makes sense, push for parenting classes. When parents work with reasonable expectations, chances are that good enough co-parents will result. If you're still enraged by the unfairness of it all, return to step one.
Overnights, midweek time, sharing weekends and re-scheduling are issues for kids of all ages. For newborns, when is the baby ready to leave the house? Overnights are grown around weekends. How much time is appropriate at each parent's home is based on roughly three factors: 1) a parent's track record of consistency with their parenting time; 2) your child's readiness; and 3) older children's influence, if present. The basic formula is one overnight for every year in the age of a child. Under age two, expect to split every weekend. From three on, alternate weekends go from Friday to Sunday, expanding to Monday morning by age 4. Mid-week time is another issue -- ideally infants and toddlers shouldn't go more than 2-3 days without seeing either parent, even if it's for 20 minutes.
For trust in a child to be deeply rooted, each parent needs to step up for full cycles of good times, break-downs and soothing repairs.
Separation Anxiety: Transitional stress in the back-and-forth between parents is normal. A well bonded infant or toddler might take 20 minutes to settle down. Parents, pick-up is an adjustment event and should be prepared with distractions -- snacks, drinks, and songs to sing while driving. Even adults need time to transition!
The releasing parent makes leaving easier by narrating what to expect. "Taking a nap? I'll see you after your little sleep." Or, before an overnight, "I'll see you after your big sleep." "Big eats are breakfast, lunch and dinner. Little eats are snacks in between." This is a line directly taken from my book intended to decrease the transitional stress between co-parent's two homes called, The Turtlebirds Shuffle. Not settling down an hour into the exchange? Discuss... civilly!
The new paradigm: True joint physical custody starts earlier in the life of a child nowadays. When no-fault divorce began 40 years ago, 80-90 percent of physical custody was with the mother -- a short weekend and an occasional mid-week dinner with father was typical. The new normal of the 1980s was the 70/30 plan with longer weekends, Fridays to Sunday or Monday, and a weekly overnight. In recent years a 60/40 plan has been widely adopted for toddlers. Weekends can start on Thursdays for the 40 percent parent and Monday overnights after the 60 percent parent's alternate weekend. Sound complicated? It doesn't have to be.
Along with gender neutrality, co-parents are expected to be self-supporting. Stay-at-home single parents are the exception. Agreements made during the marriage about the division of labor become moot in the divorce. With both parents working outside the home, grandparents, daycare and household staff are expected to pinch hit.
Hostile separations and divorces are harmful and outdated. The new consciousness of mental health, legal, and financial professionals is collaborative, stressing healing over litigation. Test out your co-parenting plans. Be prepared to make modifications along the way. Pull it together, even as you break apart, for your precious child.
Support HuffPost
A No-B.S. Guide To Life
Related
Popular in the Community