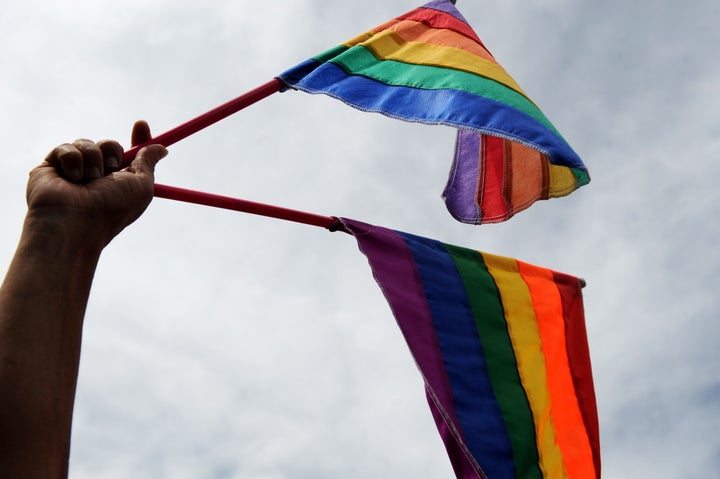 On Tuesday, October 23, the school district of East Aurora decided to be on the right side of history. That day, its school board unanimously approved policies that would protect the district's transgender students, making their schools safe spaces for students of all gender identities. The new policy permitted transgender students to use the restroom of their choice, to play on the sports team that correctly aligned with their gender identity and to use their chosen name and pronoun in school, even if a faculty member or administration made an issue of it. The policies gave transgender students the agency and protections they often lack in high school today, a culture that hasn't gotten easier since my first day as a freshman over 10 years ago. We talk about it getting better for LGBT youth when they grow up and leave, but high school is a horrible, scary place sometimes, and trans youth need our help to fight the problems they face today. They can't wait until tomorrow.
And that's exactly what the East Aurora School Board promised their students: It gets better now.
But just as quickly as they were enacted, protections for transgender students went away. After the policies were announced to the media, the Illinois Family Institute -- a Christian organization based in Wheaton, Illinois, described as the "Vatican City of Christian fundamentalism" -- called the protections a " biased, radical and offensive school board decision that all Illinois taxpayers (especially Aurora community members with or without children in school) should vigorously and tenaciously oppose." In her plea to get Illinois Family Institute followers to take action against East Aurora's measure, Laurie Higgins (the "Cultural Analyst" for IFI) further writes:
The school board is now imposing non-objective, 'progressive' moral, philosophical, and political beliefs -- not facts -- about gender confusion on the entire school. This feckless school board has made a decision to accommodate not the needs of gender-confused teens, but their disordered desires and the desires of gender/sexuality anarchists who exploit public education for their perverse ends... Gender confusion affects approximately .003 percent of males and .0001 percent of females. Aurora East High School is now accommodating the disordered impulses and unproven beliefs of a statistically miniscule segment of their population and in so doing ignores the beliefs of the majority. Some would argue that this policy also reflects a gross distortion of compassion and profound ignorance about what truly helps the few students who suffer from gender dysphoria or Gender Identity Disorder."
Responding to Higgins' hate-filled screed, IFI supporters put so much pressure on East Aurora that the school board met again to discuss reversing the decision. One of the school board members, Stella Gonzalez, claimed to have received over 1,000 emails during IFI's siege on the East Aurora School District, a district that few of those complaining about the policy actually lived in. However, those who did actually live in the district showed up in droves that Friday to support the policy, as concerned parents, friends, neighbors and community members who want the best for their students. The day that the policies were repealed, supportive East Aurorans pleaded the school board to keep the new transgender protections and put their students before the demands of hatemongers. Mother-of-four Joanna Kenyon gave voice to the "floods of support" in a heartfelt testimony to the East Aurora School Board:
If you rescind [the policy], it will make you the same victims that bullied children are," she said. "You're going to take hope away from them. It won't get better if their own school won't protect them.
Unfortunately, faced with so much pressure, the East Aurora School Board voted again to repeal the decision, in another unanimous vote. No one from IFI even showed up to see the vote. Just as quickly as East Aurora made history, they unmade it. The bullies had won -- on Spirit Day, no less.
I remember where I was the morning I found out. It was an average Saturday, quiet and still, the kind of morning you wouldn't remember unless something extraordinary happened, a moment that forces you to be aware of the world around you and your place in it. When I finally read the headline on the Huffington Post that broke the news to me, I was in shock. I couldn't believe that East Aurora would so devalue the feelings of its student population by pulling the rug out from under them. I couldn't believe that East Aurora heeded the rantings of those stated opposition to LGBT rights and equality, a group that doesn't just oppose the district's transgender policies: they oppose its transgender students. I couldn't believe they had caved. And when I called transgender friends of mine who had been following the story -- hoping that East Aurora would stand up to hate -- neither could they. They felt like they had been attacked.
But luckily for East Aurora's students, supporters of the policy were not alone in thinking that the district had caved. Two of the school board members involved in the policy's repeal now admit that they caved into a hate group, and shortly after the Oct. 26 decision began putting together a committee to oversee the development of new policies to replace the ones the school board struck down. In an Ad Hoc committee meeting last Thursday, the attorney for the East Aurora School District, Bernie Weiler, stated that the "ship has sailed" on opposition to transgender protections, as the school board would open itself up to lawsuits if another policy was not put in place. According to Rick Garcia of The Civil Rights Agenda, who sat on the committee, Weiler is correct:
The Illinois Human Rights Act mandates full protection for all individuals based upon his or her actual or perceived gender-related identity, whether or not traditionally associated with the person's designated gender at birth. The Act makes clear that elementary and secondary schools are considered places of public accommodation. As a public accommodation, this school district is prohibited from denying or refusing a transgender individual the full and equal enjoyment of the facilities, goods and services provided to all students.
In response to comments about the state's Human Rights Law, a representative from the Illinois Family Institute (who came to voice dissent and routinely disrupt the meeting) mentioned that East Aurora could fight state mandate and avoid lawsuits through a process of "nullification." Weiler quickly dismissed this as an option. According to Anita Lewis, the school board secretary and chair of the new committee, the goal of creating an Ad Hoc committee is not just to protect the school from lawsuits but to ensure they have the best policies possible -- to protect all of their students, whether trans or cisgender, queer or straight. For Lewis, a staunch conservative and devout Christian, this process isn't about party or religious affiliations: it's about getting it right. According to Lewis, "we want to take enough time to make sure we get in the right policy to protect this group of students as well as all students. We have to do a better job. The better we do at this, the better it will be for our whole country."
Sarah Schreiber, Policy Director for Illinois Safe Schools Alliance, agreed with Lewis and stressed the importance of "policies, procedures and support" to ensure the safety of LGBT students. This would include thorough training and implementation. According to Schreiber, "If [the committee] only passed policy and hoped that it would protect students, then we have not done our jobs." She then compared policy without procedure to a school not having a ramp for wheelchair-bound students and then fixing the problem by mandating an anti-bullying policy. "Sure, the kids won't get bullied, but they also can't get inside the building."

Schreiber, Lewis, Garcia and Weiler were part of the 21-person team who will oversee drafting a new policy, a process that may take months. This committee includes Twila Garza, an elementary school teacher in the district with a background in working with transgender youths; Heather Curry, the co-advisor of the East Aurora Gay-Straight Alliance; Mary Ann Turza and Stella Gonzales, two of the East Aurora School Board members; Joanie Rae Winter, a trans human rights lawyer and former member of the Illinois Gender Advocates; Crystal Gray, the president of the United States Transgender Advocacy (USTA) organization; and numerous teachers, pastors and community members. Each member of the committee voiced their reasons for being there on Thursday night (at a meeting that, for some, stretched late into the evening), including their roles as educators and parents, their love for East Aurora and their belief in everything their community stands for.
Despite their backgrounds or thoughts on the issue, each of the participants could agree that the district's children come first, and many came to the committee simply to listen and be educated on the need for transgender protections. Taking the floor, Gray did so in a heartfelt presentation on why East Aurora cannot be silent on its students' safety. According to Gray, 90 percent transgender individuals are at or below the poverty line, and that reality begins with youth, when many trans or gender non-conforming adolescents are kicked out of their homes. Gray mentioned that the homeless shelter in L.A.'s LGBT center is always filled and that trans youth are routinely overrepresented in these shelters and on the streets. According to Gray, trans folks are also eight times more likely than cisgender people to commit suicide and statistics from the National Center for Transgender Equality show that "41 percent of all respondents reported that they had attempted suicide, compared with a national estimated rate of 1.6 percent."
This culture of bullying and oppression begins in our schools, where statistics indicate that students hear an average of 25 anti-gay epithets a day and students are nearly as likely to be harassed by teachers and staff as they are by other students. The committee members of East Aurora's Ad Hoc committee and its administrators realize that something must be done to ensure that their district isn't just another negative statistic. They know that East Aurora can be a model for change.
Although last week's meeting was merely introductory and no lasting solutions have been offered, advocates of LGBT rights and transgender equality must support East Aurora during this time and ensure new, lasting policies are put in place. We must show East Aurora that the voices of love and inclusion will be louder than those of hate, that none of us will be silent when civil rights are at stake. If East Aurora hopes to remain on the side of history, we must stand with them. We must not waiver, because our children cannot afford it.
Note: If you want to show your support for a new policy and protections for East Aurora's transgender youth, please consider signing this petition.
Calling all HuffPost superfans!
Sign up for membership to become a founding member and help shape HuffPost's next chapter