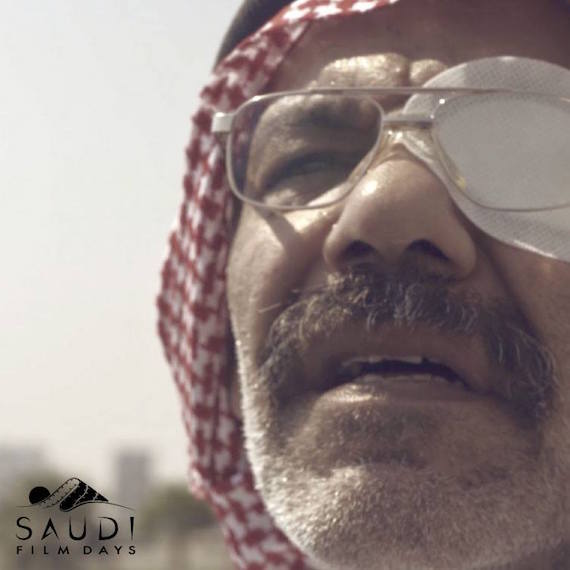 As a cultural activist who stands for peace, I'll admit even I have been peeved with the political choices made in the Middle East these days. While my friends from Saudi Arabia continue to be my interpreters to understanding the culture of a country that is possibly the most misrepresented in Western media, I can't say I agree with the policies of their leaders.
But that's when I always turn to cinema to get me through, to allow me to find a positive angle and discover the answers.
For two days, starting November 3rd, the King Abdulaziz Center for World Culture will play host to Saudi Film Days in Los Angeles, a program featuring young, up-and-coming Saudi filmmakers, who will be screening their short films first to an audience of VIPs and on the following day, in free screenings to general audiences.
It's an opportunity to discover. For American audiences, to find out about a cinematic tradition that has lived and flourished in a country that has yet to open its first movie theater. And for Saudi filmmakers a means to find out what it's really like to screen their films to audiences that are craving to know more. All in all, a priceless opportunity.
Saudi cinema isn't talked about often enough, and it may be difficult to find in theaters in the West, yet when it does appear -- as in the case of Haifaa Al Mansour's Wadjda or Mahmoud Sabbagh's Barakah Meets Barakah -- it conquers hearts. And in my very humble opinion, cinema is the best diplomatic tool we possess, since it allows audiences and filmmakers to meet in a neutral zone, safely and at their most vulnerable.
Albara Al Auhali of the King Abdulaziz Center for World Culture explained the initiative, "we have several, young Saudi filmmakers who have started their career in the digital space and are looking for that next step, looking to get eyes on their content so they can continue to develop new projects and work alongside other filmmakers in the US to bring recognition and visibility to their work and to their home country. By offering them this showcase to come together and show their talents, we hope to lead them down the path to transition from digital to successful film and television careers."
I caught up with two of the filmmakers Ali Alsumaiyn, who directed I Can't Kiss Myself and Tareq Yosef, the director of A Photographic Memory. I wanted to ask them a few questions about their country, the challenges of being a sort of pioneer and why they chose to be filmmakers. Their tone, the self-assuredness of their answers undeniably opens a window into what young Saudi filmmakers feel and crave, entering the world stage.
As a true pioneer, making films before cinemas are even erected in Saudi Arabia, what does it mean to you to create cinema?
Ali Alsumaiyn: It is a great privilege for me to have the chance to express my idea into visual form.
Tareq Yosef: I wouldn't accept calling myself a pioneer. There were Saudi filmmakers and short films before I even thought about making any, but it means a great deal to me to be able to create cinema. It's a passion of mine and I'm lucky to have fallen in love with it. 
What are the challenges of being a filmmaker currently in Saudi, and what are the great advantages in your opinion?
Yosef: I think filmmakers around the world face all sorts of challenges. The idea is to overcome them and we've come a long way. A great advantage is that the medium in our country is yet to have a certain identity or style, so you get to come in and establish your own.
Alsumaiyn: The biggest challenge in making film in Saudi is similar to everywhere else, which is finding a good script that you feel and it touches your emotions. While the advantage of being a director in Saudi is that you get called a lot for different projects so you have the chance to explore different ways and fields in making films.
Feature films like Wadjda and Barakah Meets Barakah, both incidentally entries to the Foreign Language race by Saudi Arabia, have paved the way for the West to begin to understand your country. Do you somehow feel responsible to be a bridge between East and West?
Alsumaiyn: I feel responsible to be true to the idea of the film I direct. I don't think there is a gap between West and Saudi. In this era everyone is familiar with the other. You just need to want to understand. The movie, I Can't Kiss Myself is about global issues that everyone in every country is facing with the phenomena of fast fame and personal identity.
Yosef: I consider myself a storyteller, no less or more. If one of my films had a positive impact like the films you mentioned have done, I'd gladly welcome that, but rest assured that I write and direct with only one responsibility -- to tell a story that I like. 
Realizing that Western filmmakers never get asked this kind of question, do you feel that you carry a bit of a diplomatic hat in making films? Are you trying at all to make us understand your country through your work?
Yosef: I wouldn't be free if I ever tried making movies with that in mind, and I would never bear such responsibility of paving the way to understanding a country. I'm free of that and I'd like to make movies about things that interest me and present them in a way that might intrigue others.
Alsumaiyn: I don't wear any hat except the one that fits me which is the director's hat. I'm trying to make everyone watch my movie to understand me and my ideas and that Saudi has a very great and colorful spectrum of people with different ideas and thoughts.
Why have you chosen a career making films?
Alsumaiyn: Because films allow ideas to have forms and emotions. They turn them from a concept in the human mind into a breathing product that touches everyone watching it.
Finally, three words that describe you, to someone who doesn't know you?
Yosef: Dance, Dance, Dance.
Image courtesy of the King Abdulaziz Center for World Culture, used with permission.
Calling all HuffPost superfans!
Sign up for membership to become a founding member and help shape HuffPost's next chapter