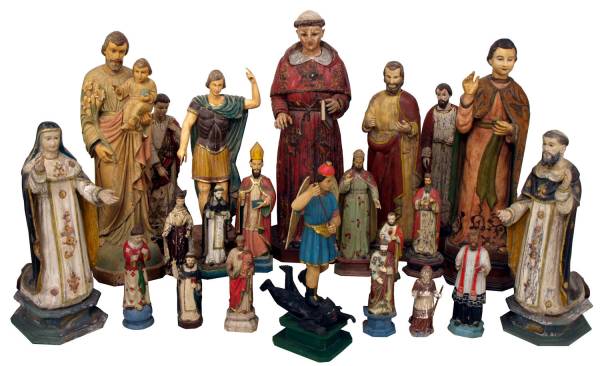 June 26-27th should be an exciting weekend in Austin, Texas. Austin Auction Gallery is hosting an unbelievable auction with over 600 lots of European Antiques and Vietnamese French Catholic religious relics, half coming from the private collection of Whit Hanks.
Hanks, a local real estate developer in Austin, was also the owner of a local, high profile antique mall. His passion didn't stop at owning the antique mall. Hanks also rescued and relocated two complete 19th-century Vietnamese churches to a country property in Dripping Springs, near Austin.
I'm always curious about how someone becomes drawn to antiques. I think some of us are exposed to things at an early age, while others learn to appreciate them later in life. Hanks' first taste of the world of collecting happened in the 1970s when he inherited his grandfather's lavishly decorated NY apartment. After that, he began traveling to Europe to acquire stained glass architectural pieces and oversized mirrors. Unlike most collectors, Hanks was never deterred by large items. If he saw something he thought was quality, even though large, he would find a way to get it back to the US.
During the 1980s, Hanks found himself drawn to religious artifacts; in fact, he acquired several items for his collection from the Austin Auction Gallery. I think it's interesting to see things come full circle.
Almost forty years after the original inspiration was sparked, Hanks found himself excited again by other types of antiques; French-influenced religious items and the architecture of Vietnam. It wasn't long before Hanks had amassed a large collection of Asian antiques and French colonial statues, many which will be up for grabs at the sale.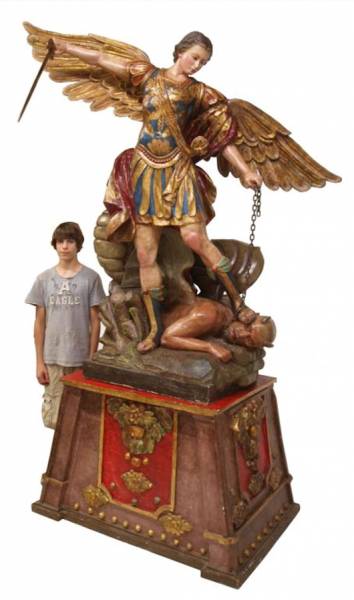 Excellent polychromed-wood religious statue of St. Michael the Archangel standing on Lucifer, carved and signed by Agustin Parra Echaurri (Mexico, b. 1960-) after a painting by Guido Reni (1575-1642), heavily gilded detail throughout, wood sword, standing on gilt-accented base. Stands 9ft. 5 inches tall. Estimate $10,000-$15,000
The auction will also include an array of items from other estates such as ivory carvings, swords, and a walking cane collection.
If Asian isn't your cup of tea, perhaps a wonderful painting by Julian Onderdonk would be. Onderdonk is one of the more desirable Texas artists, and a landscape painting of the Texas hill country will no doubt attract many potential buyers.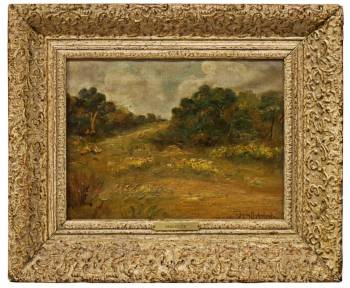 Julien Onderdonk Painting
If you can't attend, no worries! Live Auctioneers can execute your bid - check out the online catalog at: www.liveauctioneers.com