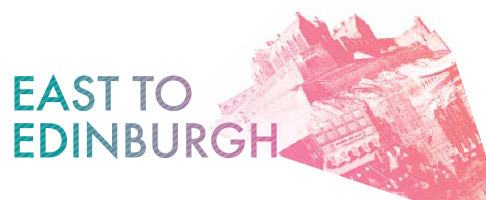 By Don Adkins, Managing Editor with Mark McLaren, Editor in Chief, July 11, 2016
The clever folks at 59E59 have developed a bit of July programming that any connected New Yorker should not miss. Starting this week and running through the end of the month, 59E59 hosts East To Edinburgh, a festival of work headed to the Edinburgh Festival.
Now to clarify, the Edinburgh Festival is actually a collection of festivals hosted in this Scottish city of 450,000 residents that brings over two million annual summer visitors. The series is anchored by Edinburgh International Festival and Edinburgh Festival Fringe, which both run from August 5 to August 29. (The city of Edinburgh fills the rest of the summer months with other tourist-attracting events including Edinburgh International Film Festival June 15 - June 26, Edinburgh Jazz & Blues Festival July 15 - July 24, Edinburgh Art Festival July 28 - August 28, Edinburgh International Book Festival August 13 - August 29.)
The Edinburgh International Festival is one of the oldest arts festivals in the world and was the brainchild of Rudolf Bing, General Manager of the Metropolitan Opera from 1950-1972. In 1947 Bing was GM of the Glyndebourne Opera and with Head of the British Council in Scotland Henry Harvey and leaders from the City of Edinburgh, they established the festival as a post-war world-class cultural event to celebrate arts and humanity. In its first year, eight theater groups showed up to the festival uninvited and undeterred and thus was born the Edinburgh Festival Fringe. In 2015, the two festivals hosted 50,459 performances of 3,314 shows in 313 venues.
Highlights of the 2016 International Festival include Cherry Jones in American Repertory Theatre's acclaimed The Glass Menagerie, Cecilia Bartoli in Moshe Leiser and Patrice Caurier's Norma (Salzburg Whitsun Festival), Barry Humphries' Weimar Cabaret with the Australian Chamber Orchestra, and an acclaimed Cheek by Jowl/Pushkin Theatre production of Measure for Measure.
Several North American companies are headed to Festival Fringe this year, and 59E59 has programmed a New York series of these works prior to their departure. This 12th annual edition of East to Edinburgh, while simulating the same production constraints that all shows experience during the Fringe, provides the companies a clean, comfortable, and nurturing space to fine-tune their productions. As in Edinburgh, the programming is not curated, and the technical elements are kept to a minimum.
So come experience the excitement of the Edinburgh Festival Fringe without a trip to the airport. All the productions to be presented are listed below, and run from July 12-31. For more information and to purchase tickets, click here.
THE END OF POLITICS
"Why even get up in the morning?" asks Bob Bell in his searing and humorous one-man show about the issues that have led to the current 2016 election.
HAMLET IN BED (with Annette O'Toole and Michael Laurence)
A noir downtown thriller about sex, death, theater, and the world's most famous play, by Drama Desk nominee Michael Laurence.
VAN GOGH FIND YOURSELF
Walter DeForest takes on the complex and elusive creative process as he draws portraits and paints Vincent van Gogh's side of the story.
JUL 12, 14 & 15 AT 8:30, JUL 13 AT 6:30
(CUT THE BULLSHIT) LEN BAKERLOO SPEAKS TRUTH TO POWER
Retired hedge fund manager Len Bakerloo, "The World's Greatest Bullshit Detective," goes postal on bullshitters and their bullshit.
JUL 12 & 19 AT 6:30, JUL 13 AT 8:30
LUCIE POHL: APOHLCALYPSE NOW!
A hilarious new comedy of terrors from NYC comedian Lucie Pohl--creator of smash hits Hi, Hitler and Cry Me A Liver. Expect bad language, bad decisions, a wedding, a break up, dead rats, and wake up calls from Stephen Baldwin.
JUL 14, 15 & 16 AT 6:30, JUL 17 AT 4:30
MARILYN & SINATRA
You know the names but you didn't know their love story--until now. This play explores the little-known relationship between two showbiz icons.
JUL 16 AT 2:30 &8:30, JUL 17 AT 2:30
SCREW YOUR COURAGE! (OR THE BLOODY CROWN!)
A Brooklyn actress with an unshakeable obsession to triumph in the role of Lady Macbeth confronts her demons as she seeks out the true meaning of success.
JUL 16 AT 4:30, JUL 20 AT 6:30, JUL 24 AT 2:30
THE EULOGY
A parody of a funeral, The Eulogy features a menagerie of characters whose inept and inapt speeches give anything but a proper homage.
JUL 17 AT 7:30, JUL 23 &24 AT 4:30
DARK HEART
Unable to recover from the accidental death of her sister, Emma struggles for her sanity and her life in writer/composer Jessica Avellino's thrilling debut musical.
JUL 21, 22, 23, 28, 29, 30 AT 6:30
THE MAN WHO BUILT HIS HOUSE TO HEAVEN
This story of a man who endlessly builds additions onto his suburban home until it engulfs all of humanity explores the cost of endless ambition.
HARMON LEON'S BIG FAT RACIST SHOW
Comedian and VICE contributor Harmon Leon's new solo show takes you along on his adventure infiltrating extreme hate groups-- to meet the ridiculous people behind the hate. Plus songs!
JEFF SEAL: THE GODDAMN TRUTH
Standup comedian, storyteller and clown Jeff Seal gives you his side of the story.
JUL 24 AT 7:30, JUL 26 AT 6:30, JUL 27 AT 8:30
I WILL SPEAK FOR MYSELF
One actress gives an authentic, theatrical, and compelling solo performance that breathes life into long-forgotten African-American women's voices.
JUL 30 & 31 AT 2:30, JUL 31 AT 7:30
_________________________________
Don Adkins and Mark McLaren write various arts, cultural and lifestyle features and reviews for ZEALnyc.
For all the news on New York City arts and culture, visit ZEALnyc Front Page.
Calling all HuffPost superfans!
Sign up for membership to become a founding member and help shape HuffPost's next chapter