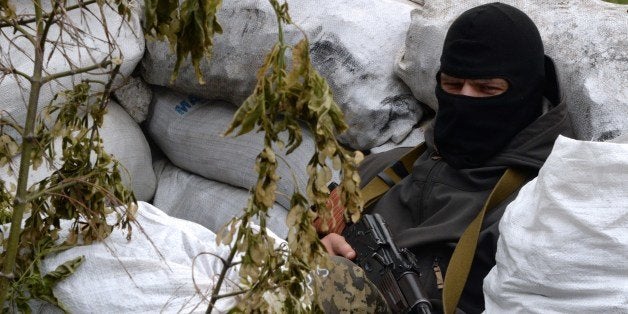 By Matt Robinson and Alessandra Prentice
DONETSK/SLAVIANSK, Ukraine, May 12 (Reuters) - Ukrainian leader Oleksander Turchinov accused Russia of working to overthrow legitimate state power in Ukraine on Monday after pro-Russian rebels declared a resounding victory in rebel referendums on self-rule in eastern regions.
Turchinov said the Kremlin was trying to disrupt a presidential election later this month which is taking centre stage in a confrontation pitting Moscow and the separatists against the government in Kiev and its Western backers.
RIA news agency quoted a rebel leader as saying the eastern Luhansk region would boycott the May 25 election. What he called the "Republic of Luhansk" may hold a further referendum on union with Russia, as Ukraine's Crimea region did under Russian military occupation before its annexation by Moscow in March.
Ukraine's election is intended to secure democratic continuity and legitimacy after pro-Moscow president Viktor Yanukovich fled the country in February, and Western governments have threatened more sanctions in the vital areas of energy, financial services and engineering if Moscow disrupts the vote.
Moscow said it respected the outcome of Sunday's referendums, in which separatists claimed 90 percent support in the industrial Donetsk region while RIA, a Russian state news agency, reported 96.2 percent backing in Luhansk region.
The results should be implemented peacefully, Russia said, without saying what further action it might take.
Eastern Ukraine has been plagued by turmoil as Kiev has tried to regain control of the largely Russian-speaking areas, and health authorities said 49 people have been killed in violence in the region of Donetsk since March 13.
The European Union declared the referendums illegal and increased pressure on Russia on Monday by taking a first step towards extending sanctions to companies, as well as people, linked to Crimea's annexation.
However, revealing cracks in the West's united front, diplomatic sources said France will press ahead with a 1.2 billion-euro ($1.66 billion) contract to sell helicopter carrier ships to Russia because cancelling the deal would do more damage to Paris than to Moscow.

The rebels have given differing accounts of their plans. However, one spokesman said these did not include taking part in electing a replacement for Turchinov, who has been acting president since pro-EU protesters forced Yanukovich from office.
"As of today, we are now the Republic of Luhansk, which believes it to be inappropriate and perhaps even stupid to hold a presidential election," RIA cited the spokesman as saying.
Some rebels have publicly supported pressing for annexation by Russia, which absorbed Crimea after a similar vote in March.
"This land was never Ukraine ... we speak Russian," said Vyacheslav Ponomaryov, rebel mayor of the separatist stronghold of Slaviansk, threatening to kick out the Ukrainian army.
Asked about the possibility of holding a second referendum, on union with Russia, he said: "There has been no decision, but this referendum showed we are prepared ... we can put on an election or referendum at short notice at barely any cost."
However, the spokesman in Luhansk said: "If this decision (to hold a vote on joining Russia) is taken, then, respectively, the will of the people will be taken into account."
Moscow denies any ambitions to absorb the mainly Russian-speaking east, an industrial hub, into the Russian Federation. However, it has massed troops on the Ukrainian border and Kiev fears they may be called in as peacekeepers.
Ukrainian Interior Minister Arsen Avakov said rebels had made a new attempt overnight to seize a television tower on the edge of Slaviansk, heartland of a rebellion that has reduced relations between Russia and the West to their worst since the fall of the Berlin Wall.
"The information war that they are waging against us in the Donbass (east) is more dangerous than a bullet. We must answer back ... the enemy fears this more than special forces," he wrote on Facebook.
But there was some hint of compromise in the port city of Mariupol, scene of fierce fighting between Ukrainian forces and rebels over the last week.
Turchinov said local police had begun patrols with a volunteer militia set up by a company, Metinvest, mostly owned by Ukraine's wealthiest businessman, Rinat Akhmetov.
A photograph on the company's website showed steelworkers from the company, dressed in working overalls and helmets, but unarmed, walking with police through city streets. Akhmetov had offered to provide the militia as part of an arrangement with loyalist police to restore order in the city.
Akhmetov had also proposed that the military should not be brought again into Mariupol.

RUSSIA RESPECTS "WILL OF THE PEOPLE"
Turchinov made no mention of this part of Akhmetov's proposals but dismissed the separatist vote as a farce.
"These processes are inspired by the leadership of the Russian Federation and are destructive to the Donetsk and Luhansk regions' economies, threaten the lives and welfare of citizens and have the aim of destabilising the situation in Ukraine, disrupting (May 25) presidential elections and overthrowing Ukrainian authorities," he said in a statement.
The referendum opened a new phase of uncertainty in a country historically divided between a Russian-speaking east and a more westward looking west. One man was killed in a confrontation on Sunday between a National Guard unit and a crowd of pro-Russian activists.
Russian President Vladimir Putin, who is in the Black Sea resort of Sochi, did not comment personally, but the Kremlin released a statement on the referendum.
"We condemn the use of force, including of heavy weapons against civilians ... in Moscow, we respect the will of the people of the Donetsk and Luhansk regions and are counting on practical implementation of the outcome of the referendum in a civilised manner, without any repeat of violence and through dialogue," it said.
European Union foreign ministers added two Crimean companies and 13 people to the bloc's sanctions list, EU diplomats said. These are in addition to 48 Russians and Ukrainians who have already been targeted with EU asset freezes and visa bans.
But the EU remains far behind the United States in the severity of the sanctions it has imposed on Russia. Some European governments fear tough trade sanctions on Russia could undermine their own economies, just recovering from the financial crisis, and provoke Russian retaliation.
France has come under pressure from Washington and some EU partners to reconsider its supply of military hardware to Moscow. However, French diplomatic sources said a 2011 contract with Russia for two Mistral helicopter carriers, with an option for two more, would not be part of a third round of sanctions.
"The Mistrals ... will be delivered. The contract has been paid and there would be financial penalties for not delivering it," one source said. (Additional reporting by Pavel Polityuk in Kiev, Lidia Kelly in Moscow, Adrian Croft and Justyna Pawlak in Brussels, John Irish, Marine Pennetier and Elizabeth Pineau in Paris, Writing by Ralph Boulton, Philippa Fletcher and Peter Cooney, Editing by Timothy Heritage and David Stamp)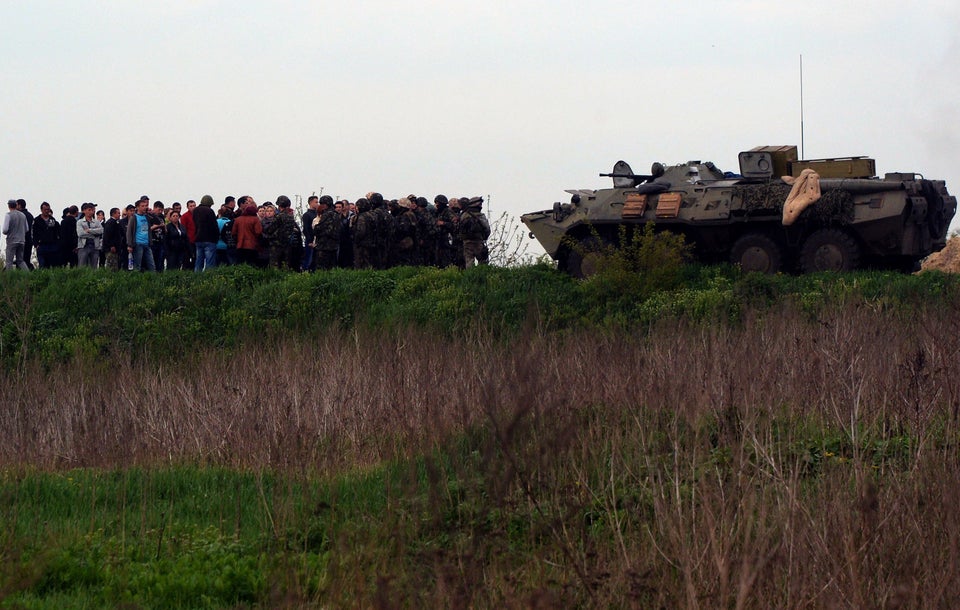 Ukrainian Troops Move Against Separatists
Popular in the Community