In a press conference Friday, New York City Mayor Bill de Blasio said six firefighters were among those injured in the blaze, but none of the firefighters' injuries were life threatening. Although four civilians were critically injured, so far there are no fatalities.
"Our hearts go out to the families of all who are affected," de Blasio said. "Rarely do we see a scene of such devastation in a city like this."
An exact picture of what occurred won't become clearer until rubble, which is still smoldering 24 hours after the fire, is removed. That process could take days, if not up to a week, de Blasio said.
Pending an investigation, it's unclear if the faulty contracting work was a factor in the explosion, officials said.
The mayor reiterated the importance of calling 911 or Con Ed to report gas leks. The owner of Sushi Park, the restaurant that was destroyed in the blast, called his landlord upon smelling gas Thursday.
Two structures burned down in the fire, which started in the basement at 121 Second Ave. near St. Mark's Place around 3:20 p.m. More than 250 firefighters rushed to contain the 7-alarm inferno, which preliminary evidence suggests was a gas-related explosion. Two adjacent buildings were also damaged. Of the four buildings affected by the explosion, three had collapsed by Friday morning.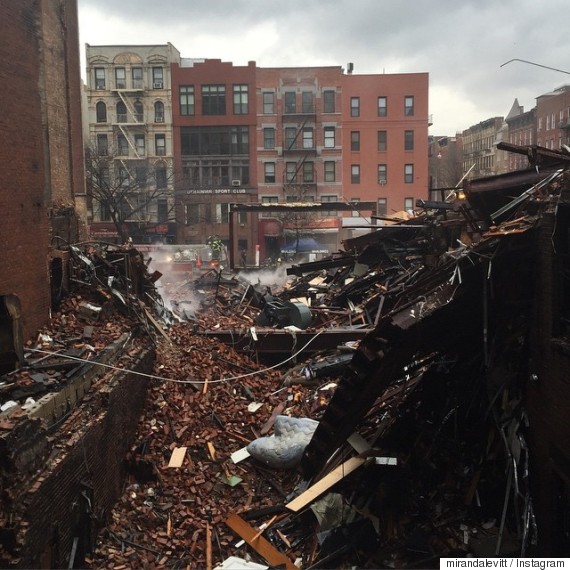 Image from instagram user @mirandalevitt, "Saddest thing I've ever experienced. This is the view from my apt of the building that was once next to mine - they let us in to get a few belongings.. "
The family of one missing man, 23-year-old Nicholas Figueroa, says he was on a date at a restaurant located in the building where the blast occurred. Figueroa's bank has a record of him paying his bill at Sushi Park, but that's the last his family knows of him.
"I just want my brother to be safe," brother Neal Figueroa said in comments to reporters Friday morning. "I want him to smile again. I want him to be home. There's no place like home. I know he's just as eager to see us as we are to see him."
The Wall Street Journal reports that the second missing man is Moises Lucon, who worked at the restaurant. The NYPD would not confirm the identity of the second missing person, pending family notification.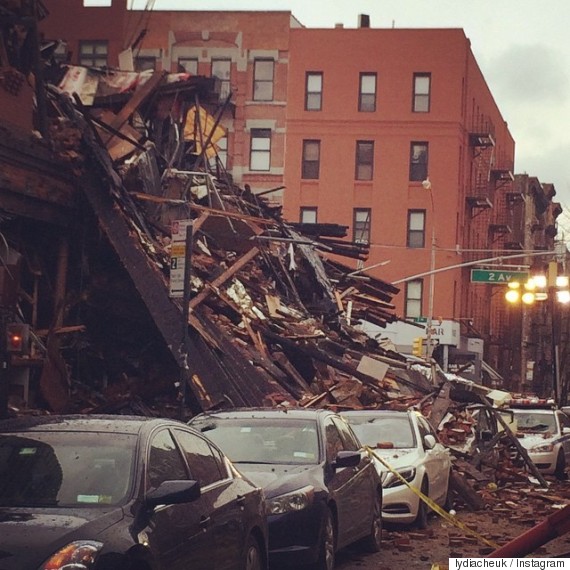 At least 70 people lived in the buildings that were destroyed. Two buildings collapsed, one partially collapsed and another was damaged in the explosion, according to WPIX. One of the collapsed buildings fell overnight, hours after the initial explosion, officials said.
As of Friday morning, one ladder crew remained pouring water onto the smoldering ruin, which was cordoned off in a four-block radius. The air around the scene still smells of burnt debris, but already New Yorkers are rallying to give what help they can.

Abigail Adams, a spokeswoman for the Red Cross, told The Huffington Post that dozens of adults -- and at least one child -- registered for help with the organization overnight, either because they lived in one of the destroyed or surrounding buildings. Adams said she expects that number to grow.
Case workers are working with families in need this morning at a library on East 10th Street.
May Jones, 24, spent last night at a YMCA. She's among the 90 people who have registered for help from the Red Cross since the explosion, having been displaced from their apartments
Jones' home wasn't destroyed, but is near the blast site. She said she hopes to get back there soon.
She expressed gratitude for the work of the Red Cross and said she was keeping the two men still missing after the explosion in her thoughts.
"It could've been me," Jones said.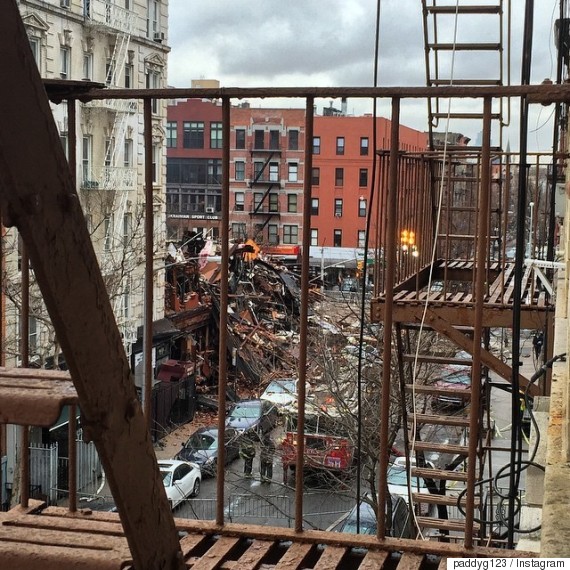 Four people were taken to Bellevue and Weill Cornell hospitals with critical injuries Thursday. As of Friday morning, their conditions were not known.
Photos and footage of the ensuing fire showed flames towering two stories high. Acrid-smelling smoke filled the air for blocks around the site as victims -- some with severe burns -- ran from the chaos.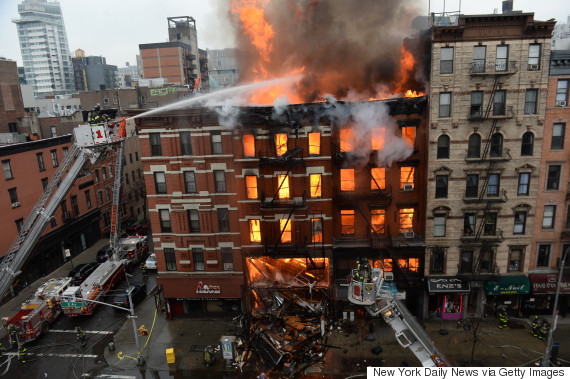 "I just heard screaming immediately and I looked out the window and I saw debris and stuff on the street," Ryan Reilly, who was taking a nap in a nearby apartment when he felt the building shake, told HuffPost. "So I ran downstairs and I saw people from the building covered in blood, people lying in the street."
Christopher Mathias contributed reporting to this story.
Calling all HuffPost superfans!
Sign up for membership to become a founding member and help shape HuffPost's next chapter
BEFORE YOU GO
PHOTO GALLERY
Fire at 2nd Avenue and 7th Street