An explosion ripped through a building in the East Village of Manhattan on Thursday, reducing two structures to rubble as firefighters scrambled to contain a 7-alarm inferno through the afternoon.
A total of 19 people were injured in the explosion, which occurred in the basement at 121 Second Ave. near St. Mark's Place at about 3:20 p.m. Fire quickly engulfed that building and spread to an adjacent structure. Victims could be seen running from the chaotic scene -- some of them screaming with severe burns -- as more than 250 firefighters responded to battle the blaze.
An FDNY spokesperson told The Huffington Post that four people were in critical condition at area hospitals, and a total of four buildings were affected. At a press conference, fire officials said two of the critically injured victims suffered burns to their airways.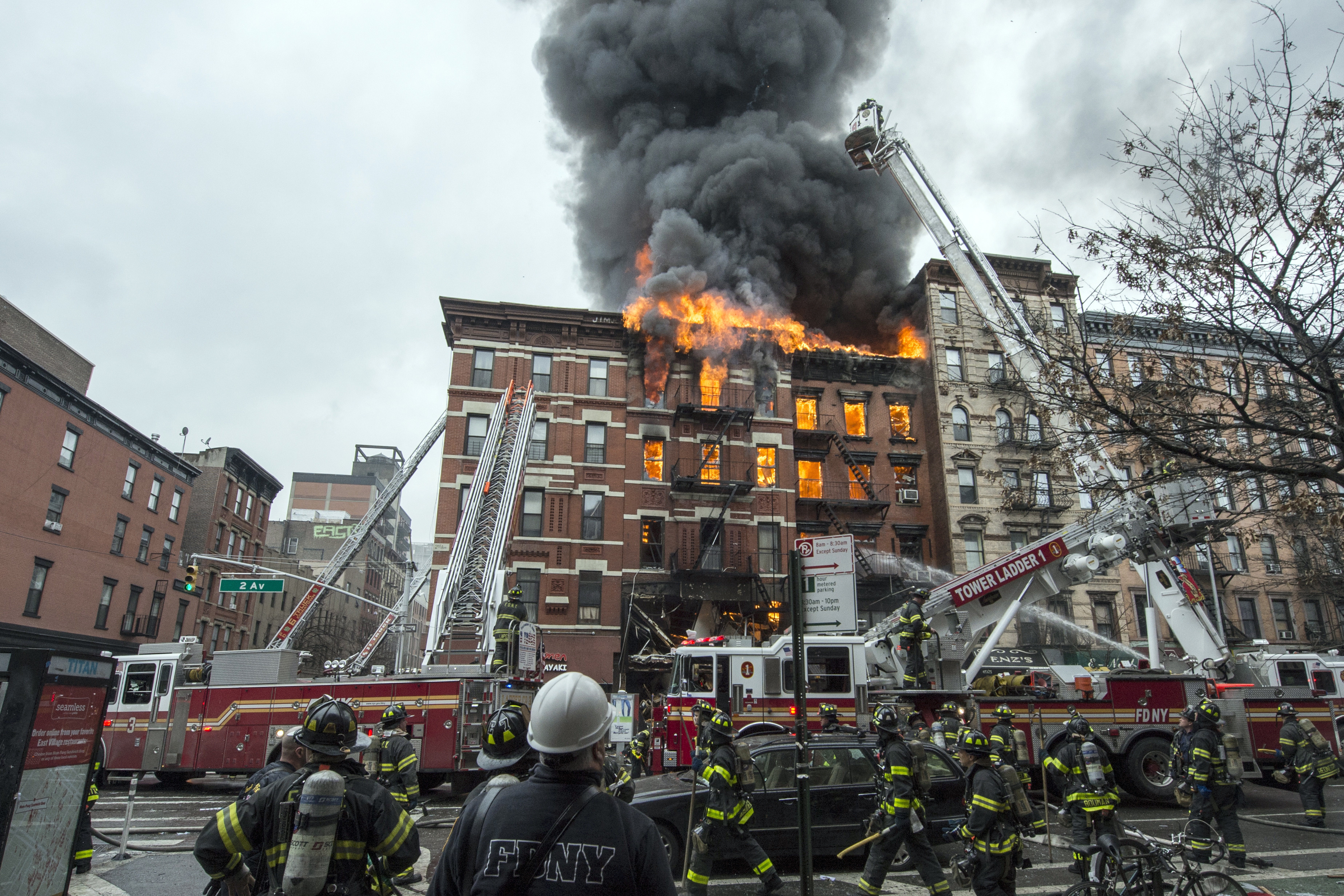 "Preliminary evidence suggests a gas-related explosion," Mayor Bill de Blasio said at a press conference. "The initial impact appears to have been caused by plumbing and gas work that was occurring inside 121 2nd Avenue ... so far, firefighters have contained the fire in four buildings. That's an ongoing operation."
He added that 911 and Con Edison didn't get any calls about the building immediately prior to the explosion, but noted that work being done on the building failed a ConEd inspection earlier in the day.
"I just heard screaming immediately and I looked out the window and I saw debris and stuff on the street," said Ryan Reilly, who was taking a nap in a nearby apartment when it began to shake. "So I ran downstairs and I saw people from the building covered in blood, people lying in the street."
"You could tell it was an explosion because the whole building was just blown out on the bottom floor," he added.
De Blasio said that the fire spread to 123 Second Ave. -- which also collapsed -- and affected two other structures. One other building was still in danger of collapse. Local cafe Pommes Frites was destroyed when one of the buildings fell:
"I assumed the building was gone, but it wasn't; you just couldn't see it," Robert Shapiro told the NY Post. "Then all of a sudden the roof erupted in flames. I swear to you, at least 30 feet in the air, bright orange flames. ...I've never seen such an aggressive fire — it was like they were pouring gas on it."
Laura Gibson, who lived in one of the affected buildings, said she instinctively ran out the door following the blast.
"I was afraid there was a fire on the ground floor and was worried I wouldn't be able to get out," she said through tears.
She said she has lived in the building since last September, with three other roommates, who were not home at the time. She spoke to The Huffington Post from The Standard Hotel, telling staff she had "nowhere else to go" after bolting down the street with just her phone.
"It was like a bomb," Aleksandr Srdi, 32, told DNAinfo. "Everyone was like what's going on? People from Starbucks were yelling to get back inside and they were trying to lock the doors."
Miles Barber, a cook at Mighty Quinn's Barbeque, told HuffPost that the explosion felt "like an earthquake." He and fellow employees evacuated the restaurant as hundreds of onlookers crowded the streets. Police closed off 6th and 7th streets near the explosion.
Day laborers told the NYPD that they were working on a gas line inside a kitchen in the building, a source told the New York Post. Since 1974, the Department of Buildings slapped 121 2nd Ave. with 12 violations, 10 of which were dismissed, in some cases decades after they were issued. Two remain active. One, issued in March 1989, is for a plumbing violation. A second, issued in February 1991, is for an elevator violation.
Next door at 119 2nd Ave., the building has a history of boiler violations. The city issued eight violations between March 1991 and March 1999. All but the most recent one have been dismissed. Documents on the Department of Buildings' website do not specify problems with the boilers.
The incident comes just days after New York City marked the one-year anniversary of a deadly building explosion in Harlem. A gas leak caused the blast, leveling two buildings, killing eight people and injuring dozens of others.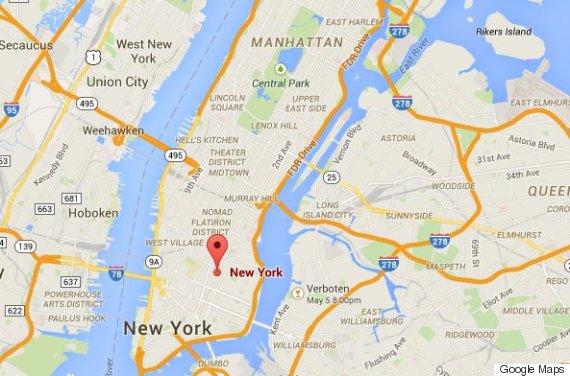 Alexander Kaufman, Simon McCormack, Hilary Hanson, Marc Janks, and Amber Ferguson contributed to this report.
REAL LIFE. REAL NEWS. REAL VOICES.
Help us tell more of the stories that matter from voices that too often remain unheard.
BEFORE YOU GO
PHOTO GALLERY
Fire at 2nd Avenue and 7th Street