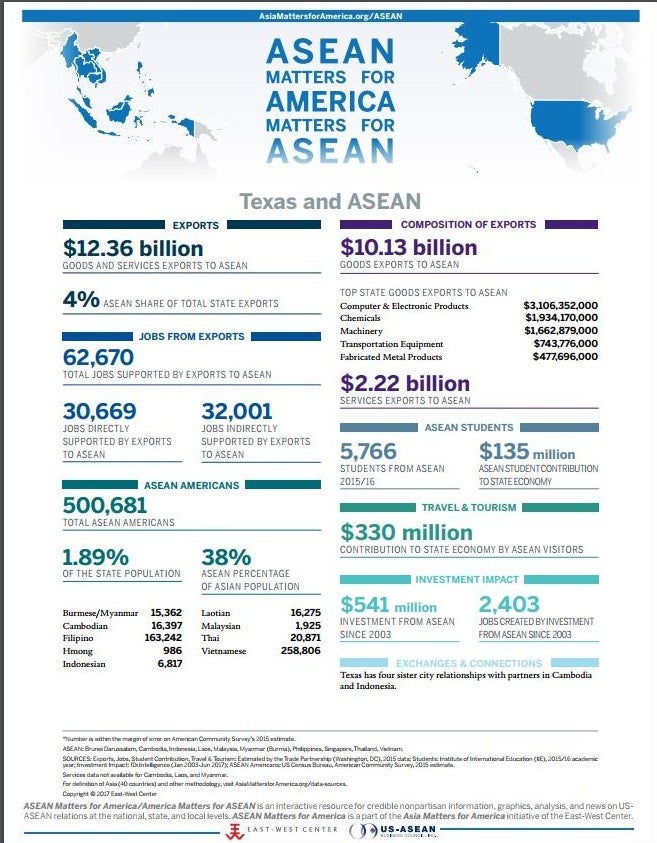 The East-West Center along with co-sponsor the Congressional Caucus on ASEAN launched the newest edition of the ASEAN Matters for America/America Matters for ASEAN state and congressional one pagers, part of the East-West Center's Asia Matters for America initiative (www.AsiaMattersforAmerica.org), on November 8, 2017 at an event on The US and Southeast Asia on the Eve of President Trump's Visit. These one-pagers were generously supported by the US-ASEAN Business Council.
Over 60 people gathered at the Rayburn House Office Building's Gold Room to hear remarks from Rep. Joaquin Castro (TX) and H.E. Ashok Mirpuri, Ambassador of Singapore, as well as a panel of experts on US-ASEAN relations including Marc Mealy, Vice President-Policy, US-ASEAN Business Council; H.E. Ambassador (ret.) David Shear, Senior Advisor, Asia-Pacific and Southeast Asia, McLarty Associates and former Assistant Secretary of Defense for Asian and Pacific Security Affairs; John Sifton, Asia Advocacy Director, Human Rights Watch; and The Honorable Barbara Weisel, Managing Director for Rock Creek Global Advisors and former Assistant U.S. Trade Representative for Southeast Asia and the Pacific and chief negotiator for the Trans-Pacific Partnership (TPP).
The latest ASEAN Matters for America one pagers are expanded and updated versions of the 2014 edition for the 50th anniversary of ASEAN and the 40th anniversary of US-ASEAN relations. ASEAN Matters for America functions as an educational resource and features infographics that illustrate the importance and impact of US-ASEAN relations at the state and district levels. The one-pagers can be accessed and downloaded online at: http://www.asiamattersforamerica.org/asean-state-district . "On the eve of President Trump's visit to Southeast Asia and his meetings with regional leaders, our event on relations with the region and the ASEAN Matters for America 1-pagers provide the public, media and analysts usable information and graphics that assess the important interactions across trade, investment, education, people-to-people exchange that undergird American interests in Southeast Asia said Satu Limaye, Washington D.C. Director of the East-West Center. "This is the only online and printed resource that maps the crucial importance of the US-Southeast Asia relationship at the national, state, and local levels."
These one pagers draw upon data from the updated ASEAN Matters for America/America Matters for ASEAN booklet, which was released at a major event on Capitol Hill on May 16, 2017.This resource brings to light important facts and figures on America's fourth largest export market. Some of these impressive figures include the half a million jobs across the country that are supported by the $100 billion in goods and services exported to ASEAN in 2015. ASEAN countries are integral partners in maintaining security in the Asia Pacific region and at the people-to-people level 92 sister relationships are providing more opportunities for education and cultural exchange than ever before.