 On a crisp, mostly sunny Easter morning, the First Family walked across Lafayette Square to 11 a.m. services at St. John's Episcopal Church.
"Happy Easter, everybody," the president said as he strolled past the pool. He was wearing a dark suit with a light-blue tie. The first lady was wearing a magenta-colored dress with a black shrug.
A long line of people waited outside the church. They were being admitted through a side door.
During the Prayers of the People, as is customary, the congregation offered a prayer for "Barack, our President, the leaders of Congress, and the Supreme Court, and all who are in positions of authority."
POTUS was glimpsed briefly, in a pew on the right side of the center aisle, about six rows back, turning around to shake the hands of other worshipers during the offering of peace.
The President lined up for communion, ahead of First Lady Michelle Obama and daughter Malia. As the first couple returned to their seats, they smiled and greeted other worshipers.
According to a person waiting on the sidewalk outside St. John's, a crowd of about 80 people were stranded outside, unable to get in, despite lining up 45 minutes before the service and waiting another 40 minutes after it began.
As the choir sang the Hallelujah chorus from Handel's Messiah, the First Family left by a side door. At 12:33, they walked back to the WH -- POTUS holding hands with Malia, FLOTUS with Sasha.
The President and First Family have enjoyed worshipping with a number of D.C.-area congregations. They have attended services at 19th Street Baptist Church, the Washington National Cathedral, Allen Chapel A.M.E. Church, Vermont Avenue Baptist Church, Metropolitan A.M.E. Church, Shiloh Baptist Church, Zion Baptist Church, and multiple services at St. John's Episcopal Church and Evergreen Chapel at Camp David. They most recently attended St. John's on March 18th, 2012.
Reports filed By Mark Landler of the New York Times for The White House Pool Report.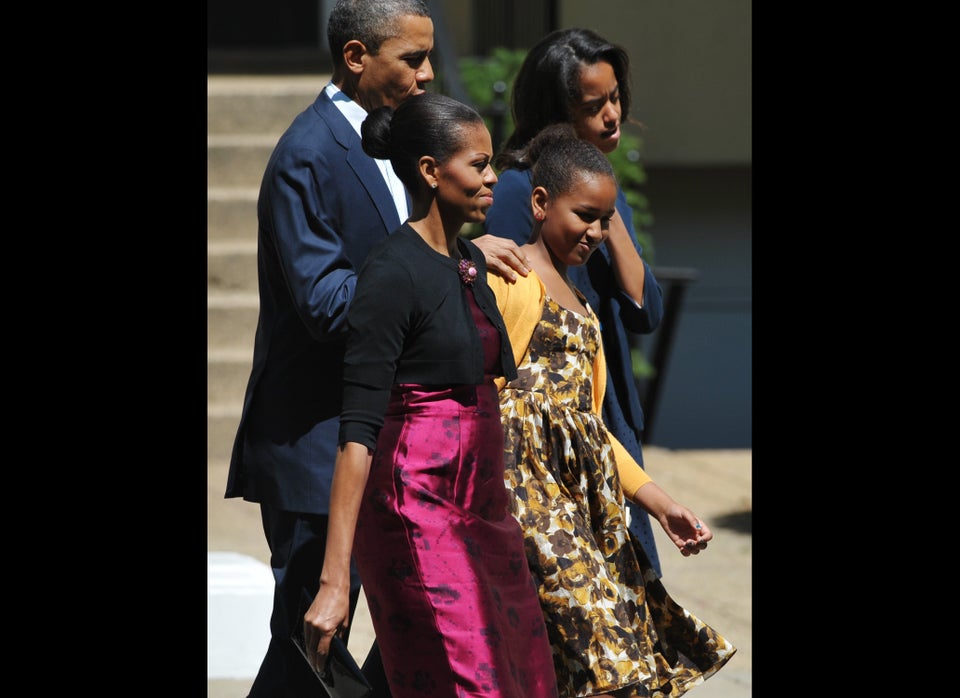 Obamas' Easter 2012
Related
Popular in the Community