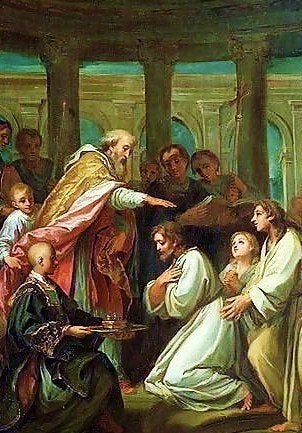 Before the Easter Bunny nibbled its way onto sacred turf, Easter was a very serious business. In early Christian communities -- in fourth century Milan, for instance -- it was the day when, normally, all new Christians were baptized, and it was the deepest spiritual experience most of them would ever have. But the very things that impressed those "born again" in "saving waters" would probably upset modern people -- things like their being stripped naked in church and then anointed with oil all over their body, or going naked into a pool where their heads would be held under water three times for "total immersion."

I became interested in baptismal rites because of a 1940s archeological find in Milan. During World War II, the city dug into the piazza in front of its famous cathedral and unearthed the foundations and pool of an eight-sided baptistery from the fourth century. It had been covered up for centuries to make way for the huge Gothic cathedral that now towers above it. I have gone down to visit that site repeatedly, since it is the historic place where Saint Ambrose, the bishop of Milan, baptized an African visitor to the city, who would become Saint Augustine.

The two men did not simply meet at the pool on that Easter morning of the year 387. Baptism then involved, for those seeking it, a long Lent of fasting and penance, during which Ambrose preached twice a day on the meaning of baptism. We can read what Ambrose said at this "boot camp" for recruited Christians. Augustine heard these dense sermons along with his fellow "baptizands" -- who included his best friend Alypius and his teenage son (born out of wedlock) Adeodatus. Ambrose said that passage through the waters of baptism was the culmination of a whole series of biblical signs and prophecies -- riding with Noah through the Deluge, crossing with Moses through the Red Sea, receiving healing words from Jesus at the Jordan River and the Pool of Bethesda.

By going into the healing waters of the very pool we can see today, Ambrose taught, his flock was dying into Christ, to be resurrected with Christ on the other side of the pool, and then to be "clothed in him" as the white robes of a newfound innocence were donned. Then the newly baptized led the rest of Ambrose's fiercely loyal community out of their winter church (the Basilica Vetus) into their spring and summer church (Basilica Nova). According to Ambrose, the world began on the summer solstice, the year begins with spring, the church begins with Christ's Easter Resurrection, and eternity begins on the eighth day after the first Sunday of God's seven-day creation. All these beginnings were wrought into the experience of rebirth that his group had just undergone.

The white flock of renewed souls sang their way into church with the hymns that Ambrose had composed and taught his congregation. Augustine would later describe the music he heard that Easter day of his own rebirth: "The voices flowed in at my ears, Your truth distilled in my heart, a wash of emotion rose in me and overflowed in tears." At the first Mass these new Christians were allowed to join in, they heard for the first time the Lord's Prayer (a treat that had been kept secret for them) and received their first communion of the Body and Blood of Christ.

Even then their spiritual instruction had not ended. Still clothed in their white garments, they heard a sermon a day for another week as Ambrose "debriefed" them on all that they had undergone, bringing out deeper and deeper meanings in the mystical rite of rebirth that is baptism. It is no wonder that the whole ecclesiastical year in Ambrose's church was organized around this most focused season, in which all those who had been previously baptized relived their own induction as they watched and joined the company of those experiencing it for the first time.

To go down the narrow stairs that reach Ambrose's underground pool is to go back 17 centuries, a process I try to recreate in my book Font of Life. It is light years away from the Easter bunny.
Calling all HuffPost superfans!
Sign up for membership to become a founding member and help shape HuffPost's next chapter