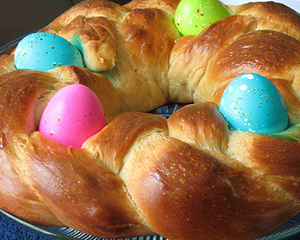 Springtime and Easter celebrations throughout the world are centered on things that are young and colorful, such as flowers, bunnies, chicks and colorfully dyed eggs.
In the case of Easter breads, those brilliantly colored eggs are decoratively nestled within the bread. The Italian and Greek versions are the most well-known. The Italian style favors a multitude of colors, while the Greeks tend to weave their traditional red dyed eggs into their Easter bread.
Whatever style you prefer, Easter bread is a time-honored tradition that's extremely fun to make with children. They will delight in helping to tuck those multicolored ovals of joy ever so carefully into the braids of bread dough.
Easter gives us a wonderful reason to make festive bread like this, but who's to say you can't make a cheery recipe like this all year long.
Preheat oven to 350 degrees F / 200 degrees C
1/4 cup Granulated Sugar
1 package Active Dry Yeast (Rapid Rise)
1 teaspoon Kosher Salt
2/3 cup Whole Milk (120-130 degree F) lukewarm
1/4 cup Unsalted Butter (at room temperature)
2 Eggs, plus 4-6 more for decorations
1/2 cup Candied Fruit, finely chopped & soaked in brandy (this is optional depending on your taste.)
1/2 teaspoon Anise Seed or Extract (The seeds are more authentic. You can substitute Almond Extract, as well.)
2 Tablespoon Unsalted Butter (melted) or Extra Virgin Olive Oil (Try using the olive oil; once again it's more authentic. Use a high-quality EVO; it makes a big difference.)
Combine 1 cup of the flour, sugar, yeast and salt in a large mixing bowl. Add milk and butter. Beat for 2 minutes on medium speed.
Add in 2 eggs and another 1/2 cup of flour. Beat 2 minutes on high-speed. Stir in fruit, nuts and anise seed; mix well.
Stir in enough remaining flour to form a soft dough. (You will not need to use it all if you have a good quality flour.)
Turn dough out onto a lightly floured work surface. Knead dough until it is smooth and elastic, about 7-11 minutes. (You could also use the dough hook on your mixer for 5 minutes, then knead by hand for 1-2 minutes.)
Place in a warm bowl, greased with olive oil. Turn the dough once so that it is lightly coated in oil.
Cover the bowl with a dampened cloth and let rise for 75 minutes in a draft-free, warm place until doubled in size.
The remaining eggs (uncooked and kept in their shell) should be dyed in pastel colors, then dried and lightly sprayed with cooking oil.
Once dough has doubled, punch it down, and then divide in half; roll each section into a 24-inch rope. Loosely twist the 2 ropes together. With a knife trim each end of the braid, then line the two ends up together in a wreath shape.
Pinch the ends together carefully to alleviate any noticeable seam. Next, take a small knife and make slits on top of the ropes and tuck uncooked (dyed) eggs into the openings. Cover with a towel and let rise until doubled, another 30 minutes.
Bake for 30-35 minutes or until golden brown.
Slide from pan onto a wire rack to cool. Brush top of bread with melted butter straight from the oven.
Let cool slightly and serve.
Now let's go and simply enjoy SPRING!