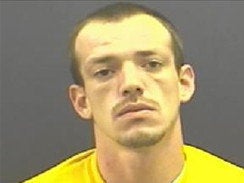 This Easter Bunny is all hopped up.
A Virginia man dressed as a stuffed holiday rabbit was arrested on Friday for illegal possession of prescription narcotics, according to a press release obtained by The Huffington Post.
Piedmont Mall patrons complained that "the individual working as the Easter Bunny," later identified as Joshua Lee Boiling, displayed "behavior suggestive of possible criminal drug activity," police said.
An investigation eventually led officers to arrest Boiling for the alleged possession of illegal pills.
The Piedmont Mall hired the suspect's employer to provide entertainment during the Easter holiday.
The suspicious activity took place while Boiling was on breaks and not while the suspect was entertaining the children, police added.
"Boiling was asked to accompany officers away from the public area where he was working ... to a private changing area where he removed his costume and [was] subsequently arrested," police said.
Boiling is charged with illegal possession of prescription narcotics.
Popular in the Community