This year, avoid the mess that comes with dyeing Easter eggs. Instead, try decorating them with paper flowers for an elegant look that's just as colorful. Blogger Jessica Enig of Such Pretty Things used wooden eggs to do this project, but the idea is also a great way to add style to regular plastic eggs as well. Either way, you'll be left with a pretty decoration you can bring out year after year. Keep reading for the how-to.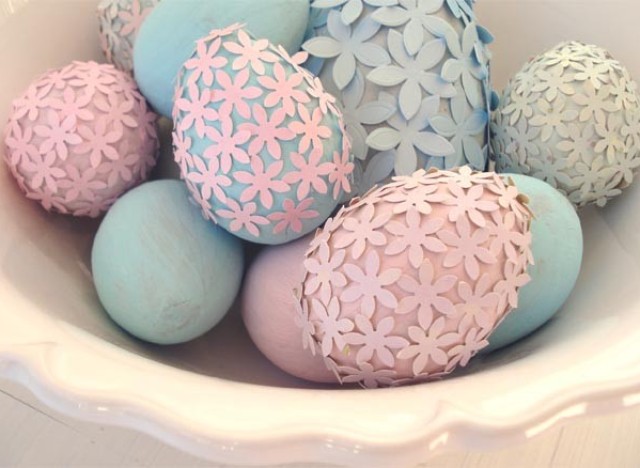 Photo by Jessica Enig of Such Pretty Things
For this project, you will need wooden eggs you can get at a craft store, acrylic paints in pastel colors, sheets of patterned scrapbook paper, a piece of cardstock and a hot glue gun. Begin by drawing a flower shape on your cardstock to use as a template. Then, trace the flower multiple times onto a sheet of scrapbook paper and cut out your pieces. Next, paint the eggs in different pastel colors. When they are dry, use your hot glue gun to stick on your flowers, working your way down the egg as you glue to keep the flowers in neat rows. Once you're done, put your decorated eggs in a simple bowl to make a pretty display all ready for Easter.