German chocolate cheesecake takes traditional German chocolate cake to the next, sinful level! If you love your desserts decadent and creamy, this recipe is for you.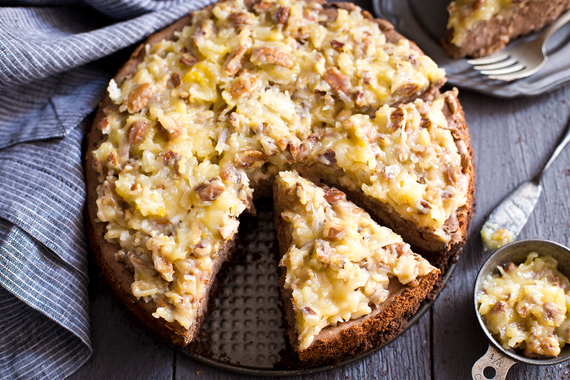 I decided I'm going to start a fan club - the "I Love German Chocolate Cake Everything" fan club. Based on recipes I've made in the past, I'm on a mission to make German chocolate everything. So far I have pecan pie, cheese ball, cupcakes, sandwich cookies, a mini cake, and (my personal favorite) ice cream.
Of course being the cheesecake fanatic that I am, it was only natural to make a German chocolate cheesecake, complete with a homemade coconut pecan frosting on top. I'm not sure what it is about that coconut, pecan, and chocolate combination, but I'm hooked. Probably because I have the world's biggest sweet tooth.
I'm not the other one who feels this way either. When I took leftover cheesecake to my co-working space, one person described it as having a chocolate mousse texture - ultra creamy and decadent. Slices didn't last long once everyone got word that there was German chocolate cheesecake in the kitchen.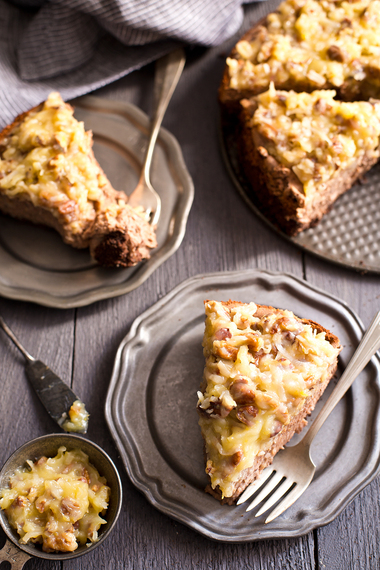 Fun fact - German chocolate cake did not originate from Germany. It's called German chocolate because a man named Sam German developed German's chocolate used in the cake.
Ideally you'd want to use the green box that's labeled German chocolate, which is 48 percent cacao. However, semisweet chocolate, which is 56 percent cacao, will work just as well. For the crust I used chocolate graham crackers, but feel free to substitute chocolate sandwich cookies.
Have you ever noticed when you make German chocolate cake frosting, it calls for evaporated milk? I'm not a fan of opening a large can for only a small amount. Luckily, you can use heavy whipping cream in place of the milk. I always have a large carton of whipping cream in my fridge since I make homemade whipped cream and ice cream often.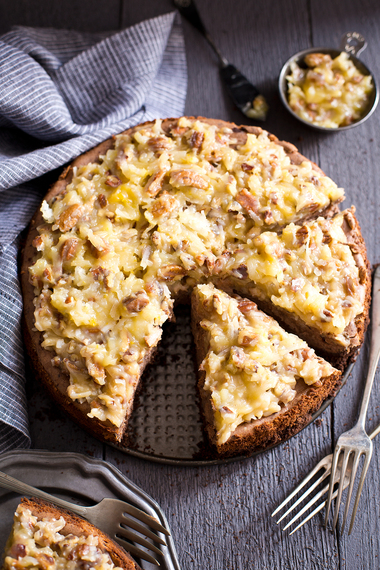 You do need to buy a springform pan in order to make cheesecake, as they are too delicate to invert from a regular cake pan. Removing the sides of the springform pan makes it easier to cut and serve.
Carla is the award-winning baker and avid cook behind Chocolate Moosey. She adores all things Cheesecake, so we're so glad she's our cheesecake fanatic!