While filming in Italy for the Rick Steves' European Easter special, which will air across the U.S. next year, my crew and I came upon some startling, amazing and moving scenes. Click through these photos to see the fun we had in the totally untouristed and delightful Back Door town of Cantiano. A rugged and stony little settlement in the remote Italian region of Marche, Cantiano has a strong Easter tradition.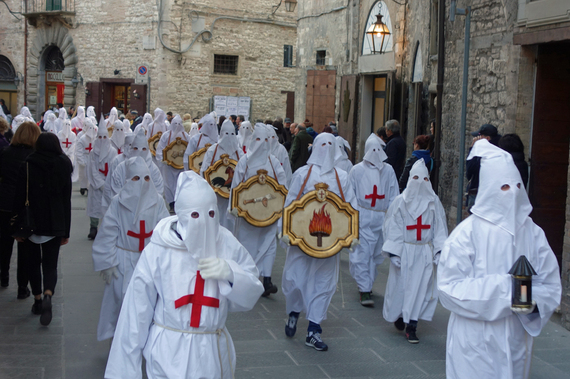 This Good Friday procession in Gubbio, a town near Cantiano, originally came three centuries before the Ku Klux Klan was born -- and couldn't be more different in meaning. Among the small towns of Italy, Gubbio and Cantiano are renowned for their Good Friday processions. In Gubbio, we joined the townspeople for a centuries-old procession featuring marching groups in a scene reminiscent of an American KKK rally. Ironically, the original purpose for these cone-shaped white hoods is to make it clear that everyone -- old and young, rich and poor (black and white) -- is equal in the eyes of God.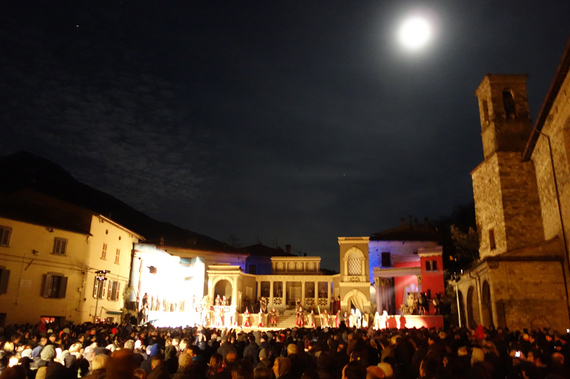 Cantiano's main square was set up to host a grand play telling the story of Christ's last week -- The Passion. In bitter cold and under a full moon, the entire village packed the square as they've done for literally centuries to witness their neighbors perform.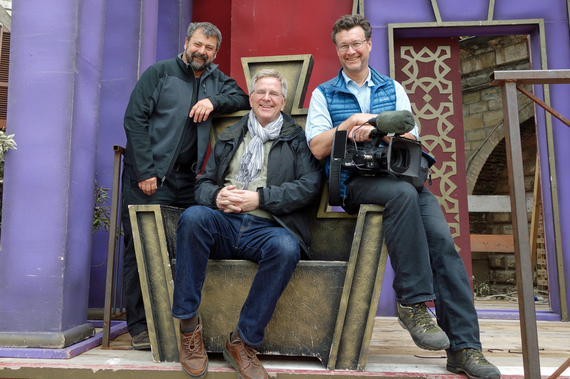 During the day, anyone was welcome to sit on Herod's throne. I am a very lucky guy to have Simon Griffith as my producer/director and Karel Bauer as my cameraman. Together (along with our second crew working in Spain and Slovenia) we are crafting what will be an amazing public television special that we hope will add an extra dimension to Easter across the U.S. in 2016.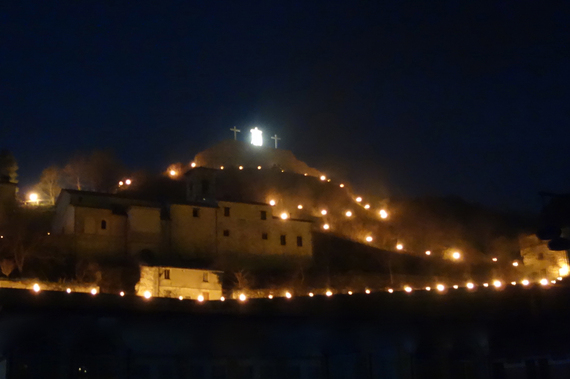 For the finale of Cantiano's Passion play, the huge cast was dressed in amazing costumes -- led by Jesus carrying the cross -- and marched the torch-lit path to the top of the hill. Far below, the people of Cantiano gathered to witness the spectacle.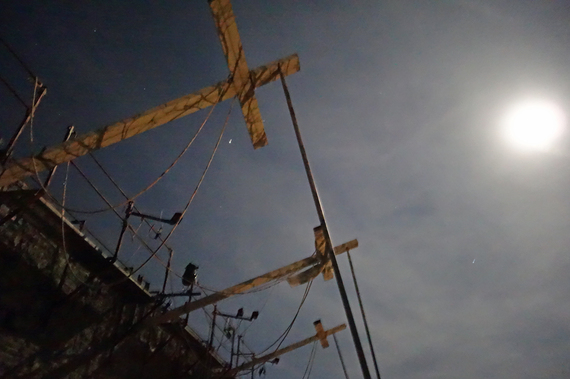 I hiked up just before the cast (as we scrambled to figure out the best way to record the event) and saw the three crosses, laid back flat on their hinges, ready to be hoisted up as the Crucifixion was commemorated. Later, with grand music and lighting around the empty cross, the Resurrection was celebrated.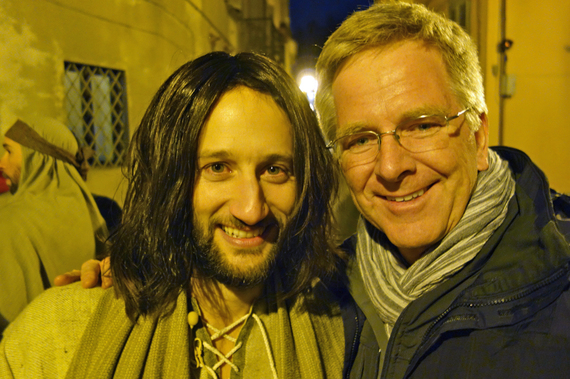 Following performances, the cast has a long tradition of gathering in Cantiano's church for a kind of "Resurrection after party." The priest, after explaining to us that it's not scriptural but that he allows it, blessed the event from the pulpit. Afterward, I got to meet Jesus. This was a big Easter for this Jesus as he was replacing the man who had played the part for the previous 30 years. The general feeling after this Passion play: He's a good one.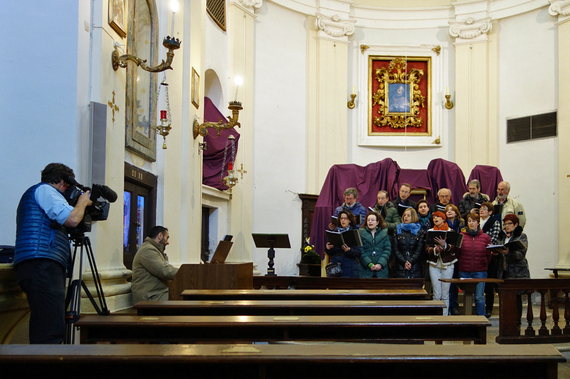 We were so impressed by the Cantiano church choir that we hired them for a private concert. They were thrilled to gather on Saturday morning and play seven pieces for the CD we're making as a companion to our Easter TV special. You'll notice here that the altar is covered in purple cloth (as were all the statues in the church), as this was the part of Holy Week remembering Christ's crucifixion.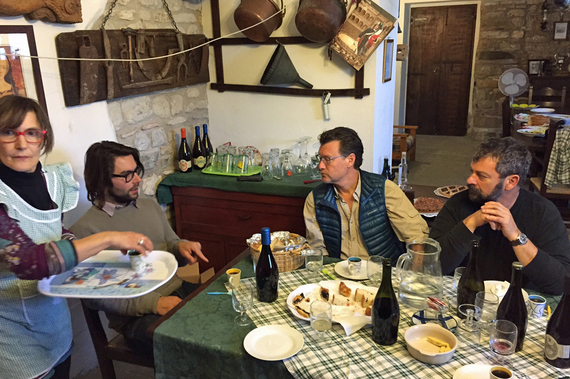 Our local guide and friend, Roberto Bechi (who worked wonders for our PBS Christmas special a few years ago), made sure that each day of this Easter week was filled with vivid culture (edible, musical, and religious) for our project. And this made for more than great TV production. With Roberto, moments like this breakfast with a passionate microbrewer and his mother left us with great travel experiences, too.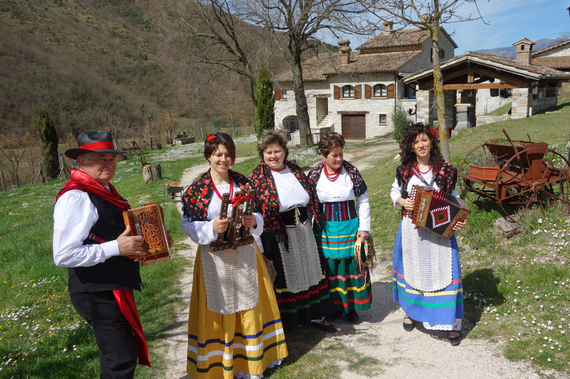 In the Marche, it's been tradition for itinerant troubadours in colorful folk costumes to go from farm to farm singing songs of the Passion and evoking blessings on the coming harvest (for which they would be thanked with food). We filmed the music and then the rustic feast that followed.